Yamaha Motor Canada is excited to announce the all-new 2024 WR450F. Slimmer, lighter, lower, and more tractable than ever before with longer, stronger pulling power.
For 2024, many improvements made to the WR450F are aimed at reducing weight, improving handling, and increasing tractability and user-friendliness for skilled enduro riders. The result is an enduro weapon that's easy to ride fast, extremely capable in technical situations, and more versatile than ever.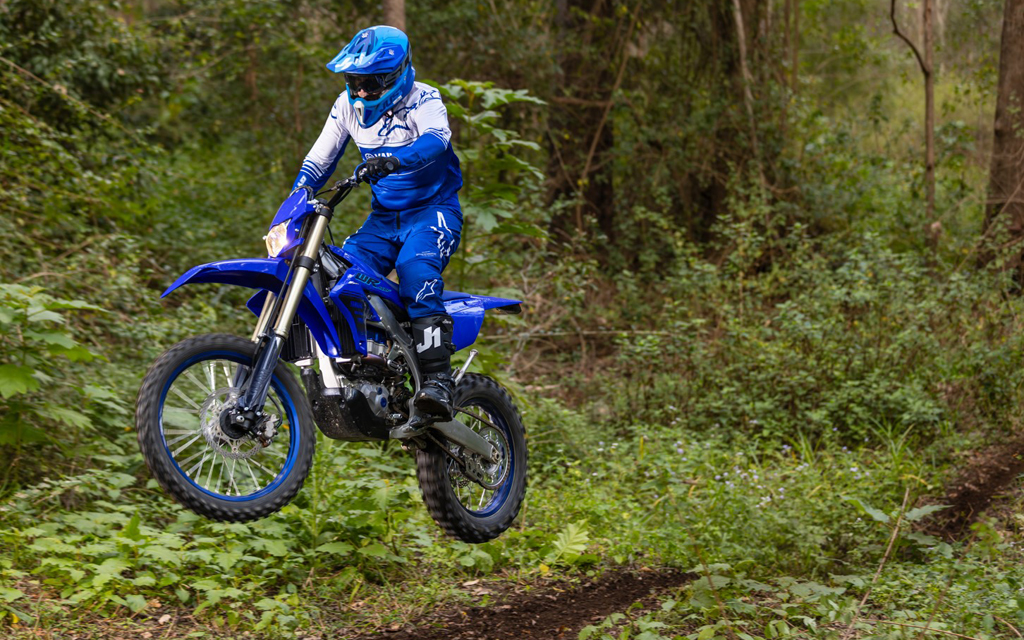 All new engine
The all-new engine is shared with the current YZ450F. It features larger 39mm-diameter intake valves, a new piston, connecting rod, revised bearings, optimized crank mass inertia and a dry sump oil tank with integrated generator cover.
Many engine components are lighter including the intake ports, piston, cylinder body, crank assembly, cam chain, connecting rod bearings and lubrication system, which results in an engine that's 2.2 lb. lighter. In addition, the 2024 WR450F features an ECU tuned specifically to offer tractability at low speeds and high power at medium to fast-speeds.
All new transmission
The drivetrain runs the new YZ450F lightweight disc spring clutch which is more compact, has a lighter feel and has a more positive engagement point. The wide ratio five speed gearbox now features wider main shaft gears for reduced weight and increased strength, with ratios specifically developed for enduro racing.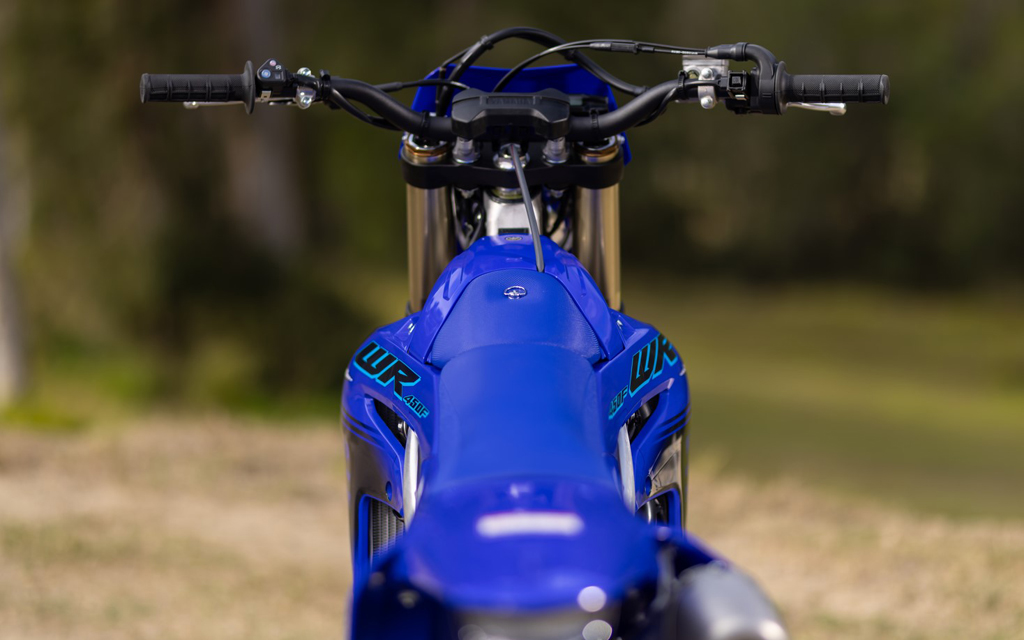 Lower center of gravity
The Controlled Fill aluminum bilateral beam frame is now 15mm lower at the head tube to allow a lower center of gravity for supreme handling. The chassis also has a revised rigidity balance developed specifically for the WR450F. The frame was developed with a focus on flex characteristics and the engine mounts are specially tuned for this model to allow excellent cornering, bump absorption and overall handling.
New flatter seat with rounded edges
The new seat is flatter with the height difference front to rear reduced by 15 mm. The shroud is 50mm narrower and the edges are rounded to increase the degree of freedom in riding position – allowing better movement front to rear, easier leg extension and improved seating to standing transition. The seat cover and cushioning are designed to wrap around the bottom portion of the seat to reduce impact to the rider's hips and lower back.
Slimmer bodywork
A generous flow of clean air is now fed from the rear of the bike which allows for a slimmer body. The overall shroud width has been made 50 mm narrower and the shape of its side surfaces are smoother. This allows riders to move their legs forward more easily, contributing to lighter and more agile handling.
Revised KYB suspension
New KYB suspension features tool-free compression damping adjustment on top of the forks. With a seat height 10 mm lower than the YZ450F and with a lower center of gravity, the new WR450F runs 300mm suspension travel for precise control over varied terrain. This also assists in increasing grip on the front and traction at the rear for a more planted feel. These changes also increase the tight turning ability of the machine which increases confidence while riding singletrack.
Further weight savings
The extensive weight saving program continues with a lightweight Lithium-Ion battery that replaces the outgoing model's lead acid unit.
A new aluminum foot peg bracket saves 100 g and the stopper's construction has been changed to prevent mud from clogging up the pegs and from the foot pegs biting into the ground on contact.
Even the throttle wires are lighter, which contributes to the MY24 WR450F tipping the scales at 258 lb. full of fuel which is 4.4 lb. less than the previous WR450F.
The multifunction meter display shows speed and trip distance and also features both engine and low fuel warning lights.
2024 WR450F Features and Benefits:
• New fuel-injected 450cc engine is more compact and lighter
• Model-specific ECU produces tractability at low speeds and full power at medium to high speeds
• New Controlled Fill aluminum bilateral beam frame is lower with WR450F-specific engine mounts
• Flatter seat with more rounded edges makes it easy to move about while riding
• New air flow management system allows a more compact body including 50mm narrower shrouds
• Lower center of gravity assists in negotiating tight corners
• Mass centralized fuel tank and muffler
• New lighter clutch and revised wide ratio gearbox
• Lighter rear wheel, hub and brake assembly
• New Power Tuner app enables simple smartphone tuning
• New multi-function combined power map and kill switch
• New full protection bash plate
• New tool-free front fork compression damping adjusters
• New rear fender with handy grab area
• New water-resistant bar pad
• Lighter Lithium-Ion battery, foot peg bracket, throttle wires and more
Source : Yamaha Motor Canada