STRiX eMotors Ltd., a Slovenian (EU) company, is proud to introduce STRiX, the brutal electric hard-enduro motorbike designed for exceptional performance. Originally developed for military applications, tested by various NATO member armies and professional hard-enduro riders STRiX has set a new standard in motorbikes. Now, motorbike enthusiasts worldwide can experience the unrivaled power and efficiency of the STRiX.
With it's hard-enduro performance levels, STRiX surpasses not only other electric motorbikes but also all modern internal combustion variations in its category (450 CC, 4 stroke). STRiX delivers equal mass but superior performance, featuring both hand brakes for optimal control and more focus on the ride. Its proprietary engine and powertrain deliver an outstanding 95hp of peak output power and 1050 Nm of torque, providing unmatched power and acceleration with a top speed of 125 km/h.
It features a compact and powerful 6.3 kWh exchangeable battery system with remarkably short charging times through CCS fast charging (the only electric motorbike with CCS standard). It enables 80 min hard-enduro riding or 120 km of normal riding experience. The bike is charged in only 10 min from 20 % to 80 %.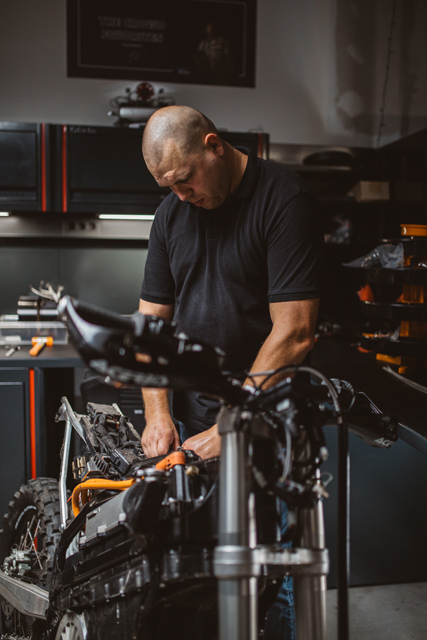 STRiX operates almost silently, leaving a minimal sound and thermal footprint. Another great advantage of STRiX powerful motorbike is that it requires 80 % lower maintenance compared to internal combustion versions. No oil, no filters, no problems. Spend less time in your garage and more time riding.
The special STRiX app empowers riders with a range of driving modes tailored to their preferences. The Training mode allows for gradual capacity increase, while the Stealth mode minimizes power, sound, and thermal footprint for a more discreet riding experience. For those seeking maximum performance, the Sport+ mode unleashes the bike's full capabilities.
The waterproof powertrain design allows passage through water. Thanks to its outstanding power, STRiX allows the installation of a snow track drive system, granting adventure winter rides and access to remote and challenging locations throughout the year.
Experience the outstanding performance and excellence of STRiX. Visit the official STRiX website at www.strix-evolution.com. The official launch date with the test ride will be announced via STRiX e-news. Sign up to make sure you don't miss it.
Source: STRiX eMotors Ltd.