Today, the Riveter Chapter presents our new "Chix at the Crossroads" logo for our ride scheduled to take place June 15-June 28, 2024. The logo was created by Latricia Horstman, artist extraordinaire, who is owner/artist of My Little Needles Tattoos, the oldest tattoo shop in Plymouth, Michigan. Trish, who owns, rides, and wrenches her own vintage motorcycle, is also co-publisher of Throttle Gals Magazine along with Doni Muzzi, a car and bike gearhead. Trish and Doni have been big supporters of the Riveter Chapter and the Chix rides since their inception: Trish designed our 2022 Chix on 66 logo, and through Doni's company Milkhouse Press, Doni inked last year's T-shirts for the riders.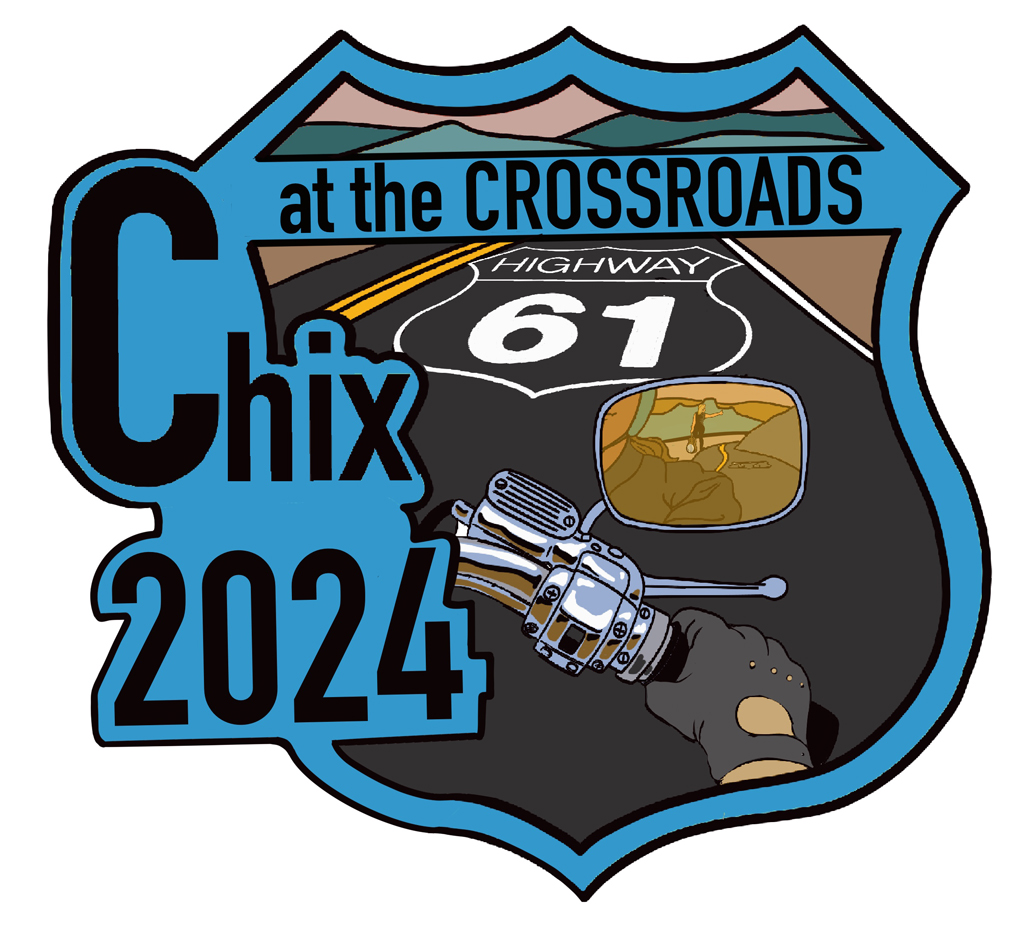 The Chix at the Crossroads event blends the riders' passion for motorcycles with a passion for music, which will be explored experientially throughout the entire route. And like Chix on 66, this event represents classic Americana. From Appalachia to the Natchez Trace to the Blues Highway, these women will have the experience of a lifetime.
Milestone dates for Chix at the Crossroads:
– December 15, 2023: Ride application available online
– February 15, 2024: Rider acceptance notifications sent out by this date (registration fee due within seven days of acceptance notification)
– February 15, 2024: Lodging booking opens for accepted applicants
– April 1, 2024: Booking window closes at several hotels
– June 15, 2024: Be ready to ride! (Onsite registration/tech inspection for accepted riders)
More detailed information is available on the Riveters Chapter FAQs page: www.riveterchapter.com/crossroadsfaqs
Anyone who is interested in participating in the ride can email atomic@riveterchapter.com so that we can send you a notification when registration opens.
Source : Chix Vintage Riders