On May 21st,The Distinguished Gentleman's Ride took place all over the world, breaking all fundraising records from prior years.
On Sunday May 21st, 2023, riders from across the globe dressed dapper to take part in the 2023 Distinguished Gentleman's Ride (DGR) and celebrated Triumph's 10th year partnering with the event. The 2023 edition saw 104,000 riders in 893 cities unite to ride their classic and vintage-style motorcycles, focused on a common cause for good. 2023 marked the 10th year of Triumph Motorcycles' partnership with the DGR with the aim to make the 2023 event the biggest and most successful to date.
When fundraising closed on the June 5th it marked another record-breaking year for the Distinguished Gentleman's Ride. In total, $7.3M USD has been raised to support Men's health. This total is an increase of 24% compared to 2022, an incredible achievement by the DGR community despite the current economic climate.
USA results included 165 rides made up of 13,850 riders totaling over $2.6M USD raised. In Canada 29 rides from 1998 riders brought in $541,897 USD for the DGR.
Since the first edition in 2012, more than 500,000 riders have gathered in 121 countries to raise more than $44M USD for men's health. Triumph became the official motorcycle partner of the DGR from 2014, providing financial support and resources to help raise the profile of the DGR globally.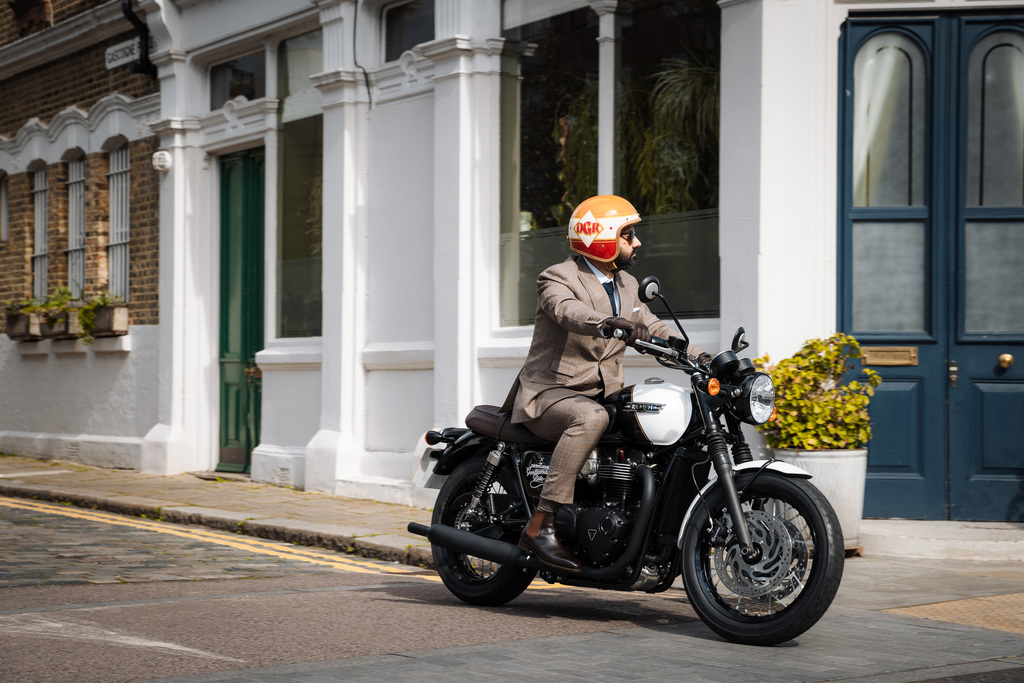 One of Triumph's most significant contributions has been in growing awareness and motivating fundraisers around the world, by providing motorcycles from Triumph's Modern Classic range as rewards for the top fundraisers. In previous years this has included unique motorcycles, such as a one-of-a-kind Triumph Thruxton RS DGR Edition and a custom '1959 Legends' Triumph Bonneville T120 and matching Gibson Les Paul Standard guitar, awarded to the 2022 ride's highest fundraiser as part of a collaboration between Triumph and Gibson.
2023 marked the 10th year of this incredible partnership and represents a huge milestone for Triumph and the DGR.  To celebrate this landmark anniversary Triumph created 250 exclusive new Bonneville T120 Black Distinguished Gentleman's Ride Limited Edition motorcycles. Along with production edition #001 going to the top global fundraiser, a donation will be made to the DGR with each bike sold.
In 2024, the ride will take place on Sunday, May 19th  with pre-registration is open now at  www.gentlemansride.com.
Mark Hawwa – Founder and Director of the Distinguished Gentleman's Ride – "When I first started The Distinguished Gentleman's Ride in 2012, it was a unique way to challenge the stereotypes associated with motorcyclists. It was an opportunity to transform the classic motorcycle community into a force for good, raising funds and awareness for causes that desperately needed our attention. Today, this event signifies our global commitment to a community where mental health is prioritized, social connections are strengthened, and where no one feels alone in their struggle.
This is a community of generous, compassionate, and determined riders that after 12 years has achieved our strongest year yet, raising US$7.4M for men's health. Together with Triumph Motorcycles, the DGR has become a symbol of unity, resilience, and passion; and we are extremely proud of what we have achieved together."
Paul Stroud – Triumph Chief Commercial Officer – "2023 marks Triumph Motorcycles' 10th year supporting the Distinguished Gentleman's Ride, and it's incredible to see the 2023 DGR event has broken all previous year's records, with more riders, more cities hosting a DGR, and even more funds raised. To celebrate Triumphs 10th year of the DGR we released the Bonneville T120 Black DGR Limited Edition and the limited-edition range of lifestyle clothing to raise funds for men's health. It's such an honour to contribute towards the incredible fundraising results of the DGR and the entire Triumph community worldwide is enormously proud of our partnership."
Source: Triumph Motorcycles