This motorcycle is probably one of the prettiest Harley Sportster Scrambler built by Lord Drake Kustoms in his custom motorcycle workshop in Vélez Malaga (Spain). A whole Harley Off Road with a very aggressive and elegant look at the same time.
The "BULTRAKCER 72" was built on a Harley Davidson Sportster 883 Roadster base. This time they did not want to make a custom motorcycle with Off Road airs; they wanted to make a real Sportster Scrambler, which would make them want to go riding on the dirt tracks with it.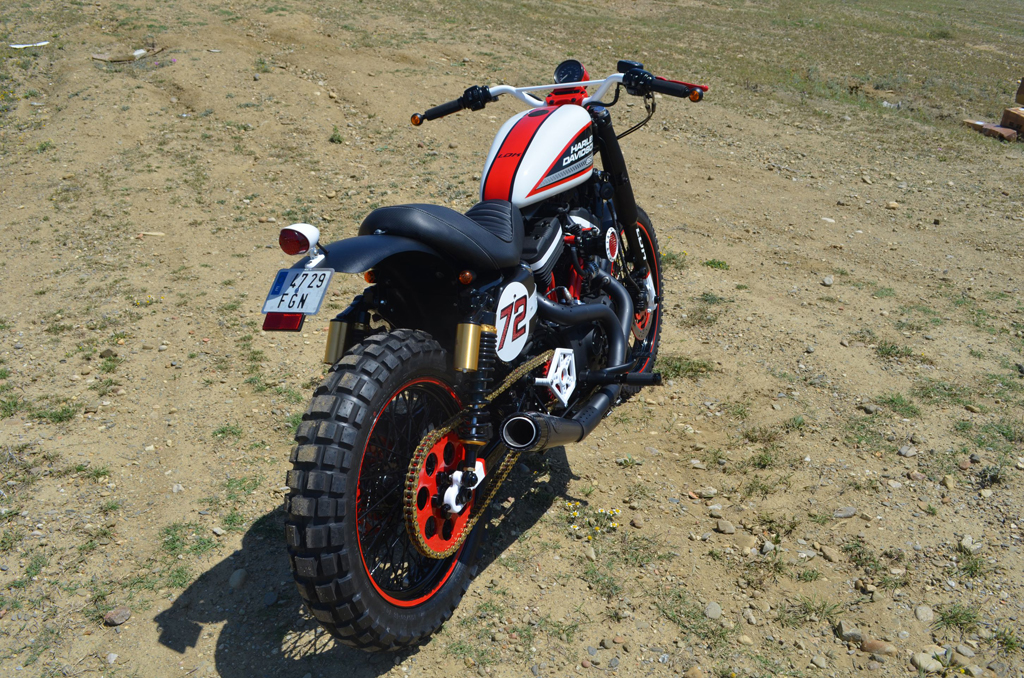 MODIFICATIONS TO THIS HARLEY SPORTSTER SCRAMBLER
This new Scrambler motorcycle, which retains the fuel tank peanut Sportster, has undergone several changes from previous BULTRACKER models. One of them and perhaps the most notable has been the incorporation of a new 2:1 Slant exhaust.
The front suspension has been modified to include upper covers, a new front and rear fender have been manufactured and various details have been incorporated such as the Sportster Joker sprocket cover or the RSD air filter.
Regarding the paint on this bike, it was decided to keep the original graphics of themodels XL 883R to give it a touch more racing, but combined with a white background. The rest were combined with powder coating textured black and bright red details applied by LDK.
This motorcycle transformed into the specialized Harley workshop that LDK has in Spain, was for a client from the United Kingdom.
Once finished,  Fran Manen personally delivered this Harley Scrambler to its owner thanks to the motorcycle transport service they offer themselves…also Lord Drake Kustoms delivery motorcycles worldwide via sea or air cargo.
Source: Lord Drake Kustoms