This Softail Deluxe Black, also known as Deluxe "OM TIBETAN" is a new Harley Davidson customized by Lord Drake Kustoms in the motorcycle transformation workshop in Vélez Malaga (Spain).
This custom bike was originally a Harley Davidson Softail Deluxe, which has now undergone a radical custom transformation with a beautiful paint job that combines different shades of black and dark gray and above all, we must highlight the emblems and graphics that have been placed… the OM symbol ….hence its name "OM TIBETAN"
For the owner of this customized motorcycle, it was essential that the OM symbol be present on the motorcycle, since it is one of the most important in the manifestation of our personal protection and has the spiritual power of being the sacred symbol of the universe…among other characteristics very important.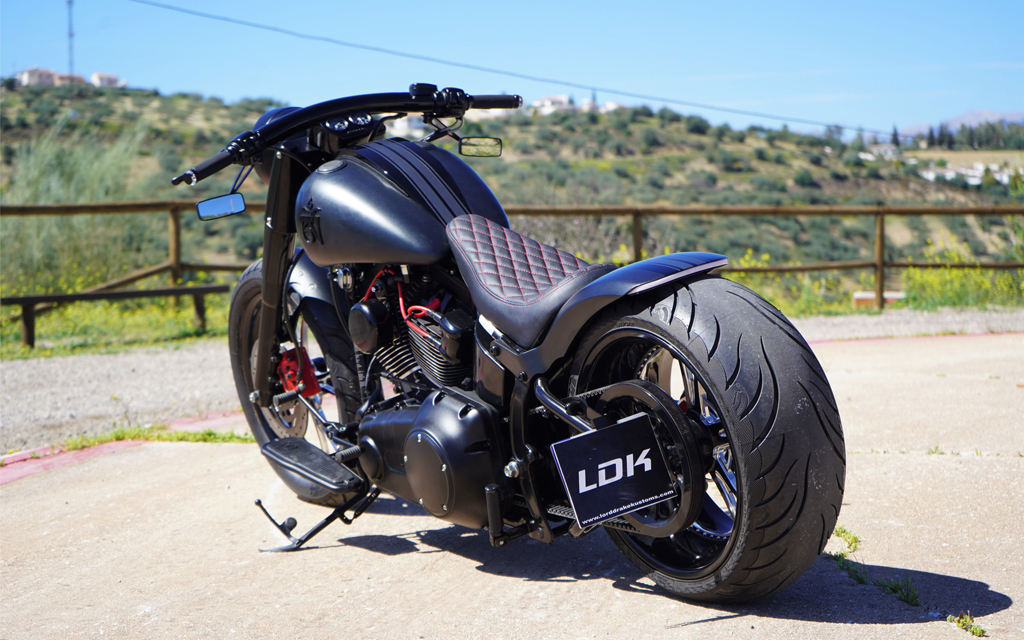 Fran Manen (owner of Lord Drake Kustoms) in collaboration with the owner of this Harley Davidson, has followed a pattern in terms of design to obtain the final result, which will not leave anyone indifferent.
Custom rims with 240 rear tire, Legend hydraulic suspension for softail, modified and extended 2" gas tank, custom built rear fender with built-in led, custom built exhausts with Vance and Hines Mini Grenades tailpipes, filter Harley Davidson air pumps to match the tires or a custom-made necktie…they are components to highlight in this Softail Deluxe Black "OM TIBETAN".
Motogadget blaze disc LED turn signals on the grips, a handlebar almost 3" inches thick, custom license plate support, custom-made seat, odometer and rev counter from the MMB brand, are some other components.
In the engine, front suspension, front and other elements, all the chrome has been eliminated with electrostatic baked powder paint (powdercoating) made by the company www.metalcolors.com
The base paint of this Harley customized by Lord Drake Kustoms Spain, is dark graphite gray almost black combined with gloss black and matte black; to which several red details have been added, such as the brake calipers or the spark plug cables.
And the final touch has been given by the OM symbols placed on the fuel tank and other points. They say that chanting the OM mantra has cardiovascular benefits since the vibration relaxes the body, reduces blood pressure and the heart beats at a regular rhythm… but we believe that people who see this motorcycle go by and sound, The opposite is going to happen to you and you will be out of breath or your heart rate will increase! For more information, visit www.lorddrakekustoms.com.
Source: Lord Drake Kustoms