Most of the provisional grid was set for the Daytona 200 on Friday morning, with the Bridgestone BPM Yamaha duo of Ben Young and Elliot Vieira completing their qualifying efforts at Daytona International Speedway.
While track conditions were not considerably different than Thursday afternoon, it was a warmer day in Daytona on Friday, which allowed times to jump across the board in Q2 ahead of the final Time Attack session.
That led to a bit of a cruel result for Young, who sat 16th provisionally after Q1 on Thursday and proceeded to go a near full-second faster on Friday morning, only for much of Group A to do the same. Ten riders dipped into the 1:49 second mark compared to just six the day before, with a whopping 31 riders improving on their Q1 time amongst the 52-rider field.
That ultimately pushed Young back one spot to 17th despite the improvement in pace, as he winds up just a half-second off the combined top-12 cut-off for Time Attack and only 2.480 seconds off provisional pole.
Compared to the times from a year ago, Young's effort would have put him just a half-second off 2022 pole-sitter Josh Herrin and fifth on the grid overall, demonstrating the considerable talent at the front this weekend.
Young continued to battle through engine difficulties that have limited him throughout the event, a troublesome problem around the slipstream-needy Daytona circuit where every ounce of horsepower matters.
Vieira's final qualifying session was even more unfortunate, as his own mechanical issues that plagued him on Thursday prevented him from even completing a single flying lap in Q2.
While his 1:57.190 from Q1 will still be good enough to make the 110% cut line, the inability to improve his time was especially frustrating as ten riders in Group B went faster to push Vieira from 29th down to 32nd.
"It got worse overnight. Way worse. We're going to strip it down again, but we're still trying to figure things out," one team member said.
Now with just a single warm-up session left before the 57-lap race, both Vieira and Young will hope their problems can be fixed prior to lights out on Saturday, with durability also a key ingredient in the unique Daytona 200 event.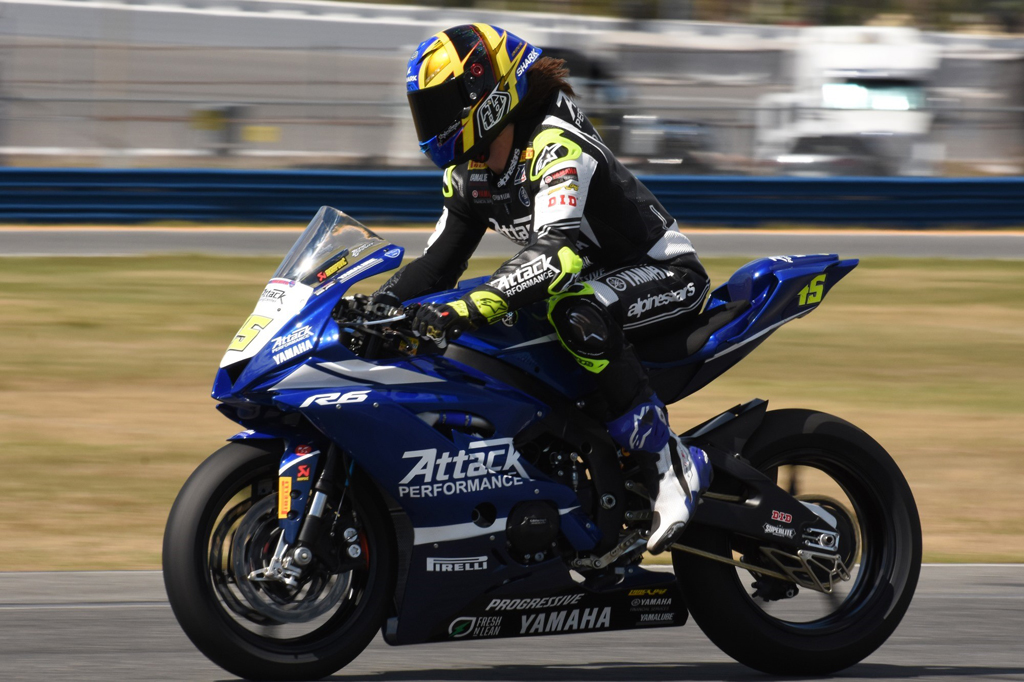 Ahead of the Bridgestone BPM Yamaha duo, it was Richie Escalante who moved the benchmark further in Q2, posting a blazing 1:48.133 lap time to go fastest entering the top-12 "Time Attack" shootout.
That lap stood nearly a full-second ahead of the field for part of the session before Cameron Petersen jumped up the leaderboard, putting himself a half-second behind Escalante with Hayden Gillim third.
Reigning pole-sitter and Q1 leader Herrin managed just two laps in the second session before running into electrical problems of his own, finishing 19th, but he will advance to the Time Attack anyways thanks to his scorching lap on Thursday. However, his new teammate Xavi Fores was less lucky, ending Q2 just 15th in the combined times.
The other three CSBK affiliates in action were all packed closely together in the final combined times, with Darren James winding up 28th ahead of Alex Coelho in 29th and Vincent Levillain in 30th.
Coverage of the final top-12 Time Attack shootout will continue on the official CSBK website later Friday, before Saturday's warm-up and 57-lap Daytona 200 race. Live video can be found on the official MotoAmerica website with Live+.
For more information on the Bridgestone Canadian Superbike Championship, visit www.csbk.ca.
Main picture: Bridgestone BPM Yamaha rider Ben Young secured 17th on the grid in Friday's qualifying for the 81st running of the Daytona 200. Photo credit: Colin Fraser.
Source: CSBK