The Bridgestone Canadian Superbike duo of Ben Young and Elliot Vieira completed their Daytona 200 weekend in opposite spirits on Saturday, as Josh Herrin won a controversial 62-lap feature at Daytona International Speedway.
While Vieira finally exercised his mechanical demons in warm-up on Saturday morning, specifically fixing the braking issues that plagued him all week, it was Young who found brake problems of his own aboard his Bridgestone-backed BPM Yamaha.
Hoping to just manage their machines to the end, both enjoyed strong starts to the historic 200-mile endurance race, with Young putting himself 13th after the first batch of pit stops and Vieira up eleven spots to 21st.
Despite a slower second pit-stop for Vieira, the duo continued their momentum into the second stage of the race, with Young climbing just outside the top-ten and with stronger pace than some ahead of him while Vieira settled into 25th.
However, the worst-case scenario struck for the BPM Yamaha team with just five laps to go, when a late red-flag produced a ten-lap restart. The all-out pace of the restart meant the lesser-powered machines of Young and Vieira were mismatched against the heavyweight teams up front, who carried as much as 15-20 extra horsepower.
Desperately fighting to stay inside the top-15, Young ultimately pushed beyond his machine's limits as he crashed out with just six laps remaining, running in a strong 12th at the time. Vieira, meanwhile, found consistent pace on fresher tires right when he needed it, scrapping his way through the pack to finish an excellent 15th in the end.
It was a sensational result for Vieira, who had completed only a handful of clean laps prior to Saturday amidst his mechanical issues and ultimately found a way to put himself in the top-15 in his first ever Daytona appearance.
While Young's crash was a frustrating end to an even more frustrating weekend, the reigning Bridgestone CSBK champion proved that a sensational result was possible under different circumstances.
Both riders will now have a few days off to soak in their first Daytona 200 appearance together, before returning to Bridgestone CSBK action on Tuesday for the official Winter Test in nearby Jennings, FL.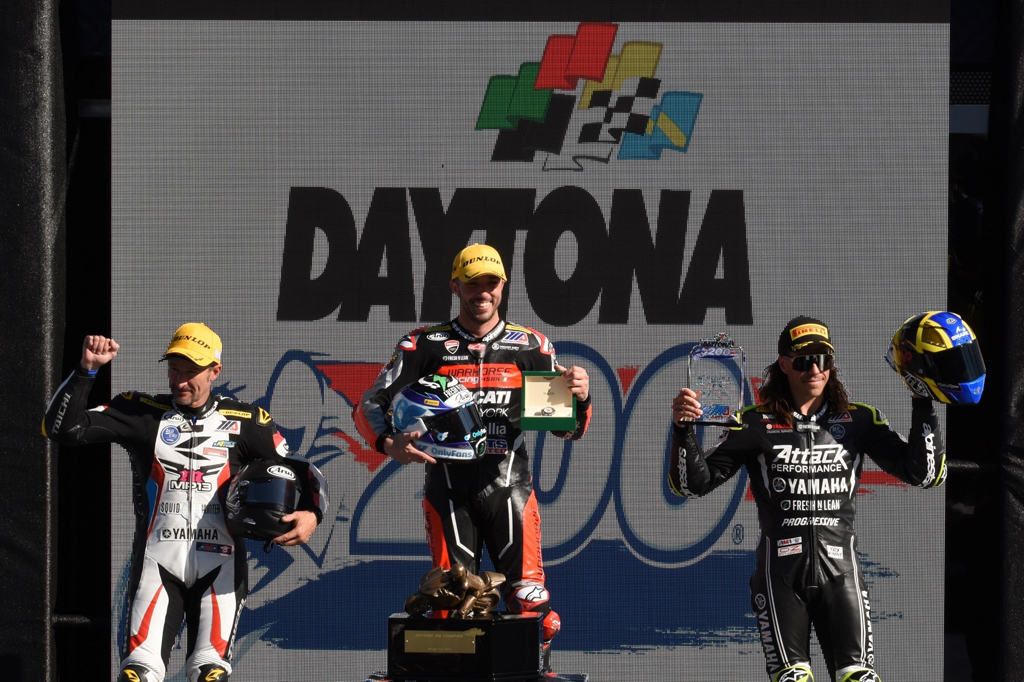 Herrin wins "confusing" Daytona 200 for second time
Josh Herrin will walk away from the famed International Speedway as a Daytona 200 winner for the second time in his career and first time in 12 years, a controversial result that was just one part of a wild and puzzling last few laps.
Battling with Richie Escalante for most of the middle part of the race, largely one-on-one with Josh Hayes a distant third, Herrin collided with the Vision Wheel M4 Suzuki of Escalante in turn one, knocking the Mexican out of the lead and the contest.
With third-place runner Brandon Paasch facing a 15-second penalty for speeding in the pit lane and sixth-place competitor Cameron Petersen a lap down, it seemed likely that only Hayes, Teagg Hobbs in fourth, or Hayden Gillim in fifth could challenge the Warhorse HSBK Ducati of Herrin if he was to be penalized himself.
However, an extra wrench got thrown into things when Hobbs got collected in a red-flag incident with five laps to go, the first stoppage of the afternoon. Facing a five-lap sprint, the puzzling decisions continued to pile up in the next few moments.
First, the race was extended to five extra laps, producing a ten-lap restart and the first ever "Daytona 216.5" across 62 laps. Then, Herrin was awarded a six-place grid penalty on said restart – an inconsequential punishment for the blazingly-fast Ducati rider.
Herrin quickly returned to the front as expected, battling at the front of an eight-rider group that included Hayes, the penalized Paasch, and the lap-down Petersen. The next wrinkle came when a charging Petersen unlapped himself, inexplicably jumping to the front of the timesheets and somehow in the battle for the win.
Amidst all the chaos and confusion – both on and off the track – it was Hayes who exited the chicane on the final lap leading from Herrin and Petersen, at one point looking far enough ahead to hold on for his first official Daytona 200 victory. However, the power and slipstream of Herrin was inevitable, as he charged across the line to score his second career Daytona win.
"When they added five laps I didn't know if I had the legs in me to finish," Herrin said. "And then I didn't know what the deal was with Petersen and Paasch – I was super confused – but I just decided it didn't matter as long as I finished first."
As for the controversial incident with Escalante, the eventual winner maintained his innocence despite the grid penalty.
"As far as I'm concerned, I had the line. I got creative and he wasn't expecting it," Herrin protested.
When the dust settled, it was Hayes who finished second officially, while Petersen was awarded third despite being a lap down up until the final moments. Petersen himself did not even know of the decision, but that didn't stop the criticism from coming.
"I love Cam Petersen to death, but he did not finish third," Hayden Gillim said, who ultimately finished one spot back in fourth. "I quit racing in 2019 over stuff like this, and to be on the other side of it again sucks."
Full results from the wild 81st running of the Daytona 200 can be found on the official MotoAmerica website.
For more information on the Bridgestone Canadian Superbike Championship, visit www.csbk.ca.
Main picture: Bridgestone BPM Yamaha rider Elliot Vieira managed an excellent 15th in his first ever Daytona 200 experience on Saturday. Photo credit: Colin Fraser.
Source: CSBK