Francisco Alí Manén and Lord Drake Kustoms returns to the fray with this Harley Bobber called Sportster Bobber BabyBlue. A beautiful transformation carried out in his motorcycle customization workshop in Vélez Málaga (Spain).
The base is a 2003 carbureted Harley Sportster XL 883 R, which came into the hands of Francisco Alí Manén (owner of Lord Drake Kustoms) and had to be made with a very retro and elegant style; so he decided to make a Harley bobber with very classic and vintage colors.
First of all, a bobber rear fender adjusted to the wheel with side supports, all completely handmade and made of metal that has been installed after cutting the entire subframe. A side arm license plate bracket for Harley, also made by LDK and of course a Biltwell bobber seat with custom made anchors.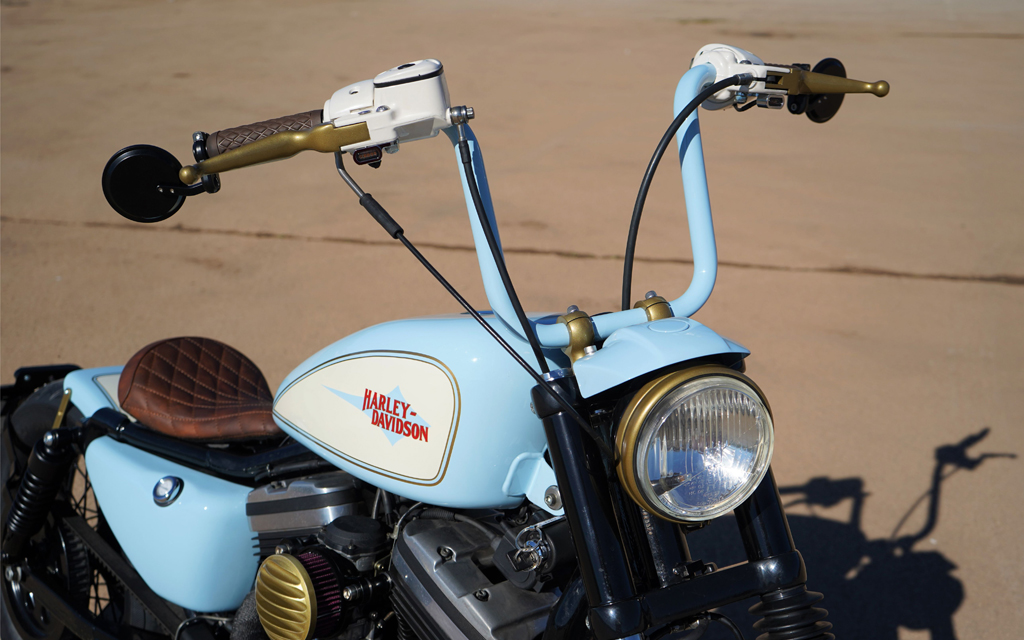 At the front, the front fender and the travel of the fork have been modified, which have been embellished with rubber bellows and metal covers for the seatpost area. A front spoiler made of metal and a small handlebar (mini ape) make up the whole of this Sportster Bobber BabyBlue.
The exhausts have been made to measure at Lord Drake Kustoms, which together with the minimalist air filter, have left the engine exposed. Some lower shock absorbers have also been installed and this entire transformation of the Harley bobber has been completed with details such as the Biltwell turrets, the mini odometer, the LED turn signals under the buttons, mirror grips, etc…
Although what we should highlight the most in this motorcycle customized by Lord Drake Kustoms; It's his paint… a combination of babyblue and creamy white with aged gold accents that has given the Sportster Bobber BabyBlue an impressive look, finished off with brown leather seat upholstery.
And later this transformed motorcycle, has been delivered to its owner so that he can enjoy walking through the streets of a beautiful Harley Davidson Bobber, since Lord Drake kustoms have a worldwide shipping service.
For more information, visit www.lorddrakekustoms.com.
Source: Lord Drake Kustoms