The road no longer less travelled
A mature Spyder: refined and comfortable
It's been over 14 years since that fateful call inviting me to a special event organized by BRP in San Diego. I was then technical editor for Motoneige Québec magazine (a position I still hold) and the information I was given was, shall we say, vague. It was, in fact, an invitation to the launch of a brand new vehicle developed by BRP, the Spyder "roadster" (introduced by none other than American star and fan of all things motorized, Jay Leno). In the years since, the Spyder family has managed to carve out a place for itself on our roads and in our garages. However, that doesn't stop some people (especially in our motorcycling community) from being quick to dismiss the very idea of a three-wheeled vehicle.
Times change, however, and last year we were told that Can-Am had a record year for roadster sales, with the Valcourt-based manufacturer outperforming other motorcycle manufacturers in Canadian sales numbers. Perhaps it was time to revisit this innovative vehicle and assess the hype. And so, the die was cast.
The Spyder reunion begins with the instant recognition that this is definitely not the 2007/2008 Spyder. Sure, it has three wheels, but the riding position is worlds removed from its ancestor's. In place of the former's sport-touring-esque slight forward-leaning stance, the F3 is definitely cruiser-inspired. Settled into place, one is located upright with the arms and legs well extended in what is a natural and comfortable position. The seat's sculpted shape mates up well with the natural curves of the human posterior and the moderately narrow mid-section doesn't force one's legs to be splayed apart. The angled floorboards provide a relaxing position to rest one's feet and the handlebar grips are on the large size, but cushy.
Underway with nary a worry about balance or equilibrium, I find steering effort light and response predictable. My reacquaintance with the world of non-leaning road vehicles continues as I encounter some pronounced bends. I am pleasantly surprised to discover that the F3 is unexpectedly effective at isolating the rider from cornering forces, notably in comparison to its ancestor.
Once on the open road, the Spyder F3 Limited proves itself to be a wonderful traveling companion. The riding position continues to please, the seat being particularly worthy of praise. Comfort is generally first-rate though dips and bumps challenge the rear suspension's ability to keep up, a victim of the rear wheel's significant un-sprung weight. A slight pogo-ing effect can be felt on the bigger hits too, evidence of a slight lack of rebound damping.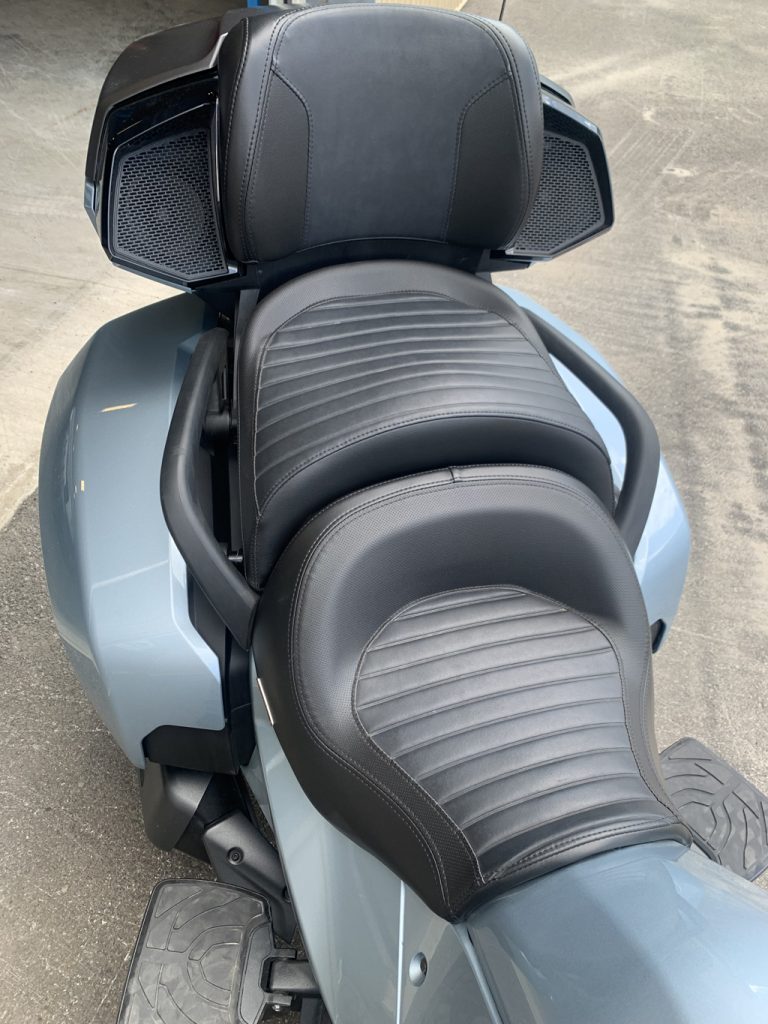 Another area of significant improvement compared to the original Spyder is the Limited's impressive surefootedness in irregular and grooved pavement. While its three-wheel design brings with it certain stability advantages, it also brings  the problems associated with having three separate tracks on the road. In other words, while an obstacle can be easily avoided on a motorcycle due to its single-track, doing so on a Spyder can be much more challenging, at times impossible. Thankfully, BRP's engineers have done a remarkable job in improving composure and the F3 Limited handles most road irregularities with relative ease, notably with a much reduced tendency for front-end darting.
Wind and heat management are key elements on a vehicle mandated to conquer long distances. The F3 Limited rider has to contend with a moderate amount of wind buffeting in the upper body and helmet area. On the positive side, the wide bodywork does an excellent job of sheltering the lower body and legs from the wind, rain and bugs. Engine heat management is generally favourable, though a ride in unseasonably warm late spring weather did have our feet basking in a warm air current.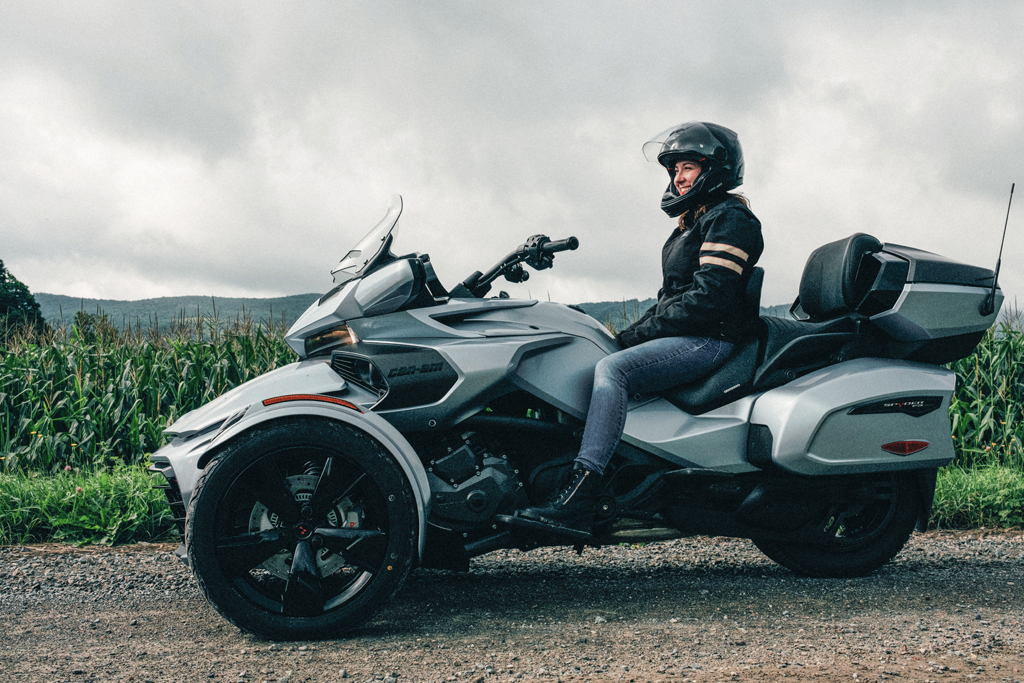 The heart of the F3 Limited is its 1330 cc Rotax ACE Triple. Designed to deliver a broad spread of seamless power, the ACE engine is up to the task of moving the Limited's significant 448 kg claimed dry weight about. The mill pulls cleanly and smoothly from any speed, with no hint of lugging or hesitation, the product of thoughtful design and careful calibration. Response is predictable and the triple generates sufficient power to make quick work of overtaking cars. A "purist" who values instant response in all things vehicular, I must confess that I found the engine response somewhat soft at lower engine speeds, but there is surely some thought behind this choice and I suspect most customers will welcome this condition for the nonchalance it contributes to the riding experience. The visceral dimension continues with a pleasant engine sound that gets quite sporty as the digital tach needle sweeps across the gauge.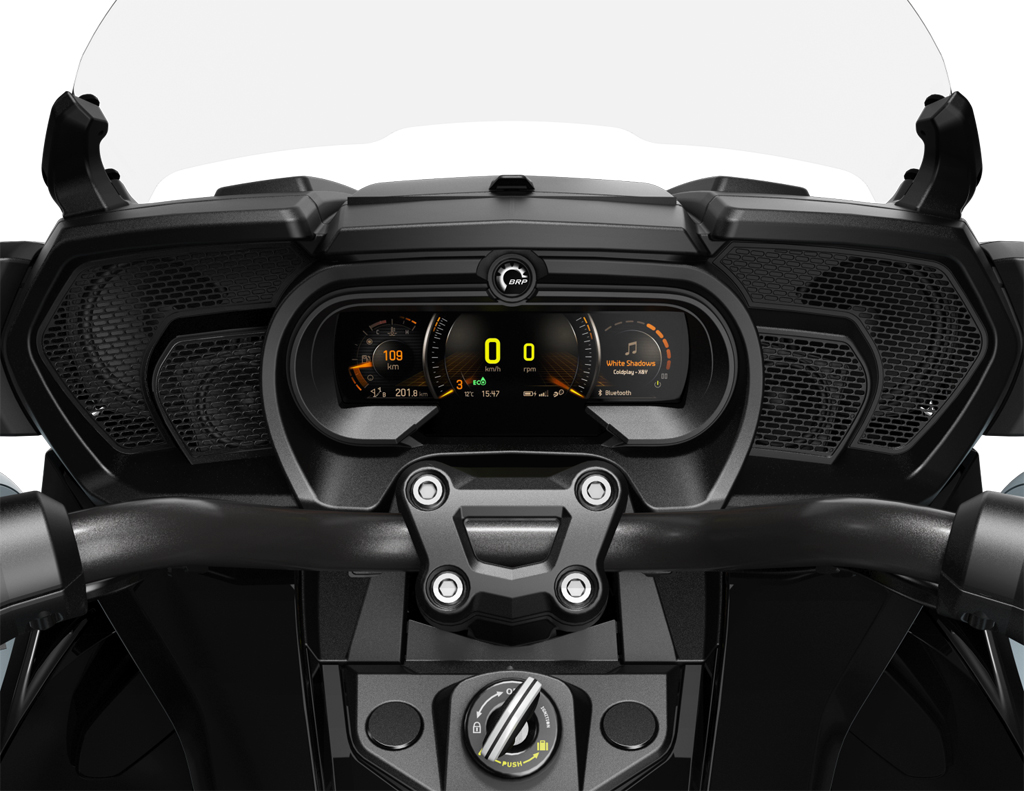 The 7.8-in LCD gauge provides a plethora of information for the rider (including available range, gear selection, etc.), to say nothing  of giving access to a wealth of rider aids, including the BRP Connect app. Backlight- ing that adjusts to ambient light conditions is a nice touch and ensures that the display remains visible at all times.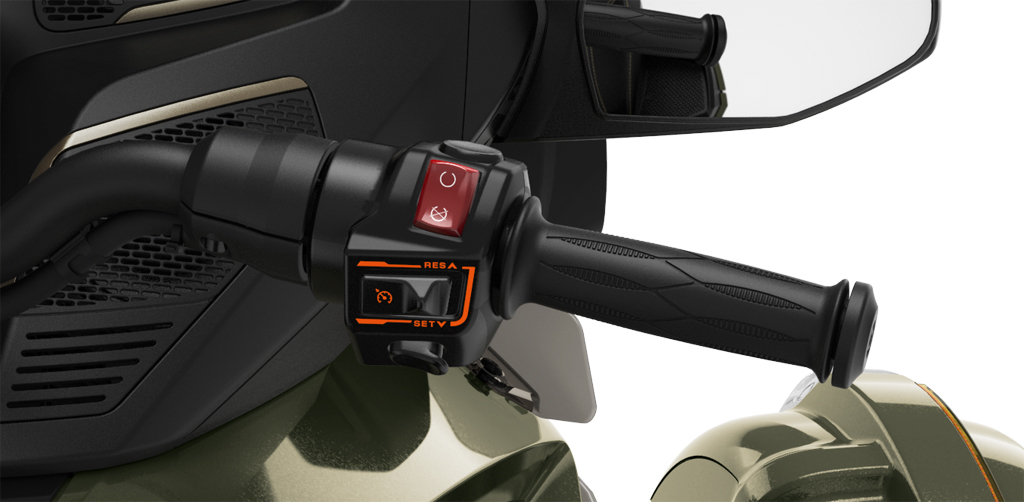 Gear ratios are well selected, with the ACE engine spinning a modest 3200 rpm at 100 km/h, placing it right in the smoothness sweet spot for this engine. More generally, speeds between 90 and 110 km/h have the gear-driven counterbalancer doing its best work, the engine spinning with impressive silkiness. Upping the speed to 120 km/h introduces some mild vibration in the hand grips and floorboards, notably an odd and cyclical resonance. Now, it's important to mention that our test unit was not yet broken in and we saw a noticeable improvement as the kilometres accumulated. Fuel consumption followed this same positive trend as well, with initial outings delivering 7.2L/100 km and improving slightly to 6.8L/100 km by the end of the test. Combined with its claimed 27 L fuel capacity, the Spyder should be able to deliver just shy of 400 km of non-stop travel, allowing you to concentrate on the road and the scenery instead of continuously planning fuel stops.
The semi-automatic six-speed transmission, a particularly welcome feature for those who have not mastered the intricacies of manual gearboxes, works flawlessly. Take-offs are smooth at all times and in all conditions and upshifts are a thumb press away, the computer's intervention allowing gear changes to be carried out without regard to throttle position. This, of course, means introducing a slight delay in the gear change, but the Spyder was designed for the open road, not the quartermile. The automatic downshift is also a welcome characteristic, ensuring that one is never caught out by an overly tall gear choice. What speeds up must inevitably slow down and the Spyder's impressive contact patch, premium braking components and well-designed computer management deliver the goods. Rolling off the throttle generates little in the way of engine braking, a continuation of the unobtrusive riding experience. Applying the brake via the right side pedal is a somewhat vague experience for those used to the typical elevated feedback of a motorcycle front brake lever but braking power is never in question as the Spyder brushes off speed with incredible efficiency. A few attempts at panic-braking simulations had the Spyder stop "right now!" with a total absence of tire squealing or instability. A very reassuring revelation considering the number of distracted drivers about.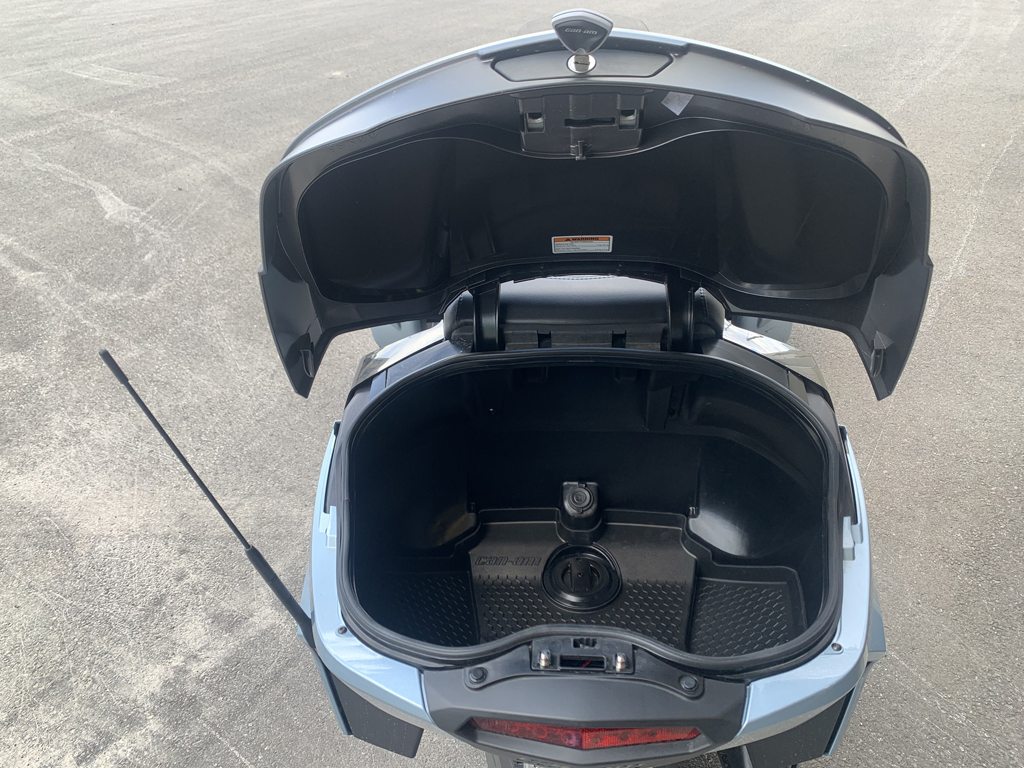 So, is the Spyder F3 Limited for you? That all depends on what you are seeking. Prejudicial "one wheel too many" critiques aside, the F3 Limited is a refined and comfortable passageway to enjoyable trips on the open road. Some will argue it's a somewhat "sanitized" riding experience, but this fails to take into account the advantages offered by its three-wheel design, notably impressive user-friendliness and unshakable stability. It's time for people to start seeing the Spyder as not the "or" to motorcycling but rather the "and" it was designed to be all along. Judged on its own merits, the Spyder is a remarkably refined, comfortable and effective long-distance platform, and that makes it a winning proposition.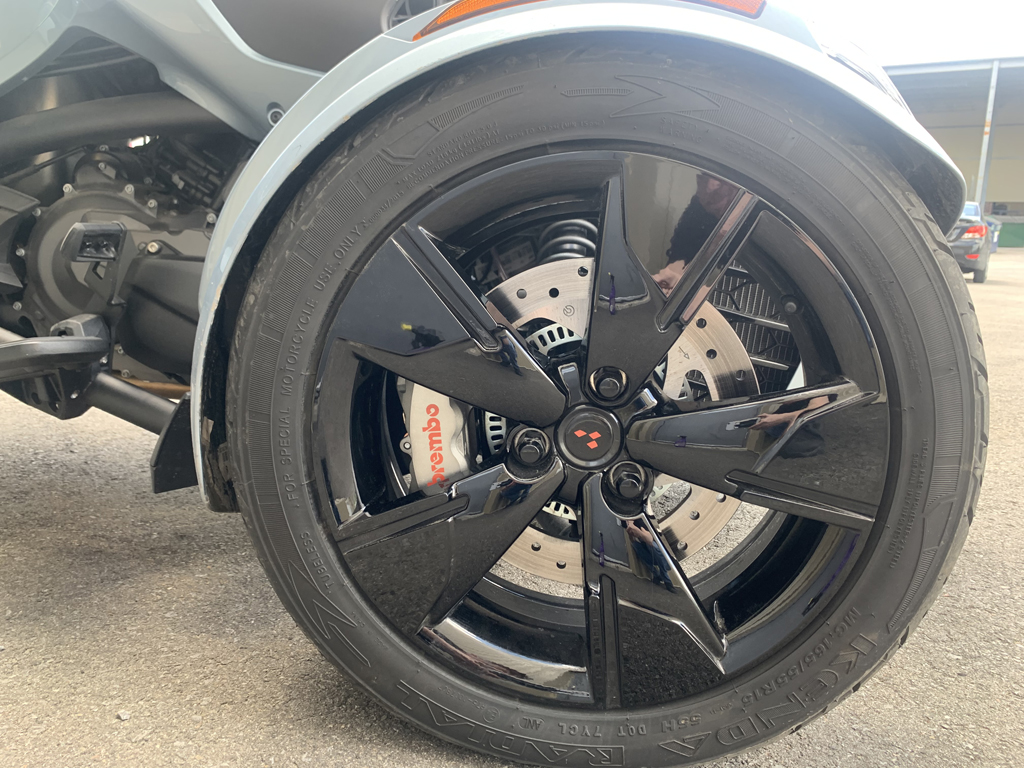 ACE ENGINE: EFFICIENT AND USER-FRIENDLY POWER
Rotax, BRP's engine subsidiary since 1970, has long been closely associated with two-stroke engines. That all changed in 1982 when Can-Am, then a dirt bike manufacturer, introduced the famous Sabre (later changed to Sonic) 500 with its "Type 504" single- cylinder four-stroke engine. Now it's 2021 and the Spyder F3 Limited, like all Can-Am roadsters, is powered by a Rotax four-stroke engine from the Advanced Combustion Efficiency (ACE) family.
This engine family celebrates its 10th anniversary this year, with the first ACE engine appearing in 2011 as a 600 cc twin-cylinder version in select Ski-Doo snowmobile models. This was followed by a 900 cc triple version in 2014 and both of these mills are still with us today, not only in snowmobiles but also in Can-Am's Ryker roadsters. The range has expanded since then and now includes the 1330 cc triple used in our Spyder.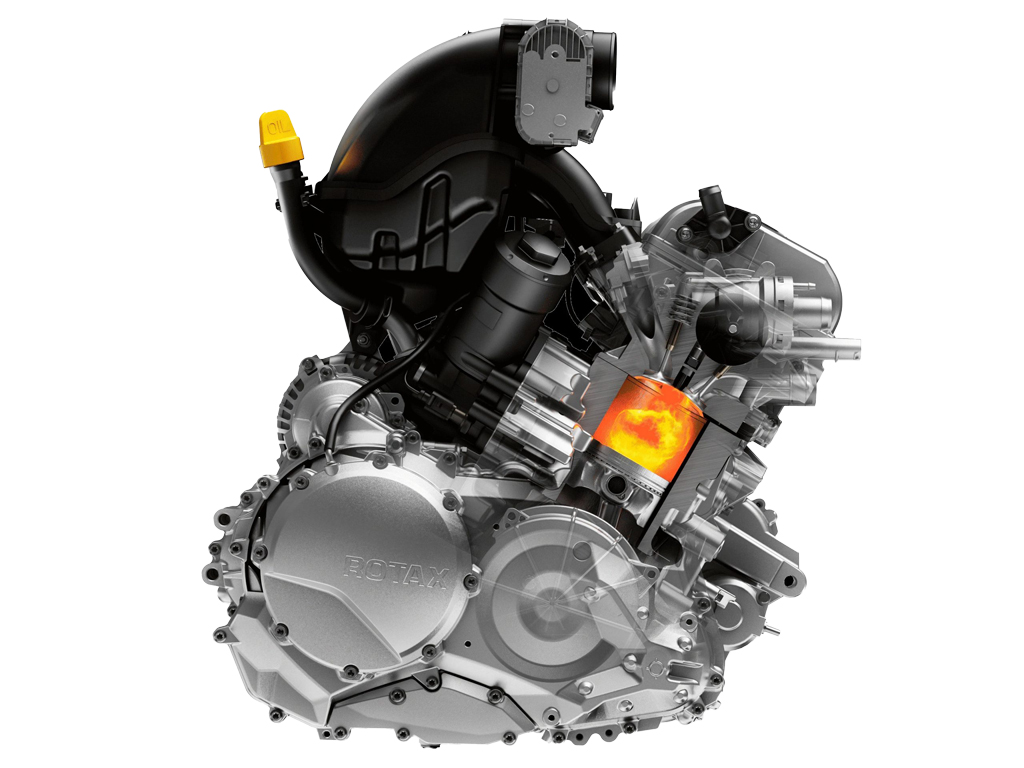 An engine is an engine, right? Well, not quite. What sets these engines apart, as the name ACE suggests, is that they have been designed and built with a particular focus on efficiency, through maximizing volumetric efficiency and combustion efficiency and reducing internal fiction. To achieve this, engineers favoured rather "square" internal dimensions (i.e. similar stroke and bore size) and a four-valve cylinder head configuration, with the valves set at narrow angles to achieve a compact combustion chamber with good flame propagation. A high compression ratio also increases efficiency, as does the use of high-lift, short duration camshafts.
The quest for efficiency also means reducing internal friction, hence the decision to use a DLC (diamond-like carbon) coating on the valve buckets to reduce friction with the cam lobes. Day-to-day life is also simplified by the use of hydraulic valve lash adjusters, eliminating the need for costly adjustments.
HITS AND MISSES
HITS
remarkable comfort and nonchalance on the open road
braking ability and stability
smooth and silky power
MISSES
no engine oil level window
absence of information about Eco driving mode
cruise control could be more user-friendly