This 1992 BMW R100R with the air of a scrambler motorcycle has been customized in Lord Drake Kustoms' motorcycle transformation workshop in Vélez Málaga (Spain).
This BMW custom motorcycle model has been the result of a very radical customization work, since practically the only thing that has remained original is the boxer engine and the cradle of the chassis. The rest of this transformed bike has been totally modified or replaced.
The first thing we did with this bike as soon as we arrived at our cafe racer workshop in Vélez Malaga, was to dismantle it completely to proceed with the work. The front end was completely removed and an inverted fork suspension with an ohlins gold anodized finish was installed.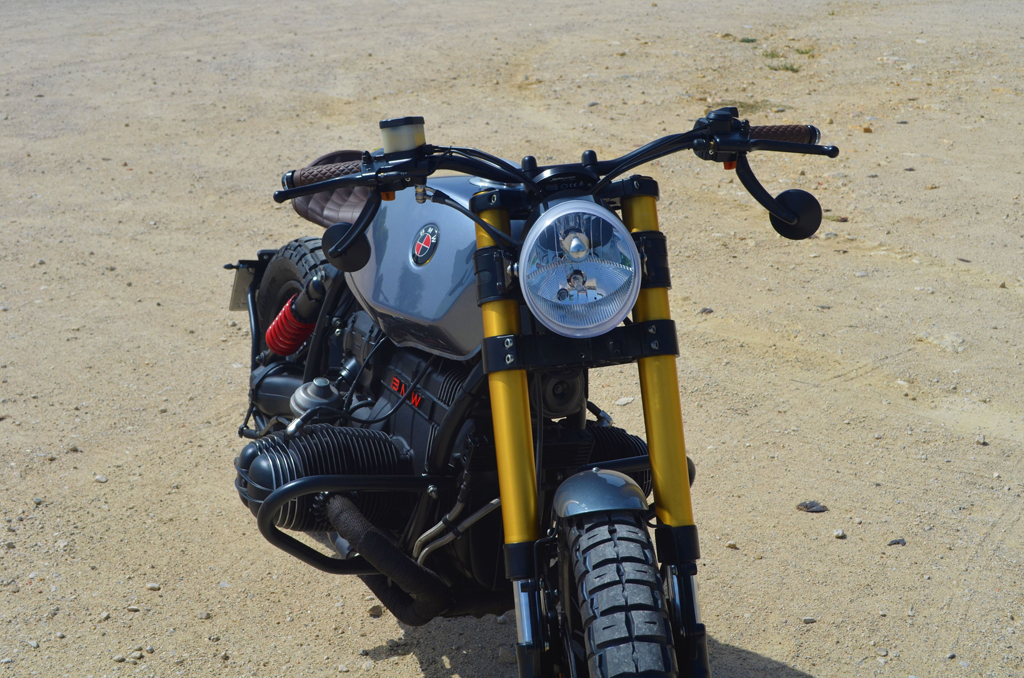 The front end was completed with a V-Rod headlight, scrambler handlebar, Motogadget Digital Pro odometer, Motogadget m-blaze disc turn signals, brown biltwell grips, and a small handcrafted fender.
The original BMW spoke rims were retained but new mixed tires were fitted with a mix of scrambler and cafe racer styling and the original BMW R100R fuel tank was replaced with a BMW R65 fuel tank with a Monza fuel cap.
The rear is one of the most radical areas of this BMW scrambler. An aerial single-arm support was manufactured as a basis for the handmade individual seat and underneath the LED taillight for cafe racer motorcycles was installed.
The rear area of ​​this custom BMW has been finished with a minimalist motorcycle mudguard for the rear wheel, a handcrafted cafe racer license plate holder and mini LED indicators.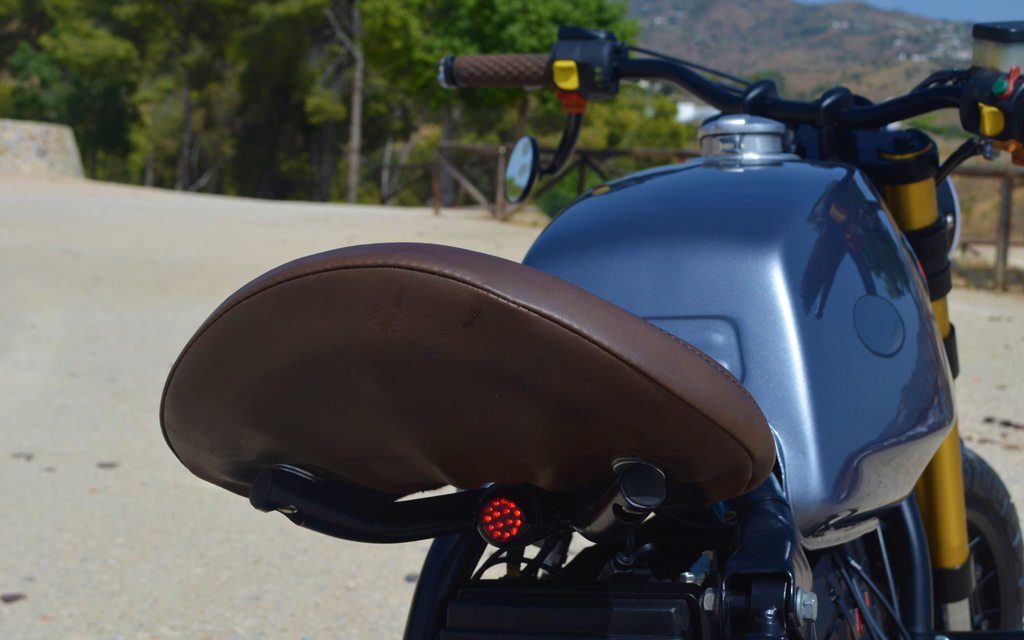 Other details to highlight are the Spark exhaust pipe that after a modification work has been combined with the original BMW manifolds. In addition to the conical air filters for motorcycles, the rear shock absorber and many other details.
Powdercoat work on the rims, engine covers and other elements. The fuel tank and front fender are finished in graphite gray metallic. The handcrafted bobber-style seat has been upholstered in brown with a matching diamond finish to the cuffs.
BMW R100R DATA SHEET
BASE: BMW R100R
YEAR: 1992
DISPLAY: 1000 cc
FORK: Inverted
REAR SUSPENSION: WP Shock
TANK: Modified
SUBCHASSIS: Handcrafted
SEAT: Manufactured and handcrafted upholstered
EXHAUST: Modified manifold and tail
FRONT WHEEL: Spokes
REAR WHEEL: Spokes
LIGHTING: Headlight with bracket, indicators and taillight
SPEEDOMETER: Relocation of speedometer and witness box.
OTHER WORKS: painting, powder coating, graphics, grips, footrest modification, etc.
Website : www.lorddrakekustoms.com
Source: Lord Drake Kustoms