New multi is supremely well endowed
Only Ducati could place a superbike engine into an ADV platform to create one of the finest grand-touring motorcycles ever on the road—or off one.
The Multistrada ("many roads") is an interesting story in Ducati's legacy. Its launch in 2003 elicited confusion among the Ducatisti, with an appearance that looked even odder than the gangly Multi's spot in Ducati's sportbike lineup. The V-twin Multistrada 1000 was supplanted by an 1100 version, then replaced entirely with the liquid-cooled Multistrada 1200 in 2010. Enduro, 1260 and 950 versions followed, accounting for more than 110,000 Multistradas sold by 2020.
With the adventure motorcycle market hotter than ever, this latest Multistrada is born with a V-4 powerplant rather than the V-twins of every previous Multi. The engine architecture is based on the Panigale V4's but with a plethora of tweaks to transform it into a powerplant optimized for sport-touring work and even off-roading.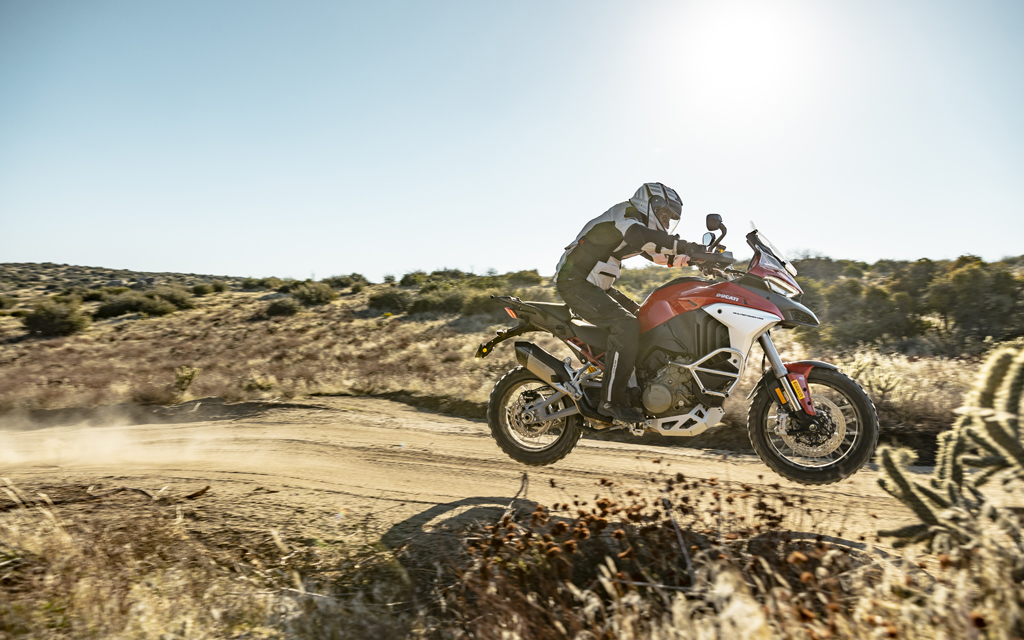 Yes, it's true that a 170-horsepower Ducati can competently traverse moderately technical terrain. It's more than just a show horse.
But this is a new era for Ducati, which proudly boasts the new V4 "Granturismo" engine doesn't require valve adjustments until 60,000 kilometres! That's longer than any bike in its class—when's the last time that has been written about a Ducati? It's so long that the bike's original owner probably won't ever have to even adjust the valves.
Most Ducati riders are deeply passionate about the Italian brand. Purebred Ducatisti nearly lost their minds when it was announced this new Multistrada would no longer use three revered features that are historically significant to the brand: a trellis frame, a single-sided swingarm, and desmodromic valve actuation.
This is the first Ducati since the 1970s to use coil springs to close the engine's intake and exhaust valves rather than the purely mechanical closure system of desmo. It's also the reason why the Multistrada's valve- adjustment intervals are now so long. And, no, a rider can't feel the difference.
The Panigale V4 had confounded Ducati fans when it was introduced in 2017, becoming the first Ducati without a V-twin engine in several decades. And the earth continued to spin. The Panigale lends its engine to the new Multistrada, minus the desmo but with bored out cylinders to achieve 1158 cc. The four- cylinder powerplant is 8.4 cm shorter than the previous V-twin, making it easier to package in the chassis, and it's only two cm wider. Also 0.7 kg lighter than 1260's motor.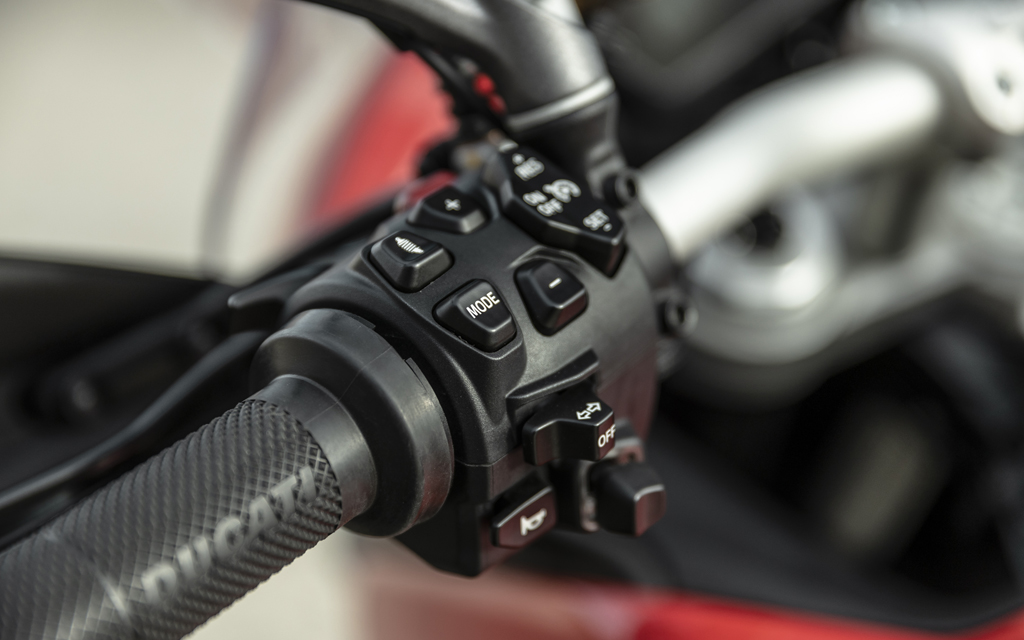 Ducati has nudged the bar higher in terms of motorcycle technology with the Multistrada V4. Naturally, it has a six-axis inertial measurement unit (IMU) that informs systems such as cornering-ABS, traction control and a quickshifter, as well as hill-hold control, cornering headlights, self-canceling turnsignals, and the Skyhook semi-active suspension with a new auto- leveling function.
These are all standard-equipment items on the Multistrada V4S, not to be confused with the base V4 model, which lacks some of these features and uses a smaller TFT instrument panel and set of brakes. It retails for $22,395, but it will be difficult to find at dealers, as all the pre-orders were for the V4S and the V4S Sport, the latter equipped with an Akrapovic slip-on exhaust and a carbon fibre front fender.
The S model ($26,745) we tested has a beautiful 6.5-inch color TFT screen large and vivid enough to take in the multitude of information available in the display, thanks to smartphone-like mineral glass that shuns reflection. For as many systems as the customizable and angle-adjustable screen monitors, it's surprisingly easy to navigate via new joystick switchgear, conveniently backlit like the other switches. Navigating the multitude of apps is less intuitive, as you'll need to sort through the Ducati Connect app that "mirrors" your phone, the Sygic navigation app, Ducati Link, and the MyDucati app.
To make our ride route available for us to see aboard the bikes, the rubberized and waterproof compartment with USB charger behind the fuel filler cap was pre-fitted with a smartphone for easy navigation.
Our ride began by pointing up one of my favorite sections of road anywhere, the lightly trafficked and winding Montezuma Grade climbing out of Borrego Springs, California. The asphalt twists entertainingly as it climbs the rocky hills, demanding both agility and stability from a motorcycle.
First impressions were of the effects of the Multistrada's 19-inch front wheel, a size previously seen on a Multi in the Enduro sub-variants. The 19-incher saps some of the sharpness a rider gets from a 17-inch wheel, but the V4's wide handlebar overcomes a lazier feeling with mechanical leverage and cranks the Duc over in a hurry when appropriately prodded. Once on its side, the bike feels surefooted and stable. Pirelli Scorpion Trail ll tires grip well enough to dispose of "chicken strips" after just a few kilometres, and the semi-active suspension delivers poise unlike most adventure bikes.
On this type of road that encourages sporty riding, I became frustrated by the Touring ride mode set on my bike. Throttle response felt indirect, like a captain's shout down to the engine room. No matter, as a button push later I was enjoying the more direct responses of Sport mode and had no further complaints.
The Multistrada's V-4 engine is remarkably usable in its power delivery. Ducati's Twin Pulse firing arrangement, like in the Panigale and MotoGP bikes, emits an exhaust note with hints of V-twin along with a creamy V-4 growl. Here we have a midrange without a lull, with an authoritative lunge once past 7000 rpm.
Later, after lower speeds and much higher velocities on roads both twisty and straight, I was loafing along on a straight stretch and was overcome with comfort unexpected from a Ducati. Air flowed smoothly over the hand-adjustable windscreen, and the supportive seat felt like its comfort would last for several hours. Distance from seat to pegs is an additional two cm over the roomy 1260 Multi. Heated grips and seats are standard equipment on the V4S, as are hardshell saddlebags that weren't fitted to the test bikes.
At this point, I was hard-pressed to think of a better motorcycle to ride across the country.
DIRTY FUN
Okay, so few owners of $25K Italian bikes will tackle technical off- road trails, but it was a necessary test. Preparations included fitting Pirelli Scorpion Rally tires to tubeless wire-spoke wheels available as a factory option. I used the Multi's nifty seat-height adjuster to place the saddle in its low position (860 mm) so my legs could best reach the ground to hold up the 243-kg (with 22 litres of fuel) steed. A couple of button pushes and I was in Enduro mode and had set the suspension damping to a high level.
Surprisingly, the traction-control setting in Enduro mode was overly aggressive in loose dirt, so I opted to switch off TC entirely while off- road. Blessedly, Ducati allows settings for TC, wheelie control, etc., to remain stored even after keying off the ignition, preserving your chosen selections.
To manage the potential perils of off-road riding, Ducati fitted steel engine guards, a skidplate, and a mesh cover for the oil cooler. A short Enduro windscreen allowed a greater breadth of air to cool riders. Total cost: about $1,200, not including the wire-spoke wheels that are a $500 upcharge from the cast hoops, nor the cost of the Scorpion Rally tires.
While the Mutlistrada V4 can't outrun a KTM 1290 Super Adventure R in the dirt, the imposing Ducati performs markedly better off-road than its appearance might lead you to believe, especially with the knobby tires fitted to our test bike. Ergonomic updates make it easier to move around on the bike, whether standing or shifting your weight further back, while 170 mm and 180 mm of front/rear suspension travel absorbs reasonably big hits.