Everybody has a road trip song that he sings aloud like crazy under his helmet. Joan Jett's "I Love Rock 'n Roll" is now officially mine.
I don't know Saint Jhn that well, but the Guyanese-American singer, born in Brooklyn, New York, does create balanced, positive and sunny music. He also worked with Usher, Kanye West, Lenny Kravitz, and Beyoncé.
BRP has chosen these two icons to be Can-Am ambassadors and shake preconceived ideas on its three-wheeled machines.
For certain motorcyclists (they will recognize themselves), Spyders are not motorcycles.
So what? People who prefer two-wheelers have tons of motorcycles, categories and builders to choose from.
Let's let the three-wheeler crowd live their lives. They are also riding bike-like, with hands on the bars, and they breathe freshly cut grass through their helmets. Their rides have a lot in common with motorcycles. Of course, they don't lean into curves, but each curve brings its own unique pleasure.
Can-Am Spyders and Rykers are in a class of their own. When they were launched, many observers showed no faith in the concept. But, as time went by, new model categories were added: the sport-oriented RS, the RT for touring, the F3 cruisers. And recently, BRP introduced the rebel Ryker with a specific price point, designed to attract a new segment of younger riders.
For BRP, now was the time to rock the boat and firmly position the Can-Am three-wheeler as their own kind of vehicle, aimed at people who fully accept their choices, are not concerned about what other people think, and may even enjoy showing off on their three-wheel machine. Can-Ams are positioned as vehicles for people with a rebel, exuberant, extravagant side, they are for "outliers," the company insists.
This message will also be conveyed through a video directed by cinematographer Daisy Zhou. In recent years, the celebrated Brooklyn director did spots for Spotify, Nike, and Aston Martin, to name a few brands.
The video begins with Saint Jhn slaloming in the streets of Los Angeles on his Ryker as if he was on his own private track. Then Joan Jett appears on her Can-Am Spyder F3-T, in a Brooklyn warehouse. She fills the screen with all the energy only a rock legend can radiate. Both do smoking burnouts that mark the vehicle's evolutionary status. Music adds rhythm to the action. It's been composed by Saint Jhn, who named it Gorgeous. Quite a video!
The two stars participated in a Q&A session hosted by Julana Dizon.
Joan Jett spent her life surrounded by motorcycles. But it was the first time in years that she sat on a vehicle with handlebars. She did not want to ride motorcycles again because of a lack of confidence, balance or feeling of security. With the Spyder, she rediscovered the great fun of accelerating with the wind in your face. She experienced a feeling of freedom, and stability at stops.
"Being part of this Can-Am campaign is quite cool. I have seen and done a lot in my life, but it's not every day that you have the opportunity to try something new such as learning to ride on three wheels."
And she likes it. "It's a deliberate decision to move away from the pack. It's the freedom to be who you are. Whether you hit the road or jump on the stage, it's the same feeling of liberty that pushes you forward."
"Being an outlier, being exuberant, means questioning accepted ideas and choosing your own path. In life, you have to be audacious, you should not be afraid or sorry to be what you are."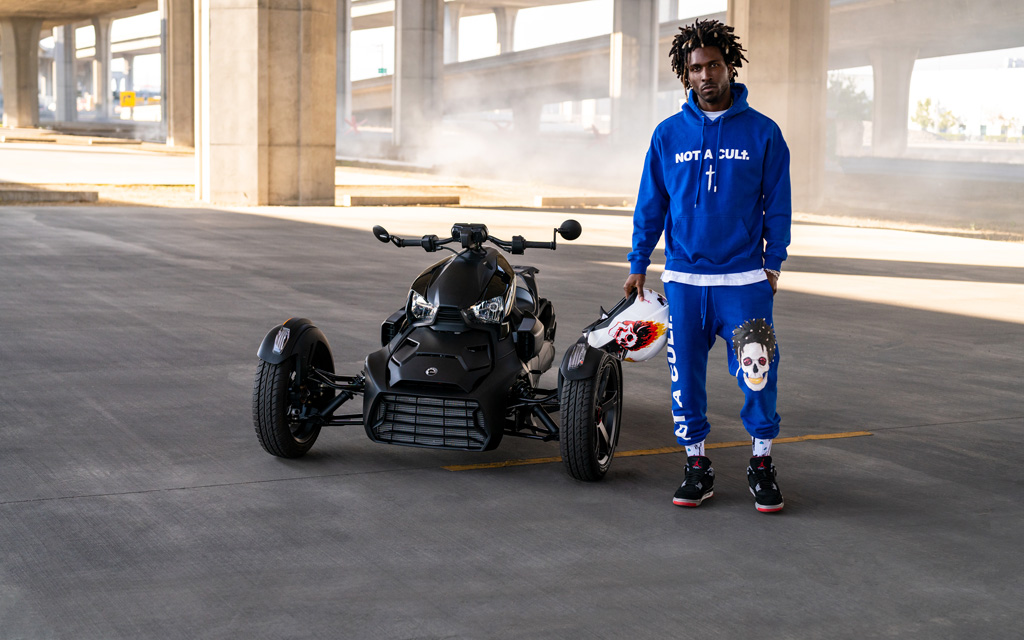 Saint Jhn also explained his support for the concept: "I'm inspired by things that I have never seen or done before. I try to be inventive one day after another, without a plan."
"An outlier, an exuberant individual is someone exceptional, willing to take risks, who is audacious, who is courageous and pushes things a little further than most people."
His urban indulgence: riding to Times Square, New York, while listening to music. "It's like a video game."
"Like when you are on the road," he adds. "I'm inspired by difficult journeys. Things that are easy and flowing can be fun. But the things that challenge you are the ones that are truly inspirational. That's why the partnership with Can-Am seemed fair to me. They open their own roads and they think without frontiers, like me."
Of course, the musical part was on the list of questions. Joan Jett is a real rock singer with a raspy voice and almost gothic complexion. She greeted us in a music studio with guitars on the wall and a mixing desk nearby. She had to fight as a female rock singer and talks about Suzi Quatro, another rock singer from the '70s. She would have loved to do a duet with Cliff Richard.
As for Saint Jhn, he comes from the easy-going exuberant hip-hop scene. He talks about Jayzee, Kanye, and also about Joan Jett. They would make a duet like no other. That would be cool because the video ends on these exact words: Like no other!