Far down on the South Island, where the green Tasman Sea rolls onto a wide, rocky beach, I took off my shoes and let warm salt water splash over my feet. Here I stood near the southernmost point of New Zealand, so far away from home that the moon was upside down and stars I'd never seen until a week ago sparked in the night sky. I tried to feel the spell of remoteness and strangeness that should have overwhelmed me, here where north and south had swapped meanings, but it was almost time for dinner in the Punakaiki Resort's dining room.
An hour later, I sat near Brian, an American, and Ran and his wife Hanna, Israelis, and ordered a steak, medium-rare. But before it arrived I surprised myself, and some others, by getting up and very publicly apologizing to an Austrian with whom, on the first day of riding, I had shown that Canadians might be polite, but we can be sons of bitches, too.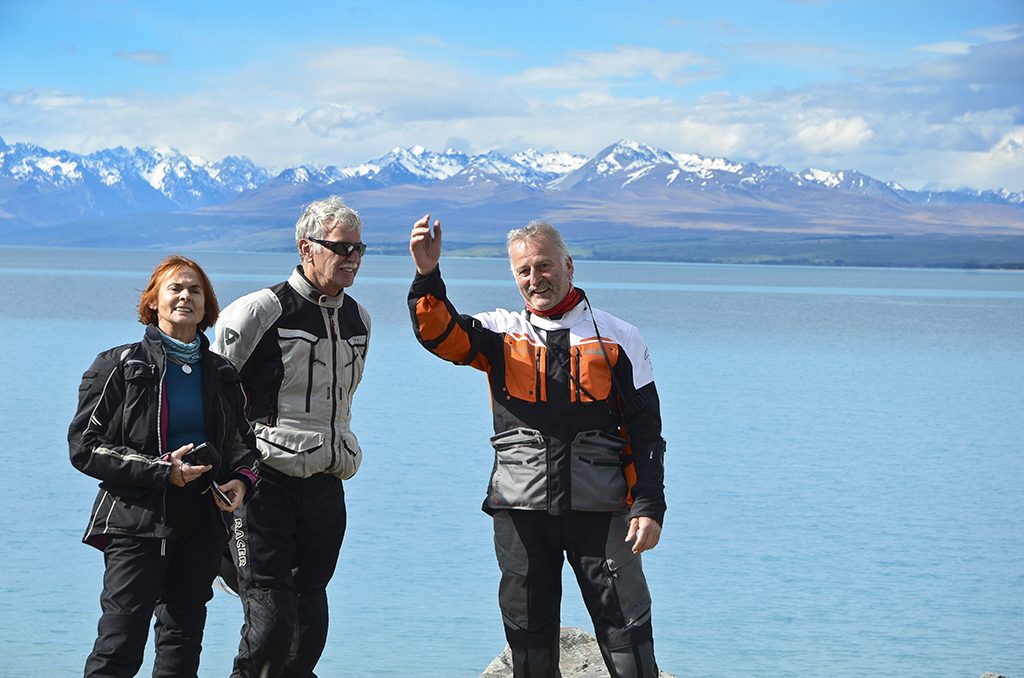 By the time we reached Punakaiki we had been riding for six days. There were 14 other riders and two tour guides in the group:, five Austrians and three Americans, a Slovenian couple, one Brit, one German, two Israelis, and a Canadian journalist, as well as the two tour guides, Tom and Tony. Four of our 12 BMW motorcycles were occupied by couples, one was ridden by a woman, and one was shared by the tour guides, the other guide driving the luggage van on alternate days. We were a mixed group, but everyone could speak some English. The thing about an Edelweiss tour—and I have noticed this on four previous tours—is that you bond very quickly with other participants, they feel like friends, and another thing about an Edelweiss tour is you are unlikely to ever see these newfound friends again. But that oddly sensible fact, too, proved untrue.
We had started in Christchurch on November 12, a bright, warm day in the middle of spring, and headed south. Christchurch lies a bit more than halfway up the east side of the South Island, which is four times longer than wide and angled a bit to the right. The South Island is larger than the North Island, and the landmass of both equals the area of Texas. Christchurch was blasted seven years ago by a 6.2 quake that struck 10 kilometres from the centre of town during a summer noonhour and killed one Canadian and 184 other people. They're still rebuilding, seven years later. I arrived there a day early in order to accustom myself to being upside down.
On that first day, a Monday, we rode south. Tony and Tom had briefed us, as they did every morning, on the route. They had also said we would find it easy to get used to riding on the left side of the road, but that a potential for trouble lay after stopping for coffee, starting out again, and forgetting that left is right. And we had been told not to pass another rider on the go, but wait for a break and ask. Nevertheless, on that first day a rider on a BMW R1200RT passed me, and then passed a couple of others, without moving over to the other lane, as we cruised down a rare straight stretch of highway, just getting used to being on the left side.
That afternoon, it happened again. Same rider, passing without moving over. I was ready for a shootin' match when we stopped. I approached him, asked if he enjoyed passing me that way, and when he denied knowing what I was talking about, I became red in the face and started yelling. Against his repeated denials I had only rage and volume, but just as I started to utter a phrase that would have gotten me punched out, Tom, the tour guide, said in a calm voice, "Don't fight, Steve." I backed off, humiliated by my own performance, but then two other riders approached me. "Thank you," they said. "We were going to say something to Tom, but you took care of it." The encouragement of allies calmed me, and we carried on to Twizel, where we stopped for the night.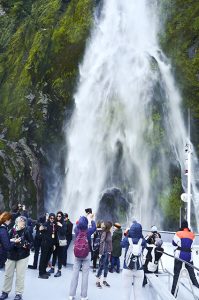 The next day, our second day of riding, we stopped at the world's first commercial bungy-jumping operation over the Kawarau River. I imagined a shack near a trestle bridge in the bush, but this is a big operation with a gift shop, food and drinks, high prices, and, up on the suspension bridge, professional handlers that can drop you by your ankles 43 metres and put you just as deep as you please into the Kawarau River. One of our Slovenian riders, Matej, spent $205 NZ to do it, but he was put on a wait list and we had to go, so he caught up later, grinning with well-deserved self-confidence. "It's a test against yourself," he said, having passed with honours.
We stayed that night in a small town, Manapouri, at the eastern end of a lake of the same name, and before dinner I had a beer with two Austrians, Josef and Marianne, who were on their sixth Edelweiss tour, having already done Miranmar, Peru, South Africa, Cuba, and Tibet. After dinner, I wanted to photograph Crux, the Southern Cross, one of those star groups you can't see from Canada. That night I took the Nikon and strolled across the road and sat down in the wet grass near the shore. A crescent moon shone high in the sky, but it was blindfold dark, and there, farther the south than I expected but unmistakable in its strict geometry, lay my new friend Crux. In the light of the motel room I had set the lens on manual focus to infinity, shutter speed to three seconds, and activation to self-timer. I removed a shoe and placed the Nikon in it, lens pointing roughly toward my starry target, pressed the button, and sat back. Later, looking at the results, I was elated. I had nailed the Southern Cross, using a shoe for a tripod and guesswork for shutter speed.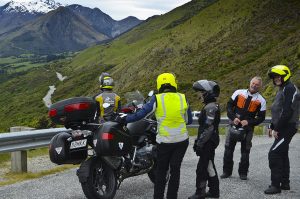 The following day featured a spectacular ride down a twisting rain forest highway from Te Anau to Milford Sound on the southwest side of the South Island. Tony was leading us on the tour guides' BMW R1200GS, the same model I was riding, and said we could break off and head at our own speed to the end of the road—he would hang with some of the more leisurely riders—so Matej and his pretty blond wife Tatjana took off, accelerating down the road in a way that suggested he might get serious. I followed him, and he did, for 110 kilometres, twisting through dense forest on a spectacular motorcycle ride. At Milford Sound we boarded the Pride of Milford for a tour. We sailed up calm waters between low mountains with steep sides that, after a good rain, produce hundreds of waterfalls. The ship was large enough for a hundred or so tourists, and people crowded the main deck with their cameras and took selfies as the captain drove us sternward right to the wet edge of a big waterfall, close enough to feel the water coming down. Tom had a big chocolate bar and he walked around giving us nibbles while we stared at the views, tried to spot penguins, and took pictures. Milford Sound is, as Rudyard Kipling is reputed to have claimed, a wonder, and there were places along the shore where it was almost surprising that you didn't see dinosaurs plodding about under giant ferns.
Later, we rode back to Te Anau (a town, on a lake of the same name) for lunch at the Fat Duck Gastropub, where we ate giant sandwiches and two of the Americans, Joe, who is a paramedic and firefighter, and Ruth, who rode with him on a GS1200, talked about home, guns, and Trump.Ruth said she wouldn't leave home without her pistol. And Joe told us that he liked Trump "because he likes firemen and police."
We spent that night in Queenstown, and the next day was a holiday within a holiday, so we would sleep two nights there. The following day, we rode a short distance to the Shotover River Canyon, then went down to the river and got into a pair of jet boats for a ride on the river. I stupidly sat on the outside, wanting to experience the thrill of these things that use two V8 engines to pump 760 litres of water a second through their jet nozzles and can turn and stop dizzyingly. Sitting on the side, I was sprayed with shockingly cold water every time the driver made another 180-degree instant turn.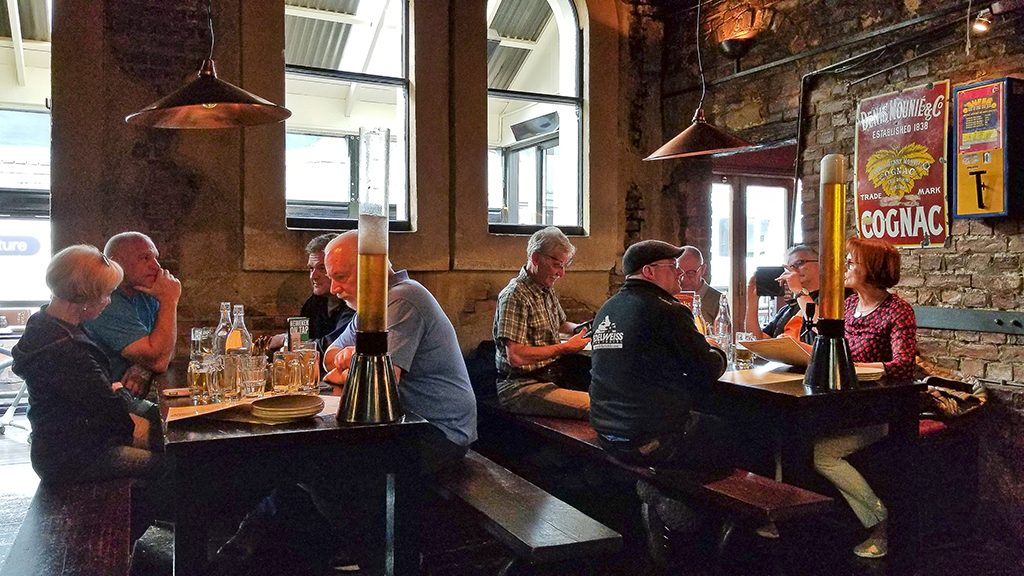 Later, dried off and helmeted up, we rode up a big hill to a ski area, Coronet Peak, provided a nice vantage point for shooting photos. This was a day off, and most of the women in our group stayed in Queenstown, so it was about five bikes that rode up the hill. The road was steep and winding, and it was paved, but gravel was strewn here and there, so it required a little extra attention. Matej and Tatjana got on their bike and started down the hill just ahead of me, but on the wrong side of the road. Matej said later he was focussed on avoiding the gravel, and he did avoid it—but the car that appeared in front of him was another matter. He didn't hit it, but in dodging the car he drove into a ditch. It was a low-speed event, and the ditch was just the right size to enclose the bike, which simply stopped and couldn't fall over.
They weren't hurt, but getting 200-plus kilograms of motorcycle out of the ditch wasn't going to be easy.
And then, something like a miracle. A big green forklift, rolling steadily up the hill. The driver stopped, turned it sideways, hooked a strap around one fork leg and around the BMW, and lifted the bike out of that ditch and set it down gently and right side up on the pavement. The whole thingcouldn't have taken more than a half hour.
Riding day 5: Queenstown to the Fox Glacier. Stopped for construction, we were visited by a kea, a nasty little green parrot that will eat your motorcycle, according to Tony. Or parts of it, at least. They had developed a habit of landing on sheep and tearing out fat from the sheeps' backs, resulting in their infection and death. But since they're a native species, they became subject to protective laws and their behaviour suggests they know it.. The one I saw walked around our bikes looking like it wanted a cigarette.
Riding day 6: Fox Glacier to Punakaiki, where I stood barefoot in the Tasman Sea and then went to dinner with the rest of the group. The dining room was fronted by large windows that looked out to sea, and when Ferdinand got up and went outside for a smoke, I followed him.We met on the lawn in full view of the restaurant, where I said, "I want to apologize for what I said. I went too far. I'm sorry." And then, to my astonishment, he extended a hand and we shook. He and his wife Ursula are Austrians who live in Vienna, and were friendly with me for the rest of the tour.
We were a mixed group, but we came together easily.Tom and Tony, the tour guides, were professional, friendly, and funny.
Brian, the other American, and Helmut, the German, both arrived a day early at the hotel in Christchurch, and we three met in the restaurant that evening.. Brian rides a Harley at home but was on a GS for the tour and talked about buying one. Helmut has been touring the world and joked frequently in a form of English that I had trouble understanding. I had talked with two other Austrians, Josef and Marianne, on the afternoon we arrived in Manapouri, our second day of riding, and learned that he owns a factory that makes Sterling engines. Most of us were on the high side of 60 years old and have been successful enough to afford the €5,800 price per person, but the tour guides were younger, and so was John, a likeable Englishman. Matej and Tatjana, the two Slovenians, were also younger than me. Rudolf, one of the five Austrians, owns a factory that makes parts for KTM motorcycles, Like the rest of the group—Ran and Hanna, two warm and sociable Israelis, and the other two Americans, Joe and Ruth—were consistently friendly and easy to spend time with. Joe gave me a firefighter T-shirt on the morning of our second day.The day after Punakaiki, we split up to spend the night with some New Zealand families in bed-and-breakfast places. I had been partnered with the Joe and Ruth for that experience, and got there a bit late with Tom and Helmut, after shooting some photos on a winding road. John and Barbara Anderson have a farm of lemon groves not far from Nelson, and were in the process of setting their home up as a B&B. John had a 1952 BSA 125 two-stroke that he'd purchased for £50 sterling in the early '60s, and a '41 Indian Scout that was imported from the United States as a practice bike in WW2. It's a rare motorcycle, has no rear suspension and a gear lever that comes out from under the seat. He also paid £50 sterling for the Indian, in 1964. Both bikes were damaged when an arsonist burned down their shed in 2010, but have been restored. John started the Indian for us (a barefoot kickstart) and let it rumble for a while.
John harvests lemons from one tree a day and takes them to a restaurant in Nelson, but they have gardens that produce all the vegetables and fruit you could want, so we ate from the earth that night. It was lovely, and after, tired, I took to a comfy bed in my room.
John wanted to show me around, so at about 6:30 the next morning, I got up and we trekked around the property in the light of a rising sun. Later, as we were getting ready to leave, I suggested to Joe that I should ride behind him—we were to meet the others at 9 a.m., and my sense of direction is lousy, so it seemed reasonable to let him lead the way. This was the only morning on the two weeks of the tour that we would start out without a guide leading us, and after saying goodbye to John and Barbara, Joe and Ruth rolled down the driveway ahead of me. We carried on for a while, and Joe seemed to have forgotten which lane he needed to be inbut he rode close to the centre line and would occasionally drift into the correct left lane, so I didn't worry about it. After about 20 minutes he stopped at the head of a T-junction, and as I sat on my GS behind them, he pulled out a map and peered at it in the morning sunlight, then put it away, executed a U-turn, and headed back down the road we had just come up. He was in the right lane, and was going fast. I followed them, but in the left lane, and I did not try to catch them, which might have been dangerous. It was a lovely morning, the kind when you can almost hear birdcalls through your helmet, the sunlight lying in stripes across the road, which cut through trees and fields and wound its way along the Motoueka River. I took it easy, trusting that I'd meet up with Joe and Ruth before they turned off.
A mile or two down the road, I made an easy left turn, just enjoying the morning. A car's bumper lay on the road, detached and odd-looking. The car was stopped, facing me, in the lane on my right. There was a motorcycle on its left side near the car, front end facing me, and there were Joe and Ruth, lying on the road between the car and the motorcycle. I think the car's driver was standing there, but I don't remember that. It couldn't have been more than a minute or two after Joe saw the car coming at him, braked and tried to move over. But his right cylinder head and Ruth's right leg struck the corner of the car, flattening the tire and tearing off the whole bumper.
=I yelled, "No!" and stopped, hit the flasher button, and went to Ruth. By now Joe was up and moving, shocked, obviously Ruth's leg was broken, but she was otherwise unhurt. For some reason, Joe got up and picked up the bike—he's a big guy—and put it on its sidestand. I think he just needed to do something right. And then he went to Ruth and kneeled, and said, more than once, "I'm so sorry." She lay there, quietly, as Joe tried to comfort her. I got out my cell phone, dialled 1-1-1 for emergency, and tried to tell the dispatcher where I was, but I didn't know, and the phone signal was bad. managed to make the call, and though it seemed like a long while, police, then fire trucks and finally an ambulance showed up pretty quickly, and Ruth was taken to a hospital in Nelson. Their trip was over, but they had survived. I spoke to the driver of the car, who felt terrible, but it wasn't her fault. And then I headed off for Nelson, hoping I wouldn't get lost, because we had a boat to catch for the North Island, and it wouldn't wait for me.
Later, I sat on an upper deck of the ferry that goes from Nelson to the North Island, eating a sandwich with John and Rudolf and, I think, Helmut. The ride was a couple of hours long, and when the ferry docked, we rode off it and into Wellington, where the adventure continued, minus two of us. Tom had shown up at the crash site and he took care of the broken BMW, then drove in the Edelweiss van to Nelson to see Joe and Ruth and do what he could for them. Meanwhile, Tony was determined to keep spirits high, and he led us into Wellington, where some of us visited the Te Papa national museum and saw John Britten's gorgeous race bike ("like a torpedo on top of a knife blade") and a stunning display of New Zealanders who fought at Gallipoli in WW1, fantastically lifelike giant sculptures that were made, I was told, by people who had worked on the Lord of the Rings films..
We spent an extra day in Wellington, then carried on toward Rotorua and then Auckland, where my tour would end, and now, weeks later, I am filled with memories.The walk through a rain forest with giant ferns and odd-looking trees that might have sprouted a million years ago. Anin a whacky Chinese restaurant where Helmut and I got on stage and pretending to be dancing Maori warriorThe final evening in Auckland when half of us had turned in our motorcycles (the other half would continue for another week on the North Island) and rode an elevator to the 54th floor of a building for dinner in a revolving restaurant where I was lucky enough to see the full moon rising. And most of all, the riding, left-side lane and all, along some of the best roads I've ever seen.
On our second night, in Rotorua, I met a couple of people I had ridden with on an Edelweiss tour in Europe the previous summer, Jane and Murray, who rode over from their home in Mount Maunganui on the northeast corner of the North Island and took a room. The following morning we met for breakfast, and then Jane on her Ducati and Murray on his GS led me to their home for coffee, and an hour later back up the road toward Auckland about 100 kilometres to where join the rest of the group for lunch. It was a wonderful experience meeting two people I had become friendly with on a previous tour on a different continent, something that seems to stretch the boundaries of credibility. And who knows? We might even meet up again, on some other road far from home—and maybe Helmut will be there with his unbearable jokes, or John the Englishman, or anyone else from that sensational tour of New Zealand. Wouldn't it be nice.