Ducati's latest is more powerful but easier to ride
The Jerez race track in Spain is relatively short but it offers beautiful curves. It was on this legendary track that the handpicked journalists from around the world were invited to test this latest version of the Panigale family.
We were 15 journalists and there were four motorcycles. A few days before, we were told we would only be allowed four 15-minute sessions to familiarize ourselves with the beast. That's not much to tame a motorcycle with such impressive technical specifications.
We arrived at the circuit under a little drizzle; the test day did not look so good. Riding for the first time a 234 hp bike on a wet track is not necessarily a good idea. Especially when these motorcycles have to become race bikes for the team next season. It wouldn't be a good idea to slide these gems on the famous MotoGP and WSBK track. Looking at the bike, I reflect on how the MotoGP style winglets on the V4R sides must be the first things to go in case of a high-speed slide. I will be cautious.
After the usual presentation, our hosts explain that we will have to wait a bit before we can start our tests while the drizzle stops and the mechanics install rain tires.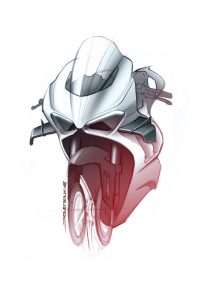 So it's midmorning before we get the thumbs up to put our leathers on for a first session. It is always stressful to discover a new track but when you do it on the most powerful production bike ever made by Ducati, it's even more exciting. And all this on a track with dry parts and wet patches all along its length. The level of excitement was at a maximum.
I also had the good idea to try on a new Arai helmet and a new Alpinestars leather suit. Add to that a six-hour time difference that let me sleep for only two hours the prior night and everything was there for a perfect disaster. Fortunately, I am not a young man anymore and my almost respectable age allows me to be reasonable enough not to go beyond my skill level with such a bike on such a track.
No need for a signal to tell us that the track sessions would soon begin. The completely insane sound of the V4R Akrapovič exhaust vibrates throughout the entire building. We hear them purring while we finish gearing up. They really sound like race bikes. That's because the V4R is a race bike in many respects. Ducati built this V4R for homologation to compete in the World Superbike Championship. So we have a true race bike but it is equipped with the necessary attributes for the road.
While sitting on the rigid but beautiful seat I see that the cockpit is very similar to the 1299 Panigale that I rode when it was released. I feel instantly comfortable. The position is perfect but I would not see myself riding this bike during a long road ride. The enlarged front fairing compared to that of the V4S offers a good protection. Controls are user friendly and the menus are rather simple as far as one is familiar with the logic of Ducati dashboards.
Despite an ultra powerful engine that can reach 16,500 rpm in sixth gear, the power curve is at first quite linear and pulls nicely from 1,500 rpm without giving the impression that it's impatient to go faster. But it's around 9,000 rpm that the mill reveals its power—though with a pleasant and precise power delivery.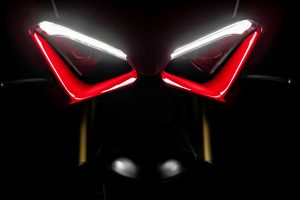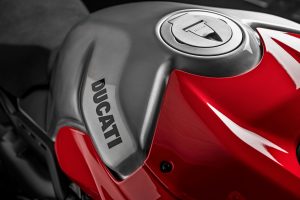 The ultra-precise steering as well as the acceleration and braking stability give me even more confidence. I did not expect to feel so good on the V4R on a wet track. At least not as fast as this. It's truly impressive. The electronic aids do their job and allow me to think I am a better rider than I actually am.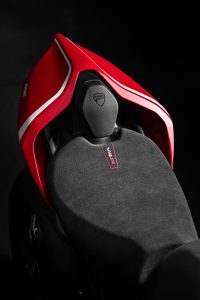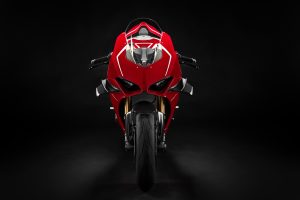 This is one of the first thoughts I share after my first session while talking with Ducati's team of mechanics and engineers who ask me my first impressions. Most people will agree that this bike will mostly be bought by people who spend more time at work than on a race track. It is not easy to have a $48,000 discretionary budget to buy a motorcycle. You have to earn a very good living to afford this kind of toy. Even at a fairly high level of competition, many professional riders do not have enough budget to buy this bike and have to rely on serious sponsors to make it. The V4R will probably see a lot more mansion garages than race track pits. There will be many times when this bike will mostly be a trinket to assert its owner's masculinity or a toy to have a little fun on the road. This is the faith of these out-of-the-ordinary motorcycles manufactured mainly for homologation. But it's a good thing because it allows ordinary people to enjoy what it's like to ride a professional rider's bike.
But those who have the cash and the courage to dare put it on the track should have a good time, although most should only be able to exploit about 25 to 50 percent of the V4R's outrageous power and ability. Thanks to the fabulous electronic suite, one can modulate the power and behaviour of the V4R to discover it at his or her own pace. With a little practice and a growing level of confidence, the gentleman-rider can become the fastest guy at any track day. You can begin with every control set to the maximum level and the more you gain confidence, the more you can reduce the help settings.
Riding this bike with all the electronic aids at max level is downright cheating. Nothing less. Everything has been developed to help the rider: DTC Evo traction control, DWC Evo anti-wheelie, DBC Evo engine brake control, the Up & Down quick shifter, the DSC slide control, the launch control DPL and ABS Evo Cornering. The DTC, DWC and ABS are coupled with a 6-axis inertial measurement unit for greater efficiency. All of these features have been redesigned for the superior power and racing orientation of this Panigale.
There is also a bonus under the beautiful aluminum tank: a pit speed limiter, a lap timer with GPS, a GPS DDA data analysis and colour TFT instrumentation.
It also has three riding modes: Road, with maximum assistance and a soft engine response, Sport, with a more agressive engine responsiveness and less electronic intervention, and a Race mode for high-level riders, with maximum engine response, minimum assistance and front-only ABS. All modes offer a claimed 221 hp on the stock model and 234 hp with the Slovenian exhaust.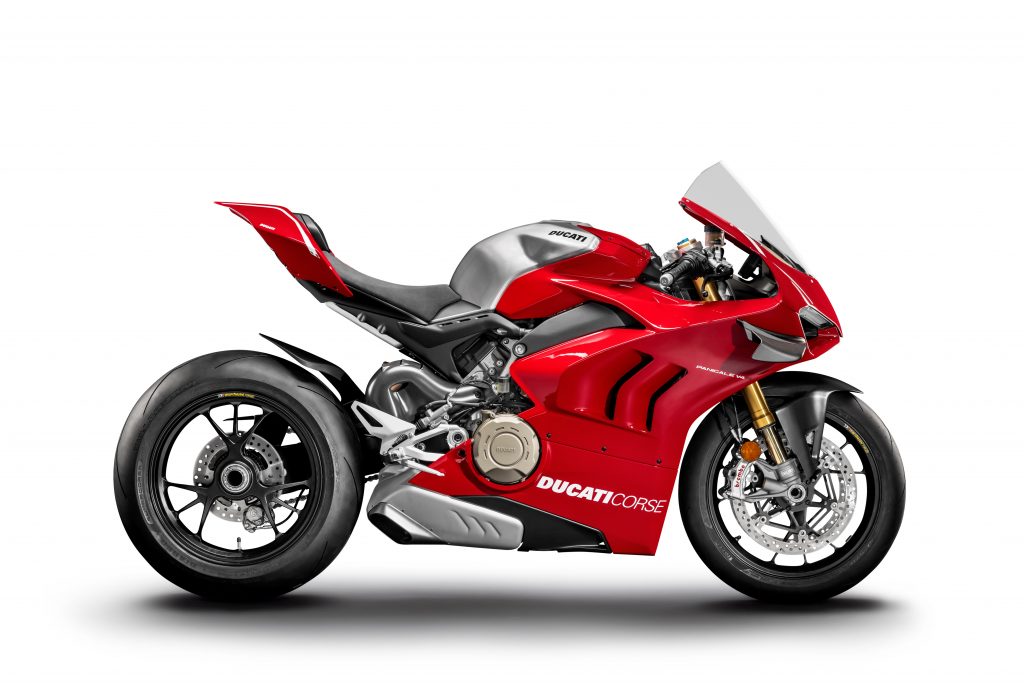 Between two sessions, World Superbike riders Chaz Davies and Alvaro Bautista all gave us a serious lesson in humility. Their motorcycles will obviously be even higher performing versions of the V4R (if that's possible!) including, among other things, an optimized frame for the hard WSBK racing season.
This Panigale frame has been revised. Its aluminum structure strongly resembles that of the other versions (normal, S, Special, Corsica) but it is lightened and stiffened in the front. The swingarm also benefits from a four-position adjustable anchor point to further adjust the bike to the racer's needs. Its Desmosedici GP16–inspired winglets offer an added pressure of 30 kg at 270 km/h on the front of the machine, which increases the stability of the front end at high speed and during braking phases. The Öhlins Smart EC 2.0 suspension found on the V4S is not found on this R simply because electronic suspensions are not allowed in WSBK. Ducati equipped the V4R with a 43 mm pressurized gas fork which allows it to cut 0.6 kg off the bike. By combining it with a TTX-36 rear shock, it allows more agility and stability at all times for this ultra powerful bike.
In the second session we are on race tires. The feeling is completely different and gave me more confidence. I feel every bump on the track and I can steer the V4R almost just by thinking of where I want to go. The bike is very, very stable. At high speed and under braking, the small winglets add aerodynamic support. Even when I make small adjustments on my first race lines, I can easily correct. The V4R is a scalpel. Once again, traction control allows spectacular cornering exits with exhilarating controlled slides. There is so much torque that even with the anti-wheelie system at maximum level, every time I straighten the bike out of the hairpin leading to the front straight, I feel the front wheel hovering about three inches above the track for a very long distance. Add to that the Akrapovič exhaust soundtrack and I am ready to take out a second mortgage on my house just to hear that every weekend. It is a race bike so why deprive yourself of the joy of riding it like a real racer? The power is such that I can stay in second and third gear on most of the circuit. On long straights, I can't even wring out all the power from each gear. It would take me a longer distance to be able to exploit each gear to its maximum.
The track is short and some colleagues go slower while others are faster than me. It allows me to see that even with different levels of experience we all have giggly, laugh-out-loud fun. The V4R offers a lot of power, but thanks to the electronic aids, you can easily ride it at your own pace and feel good about yourself no matter what your level is. While I enjoy electronics at medium levels, some colleagues remove them completely to experience spectacular, MotoGP worthy slides. And that is the great thing about this out-of-this-world bike. You can have fun even at an intermediate riding level. No need to be a pro.
The Panigale V4R has been created to get Ducati's WSBK team the podiums they long for. It is not only a new reference point for pro and very experienced riders, but also for weekend riders who have enough money to pay for this beautiful mix of performance and design. Its technical spec sheet may lead you to think that you are not worthy of all that performance. But remember that even though its off-the-shelf features put this monster on top of other superbikes in its class, if you have the courage to get on this bike it will soon reach out to you and whisper in your ear that everything is possible.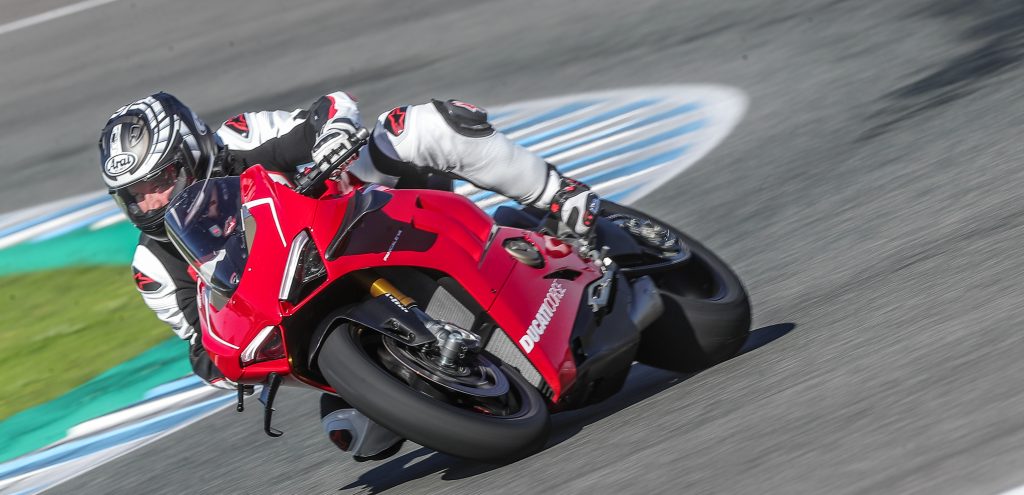 SPECIFICATION
ENGINE
4 Cylinders in 90° V, 4-stroke
Cooling: by water
2×2 ACT, desmodromic
4 valves per cylinder
Weight / Power Ratio: 0.78 kg / hp
DISPLACEMENT
998 cc
POWER (claimed)
162 kW (221 hp) @ 15,250 rpm i
TORQUE (claimed)
112 Nm (83 lb-ft) @ 11,500 rpm i
DRY WEIGHT
172 kg (379 lb)
OPERATING WEIGHT: 193 kg
SEAT HEIGHT
830 mm (32.7 in)
Frame: semi-perimeter aluminum
Tank: 16 litres
Wheelbase: 1,471 mm
SAFETY EQUIPMENT
Riding Modes, Power Modes, Bosch Cornering ABS EVO, Ducati Traction Control (DTC) EVO, Ducati Wheelie Control (DWC) EVO, Ducati Slide Control (DSC), Engine Brake Control (EBC) EVO, Auto tire calibration
MAINTENANCE (KM/MONTHS)
12,000 km (7,500 mi) / 12 months