The LeClair brothers can't help it, winning is in their blood.
What do you expect a 17-year-old who started racing some 11 years ago, will do when he climbs aboard his Yamaha R3 and closes the visor before the red light goes out?
Even a rookie would be going for it with all his youth exuberance, and the outcome might just be a roll of the dice. Pain, joy, or maybe just good old fashioned fun—it might turn any of a number of ways.
With Jake LeClair I can see how much experience he gained since switching to road racing last year. He is calm and focused, not talking much but answering clearly any point we discuss before he heads out on the very fast Canadian Tire Motorsport Park for his last effort to clinch the Mopar CSBK Amateur Lightweight Championship. Yesterday all he needed to secure the title was a top 18 finish. An okay start from pole position and an epic five-rider-battle ensued. A low-side after taking the lead mid-race left him picking up his R3 at the last turn. As his dad Steve had taught him, he picked up the slightly bent Yamaha and got back on track. No points for a courageous 23rd place but Alex Berthiaume was kept off the podium and Jake's first national CSBK championship was all wrapped up, if not confirmed until just before the start of Sunday's race.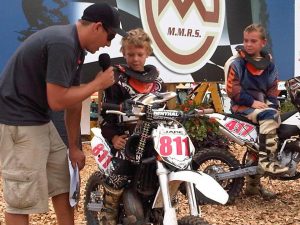 The all-out barn-burner that was Sunday's Lightweight finale has to be one of CSBK's best races of the season. On the last lap, Jake went from fourth to first at the line to bag his seventh race win. That's a 70 percent start/winning average—not bad. He was very strategic on that lap, planning every move. He got the fastest lap of the race; the only other rider who went under the 1'41" mark was brother Ben, also on the last lap and only four hundredths of a second back.
I was blown away by his confidence as he waited to the very last moment to take the lead, but it was as Jake wanted it to be. "The group was a bit all over the place and I know I would have dragged them behind me if I went ahead like yesterday. The pace is slower when I follow." Yes, those are the words of a 17-year-old racer.
Ben just started road racing late last fall and he was not planning so much as learning a whole lot by tagging along with that lead group on his stock-suspended R3. His last lap was pretty much a balls-out affairs to keep up and land on the podium, just shy of doing a LeClair one-two.
After the previous day's heartbreak for Lynn and Steve, both somewhat upset by the crash (we analysed from Jake's point of view and also found marks on a competitor's bike that might have had to do with the situation) plus the fact that the championship was not declared official until just before the next day's race, the outcome was a huge relief for the LeClairs from the high-pressure build-up that insidiously finds its way into the coolest heads when national championships are at stake.
A four-year-old Jake started riding at his family's house, set up in the farmland of Blackstock, Ontario. What I noted when I first visited the LeClairs was an aerial photo where you could see the big, well-groomed practice tracks just out of view from the house. What I also had the privilege to visit was Steve's Alibaba moto-stash; a turn-of-the-century barn full of three levels of bikes in all conditions, some looking pretty good, others in various stages of stripping. Steve and Lynn runs a motorcycle salvage shop in Oshawa. They both live and breathe motorcycles. Steve raced a TZ250 back in the days when he met Lynn. They opened their business together in 1991 and sell parts here and all over the world. The inventory of old and sometimes quite rare motorcycles, collected over some 30 years and numbering in the many hundreds, has Lynn busy shipping either a rare early CB750 Four side cover to Germany or some beaten-up-but-still valuable late-'60s BSA fuel tank to the USA while Steve works on bikes new and not so new in the Oshawa service bay.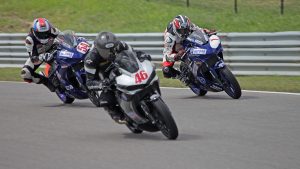 Jake and Ben were born in the middle of an ever-evolving life of two-wheelers, racing, and all things related. Since dad also enjoyed many different aspects of the sport, it was natural for Lynn and him to get their two sons riding as soon as they showed interest and were able to manipulate the controls of mini-bikes.
It's not that unusual for kids in a moto-involved family to ride at such a young age and to start racing at six like Jake did. Where the LeClairs differ from the norm is in the focus and intensity of the undertaking.
If you ever played with a late '80s GP two-stroke, like Steve rode, you know that the mechanical involvement has to be there. The learning curve to keep those wonderful and lovely machines performing sorts the grain from the chaff.
So, when Jake and later Ben started racing motocross, their bikes were maintained by a dad who was not skipping any effort and knew how to maintain them pretty much to the factory mechanic level.
On top of a meticulous and dedicated mechanic dad, the LeClair boys can also rely on Lynn, the best racing mom I know. Deeply understanding a racer's way of thinking is pretty rare for most anyone but Lynn definitely knows what goes inside the whole crew's noggin. She might be some kind of psychic, in my uneducated opinion. I can tell you for sure that after spending most of last year's CSBK season with the family, save for the Shannonville opener, she grasps all the nuances and interprets whatever is causing tension, usually to come up with a soothing response to the most upsetting situation.
The LeClair clan is bound by many years travelling all over Ontario, Quebec, and the nearby states to race and they operate as a well-organised unit. No one ignores the task they have to do; Jake and Ben are both apt at wrenching on the bikes and also lend a hand with all choirs to be done when spending three days at the track, living out of their RV.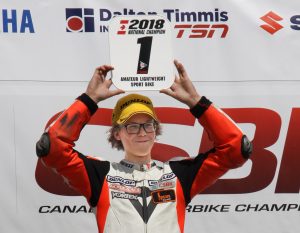 Jake started road racing in May of last year; he never rode a street bike until a week before the first Mopar CSBK National of the 2017 season where he got on the podium in his second race. His performance was remarkable, not having more than five sessions on the Shannonville Pro track. His 10 years racing motocross helped him deal with the mental process of understanding traction and line selection and dealing with disposing of a slower competitor. You can compare it to getting dropped in a foreign city, with people speaking a different language, and trying to get a job. Even if you have experience, it might not work out easily; the doctor might end up washing dishes before he finds his way to a better position.
Jake came into the new environment that was road racing for him, and got a good feel from the get-go—not a given, as many dirt racers turning to asphalt had the chance to find out. His steady progression saw him on the podium again at the second round of 2017. It was at that Grand Bend weekend that we were pitted together, as I was running my team with Xavier Paradis racing my Ninja 300.
Exchanging parts, suspension set-up, and burgers, the encounter was so positive that we paired our pit at most other rounds of the season. Xavier won both races, on his way to the 2017 Ninja Cup title while Jake had a crash and another solid podium finish, proving that it was not just luck two weeks before.
Jake finished ranked third in that last year of the Ninja 300 Cup class.
Being a guest at the LeClair house for the last weekend of the CSBK championship, I convinced Lynn and Steve to apply for the Red Bull Rookies Cup selection camp for Jake, as I had done for Xavier. They both where invited to Almeria, Spain, where 108 young hopeful riders from around the world would try to get one of the eight places available for the MotoGP-gateway category. A good experience and an eye opening one at that, as for us going there to compete is comparable to a Spanish kid who would come over here to make the cut and be selected for a semi-pro hockey team.
The new Lightweight class made the preparation of the bikes more complicated, plus young brother Ben had turned 15 and would race also after getting a couple of rides under his belt last fall. Crew chief dad made all the right connections to be able to build the newly acquired Yamaha R3 up to spec. Jake LeClair ran away with the first four races. The man to beat, precise and solid mentally, the trait of a racer who has raced for quite some time, he fought up front, winning every weekend, on all the tracks visited by the series. Ben on his side kept his head down, improving all the time until that final race where he got his first Mopar CSBK podium. Maybe I don't know much about racing, or so I'm told sometimes, but there is one thing I know for sure: I will keep an eye on the LeClair family as Jake and Ben progress through the ranks and, maybe one day not far away, outside of our borders.