*This article was published in Vol. 51 No. 6 of Cycle Canada digital magazine.
MORE POWER + LESS WEIGHT = SOMETHING NEW
KTM'S MIDDLE-WEIGHT ADV EQUATION IS JUST RIGHT
What happens when you take an excellent middleweight adventure bike and jam in more horsepower while cutting a bit of weight?
That's the kind of improvement that most motorcyclists dream about, but something that doesn't happen often in these emissions-obsessed times. Manufacturers seem more concerned with lowering costs and cutting tailpipe emissions, rather than making bikes more powerful. Mysteriously, bikes seem to be getting heavier as OEMs rework their emissions, too.
The KTM 890 Adventure runs counter to that trend, with engine capacity increased for 2021 and a slight weight reduction. The result? A good motorcycle is even better; you could even argue it sets a new standard for the middleweight ADV class.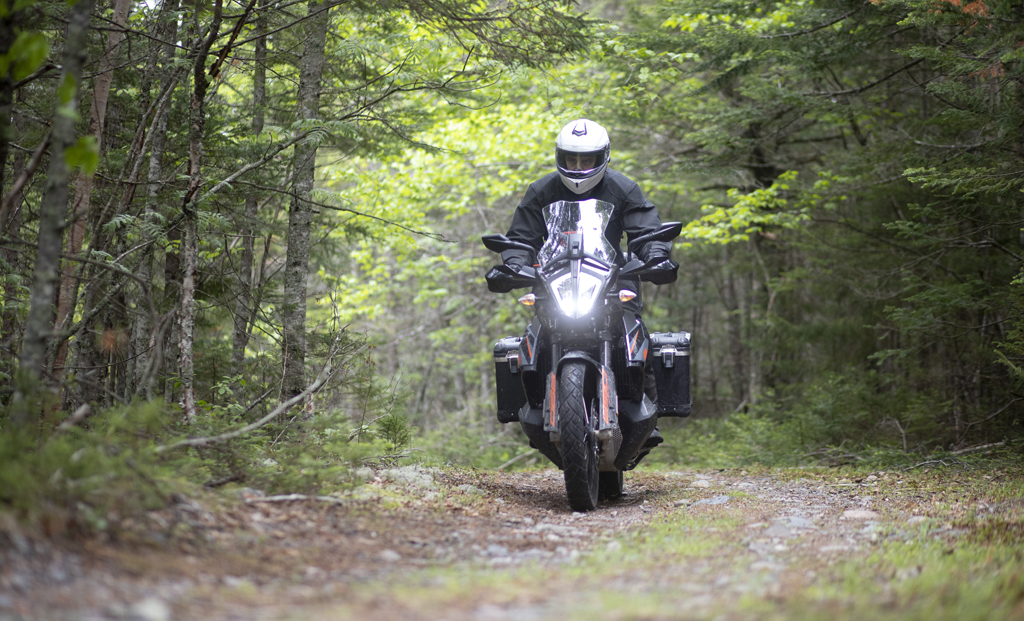 Upgrades for 2021
The most obvious upgrade to the 890 Adventure is the DOHC parallel twin engine growing to 889 cc; the previous 790 model was 799 cc. Bore/stroke change from 88 by 65.7 mm to 90.7 by 68.8 mm. Compression ratio is now 13.5:1; a hike from the 790's 12.7:1. KTM also put in bigger valves and lighter pistons, updated the cam profiles, installed new connecting rods, and increased crankshaft rotating mass by 20 percent.
The end result? Peak horsepower rises from 94 horsepower to 105 horsepower. Peak torque jumps from 65 pound-feet to 73 pound-feet.
KTM also installed an engine knock control system, allowing riders to use low-octane fuel despite the compression boost. This is smart; it allows riders to venture much further away from civilization, without worrying that gas from a remote gravel-road filling station will render their bike useless.
The engine gets a stronger clutch for 2021. There are also two new balancer shafts, one in front of the crank and the other in the cylinder head.
Elsewhere, the 890 gets some minor suspension tweaks, some adjustment to front and rear brakes, and upgrades to traction control and ABS systems. The wheel hubs are anodized now, and the bike gets a graphics makeover.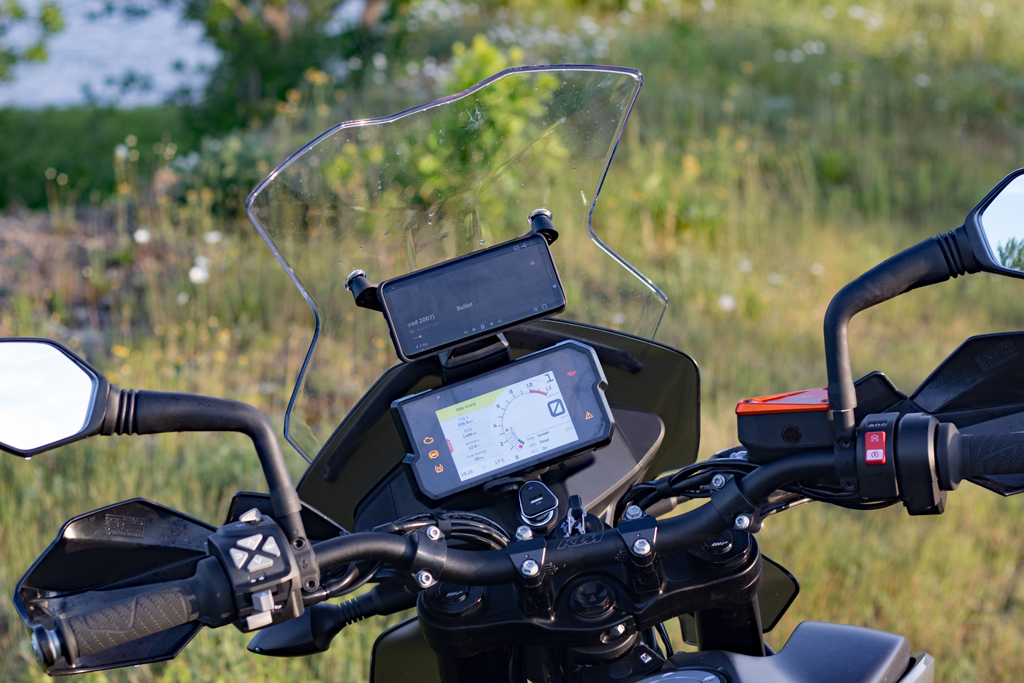 In the saddle
From a big-picture perspective you're getting a machine that's very, very similar to the outgoing 790, aside from significant engine upgrades. That's a very good thing, as the bike's innovative chassis just plain works. Although it's a very competent adventure bike, and much faster than the middleweight machines of only a couple generations previous, the KTM 890 Adventure is also very accessible. It's noticeable as soon as you throw a leg over the seat.
I suppose the seat (adjustable from 830 mm to 850 mm) might seem a bit of a climb for some, but coming off a round–New Brunswick tour on my sky-high Japanese dual sport, the 890's saddle felt just right, even for my short 30-inch inseams. No surprise, really—I've always felt KTM has perfect ergos on their adventure bikes and nakeds (totally subjective of course, they might not fit you at all . . .).
That's not what most customers are interested in, though; most riders want to know, is the 890 really an upgrade over the 790? And I believe that it is.
Traditionally, there's been an unofficial divide between flagship adventure bikes (with displacement over 1000 cc) and middleweights (with displacement in the 800 cc range). The middleweights have often been aimed more at offroad riding, or slower backroad travel, with more emphasis on rideability, and less on raw horsepower. The super-powerful flagships will do backroad, or even offroad, but they really shine at high-speed highway travel.
The 890 starts to really blur that line. The 105 ponies on tap aren't on the same rocket-ship level as the 170+ horsepower of KTM's 1290 V-twin engine. But, if you've got an 890 with a quickshifter installed (my test bike came with this optional add-on), then you've still got a very zippy motorcycle for street riding.
It wasn't that long ago that Honda's VFR800 (107 horsepower) and Suzuki's Bandit 1200 (98 horsepower) were considered proper touring mounts. Well, this 890 is just as powerful as those machines, and if you pull out to pass, banging upwards through the gears with the quickshifter enabled makes it feel even faster. Compared to the rattly middleweight ADV machines of only a generation ago, this 890 is generations ahead as a high-speed mount. KTM's smooth engine is all-day usable with no annoying vibration, and it's got more than enough power for dangerously extra-legal speed.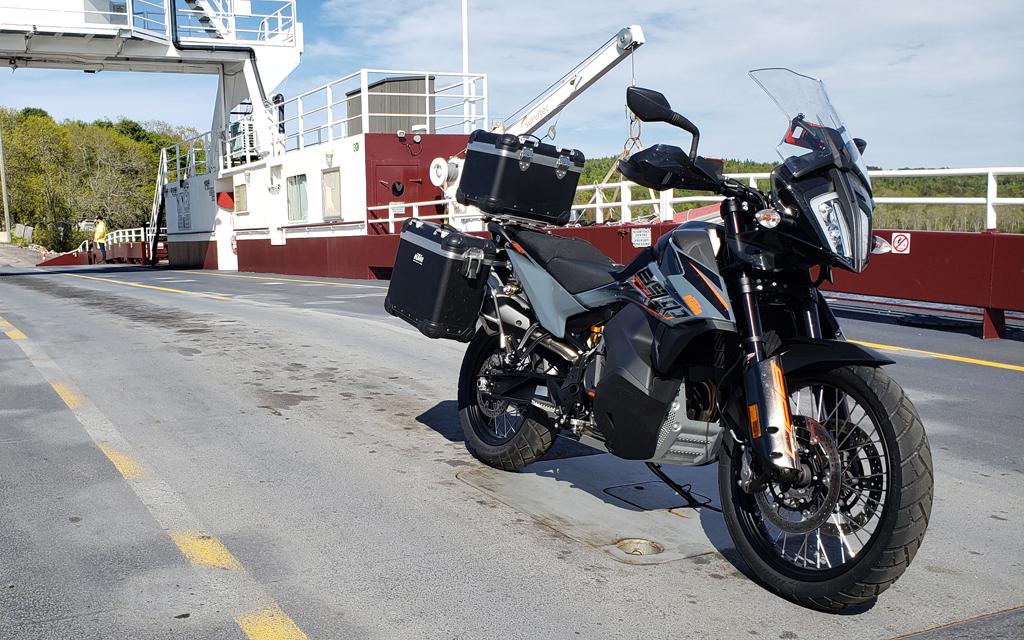 It's not peaky or otherwise difficult to use offroad, either. Several of KTM's technological tricks come into play here. First, the crankshaft's increased rotational mass is your friend, when bashing through the dirt. Second, KTM's electronics package allows to you put the bike into Offroad mode, for gentler power delivery and less traction control intrusion. This means the 890 is perfectly manageable when the pavement ends.
If you spring for the optional Rally mode (part of the $659.99 Tech Pack, along with the Quickshifter+, Motor Slip Regulation, and cruise control), it gets even better.
Rally mode (previously available as an option on the 790 Adventure) allows the rider to adjust the traction control system on the fly, with nine pre-set levels. This can be a major advantage if you're a newb trying to adjust the bike to your skill level, or if you're riding on unpredictable, changing surfaces and you want the electronics to help keep everything in line.
Hard-riding hoons will find it particularly handy, as Rally mode not only allows maximum wheelspin, if you want it, but it also allows you to adjust throttle response as well, to the Street, Offroad or Rain pre-sets. I've seen Baja 1000 champ Quinn Cody run this system in the California desert on KTM's 790 Adventure R (Rally Mode is standard on the R models), and results were truly impressive. Even for a mild-mannered offroader like myself, the added control of the bike's electro-wizardry proved useful.
The engine's better, then—what about the chassis?
I can't remember enough about the 790's brakes to tell you if the 890's stoppers are indeed better. However, they're certainly well-suited for this machine, matching the hopped-up horsepower nicely. It never felt under-braked at any speed, and having cornering-sensitive ABS (and traction control, and Motor Slip Regulation, which is sort of like reverse traction control that stops the rear wheel from slipping) gives you confidence. As long as you don't do anything too stupid, the electronics will help you keep the bike upright.
(Speaking of the electronics, the 890's gadgetry is extremely easy to adjust with the left handlebar's buttons. You can use the buttons to control the options on the TFT screen, with even some customization possible. My bike had quick access to heated grips and ride mode adjustment programmed in.)
KTM gives the 890 Adventure non-adjustable WP Apex forks, and a preload/rebound adjustable WP Apex shock. I didn't tinker with the shock settings, as I found it suited me nicely as delivered.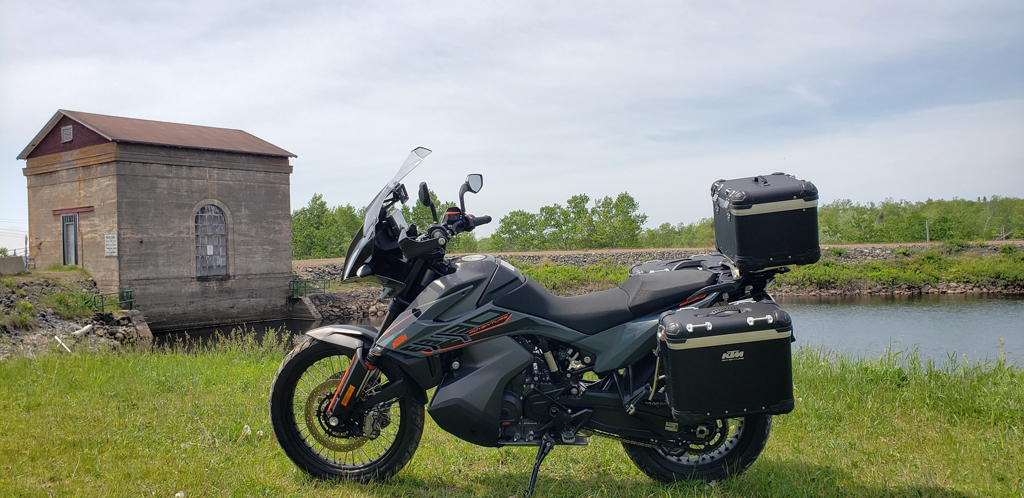 I'm not sure what changes KTM made to the forks, but I thought they had less front-end feel than the previous 790 Adventure's. Nothing serious, but at, errrrr, aggressive street speeds, I would have liked the front end to be just a bit more precise through bumpy corners (that big 21-inch front wheel might have been partly to blame here as well). It's still an agile street machine, though.
Offroad, the suspension works well at the speeds most people are riding this bike. If they're planning to truly flog this motorcycle in the dirt, most riders will opt for the 890 Adventure R model instead, with upgraded suspension, knobby tires and Rally mode as standard.
However, for most motorcyclists, the 890's main limitation is the rider's skill, not the bike. It's extremely easy to ride on gravel roads, considering its size. That low-slung gas tank helps a lot here, as it wraps around the engine, keeping most of the fuel in lobes down near the crankcase, instead of over the head.
As I couldn't remove the 890's Touratech panniers (I didn't have the proper key for the accessory bags) and the machine came on street-biased tires, I mostly rode the 890 on gravel I was familiar with, but when I did push it into uncharted territory, I actually stopped at one point just to contemplate how user-friendly this motorcycle really is. Centralized mass, usable power and an accessible seat height are just what most riders want in the middleweight adventure class, and the 890 delivers.
Still—when KTM introduced this bike in October 2020 it billed the standard 890 Adventure model as "The ultimate asphalt and gravel traveler." I think that's probably the best description anyone can come up with for this motorcycle; it's easy to ride on unpaved surfaces, but the R model would be a much better choice for seriously dirty work.
Realistically, though, most riders aren't actually taking their 890 into extreme terrain. They don't need a lot of suspension adjustment, or knobbies that burn off quickly at highway speeds. They want a fun, fast, friendly machine that's capable of fast road riding, and poking down gravel tracks at the end. They're using these bikes for backroad blasting, or low-to-medium speed rides down wide forestry roads.
For those riders, the ones exploring the corners of rural Canada, this bike is exactly what they've been looking for. At $14,099, KTM's MSRP is slightly better than competing machines from BMW and Triumph, too. That's a hard-to-beat combination, and I think KTM's 2021 sales will reflect that, as long as they can keep up with demand.
Main picture: Photo credit: Laura Deschenes