The ultimate biker gift – Nine '64 Triumph motorcycles bought in 1965 by Elvis Presley for him and his Memphis Mafia
Help us find the Memphis Mafia Triumphs – Are these historic motorcycles lost to time?
A unique opportunity to own a one-of-a-kind 'Elvis Presley' Triumph and matching guitar – Raising money for the Elvis Presley Charitable Foundation
Triumph Motorcycles has uncovered the truth behind a famous motorcycle myth – that Elvis Presley gave an extraordinary motorcycle gift to every member of his Memphis Mafia in 1965.
With the discovery of the original checks in the Graceland archives, signed by the man himself, as well as recollections from Jerry Shilling, a close friend of Elvis, it can be confirmed that Elvis bought nine Triumph motorcycles as gifts, so he and his closest friends could ride together in the hills of Los Angeles.
THE STORY
Elvis Presley is an enduring music legend and a cultural icon. The best-selling solo artist in history and a genuine movie star, making 31 films during his career in Hollywood. He was also a passionate motorcyclist, riding bikes in several of his films including a red and silver Triumph 650 Bonneville 'Desert Sled' in the 1968 comedy western "Stay Away Joe".
But, Elvis' introduction to Triumph motorcycles came several years earlier, with this story, which is as rock and roll as the man himself.
In June 1965, Elvis had been on the set of the musical 'Frankie and Johnny' at Samuel Goldwyn Studios, Hollywood. Taking a break from filming, Elvis spent his down time with his closest friends, known as 'The Memphis Mafia' at his Bel Air home.
Jerry Schilling, friend of Elvis and member of his famous 'Memphis Mafia', put a down payment on a new Triumph T120 650 Bonneville at Bill Robertson & Sons on Santa Monica Boulevard. When he brought the bike home, Elvis asked to take it for a ride around the Bel Air neighborhood. Jerry, of course, obliged and Elvis jumped on the bike. He was impressed, and in fact when he returned, he told his transportation manager, Alan Fortis, to "order one for all the guys, but… it has to be tonight!"
Bill Robertson & Sons managed to deliver seven Triumphs that night, a mixture of 650 TR6's and the high-performance, twin-carbureted 650 T120's. They rode together around Bel Air, riding late into the evening, only stopping when neighbors called the police to complain. The remaining bikes arrived two days later and the nine of them made sure they made the most of down time from filming, riding the Pacific Coast Highway together on Sundays.
Jerry Schilling, a close friend of Elvis recalls: "Elvis loved to ride and I knew that when he saw my new Bonneville he'd want to try it…and when he did, he wanted all the guys to have one so we could ride them together!"
THE 1964 TRIUMPH 650 TR6 AND BONNEVILLE T120
The bikes that Elvis bought are considered most likely to be 1964 models of Triumph's game-changing performance roadster, the 650 TR6 and 650 Bonneville T120, which were essentially the same bike with one or two carburetors and different states of tune. The '64 Bonneville came in the sophisticated Gold and Alaskan White and the TR6 in the distinctive 'Hifi Scarlet and Silver Sheen' with gold pinstriping, black frame and forks.
Named after Triumph's multiple land speed records at the Bonneville salt flats, the Bonneville T120 is recognized across the motorcycling world as a genuine design icon, responsible for establishing Triumph as number one in the 60s for performance, handling, and style, and the 1964 US-spec 'Bonnie', with its higher bars is considered a classic.
HELP FIND THE MEMPHIS MAFIA TRIUMPHS
All nine of the original bikes are currently lost to time, with no formal record of where they went after the summer of '65. Triumph is now launching an appeal to fans around the world to help track down or uncover the fate of these bikes.
Triumph's researchers are keen to hear from anyone who has a lead on what happened to one of these bikes, or perhaps a last known location.
With the collective eyes of the Triumph and Elvis communities on the look-out, it is hoped that one of these historic bikes will one day come to light and make history by being placed on display alongside other historic Triumphs.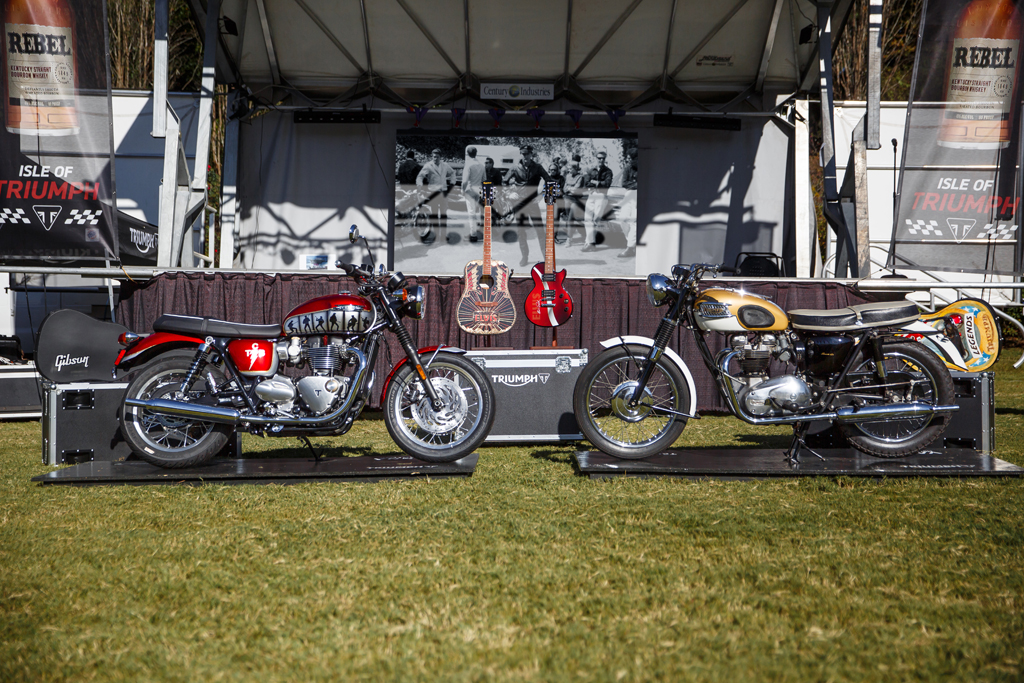 A ONE-OF-A-KIND 'ELVIS PRESLEY' CUSTOM TRIUMPH MOTORCYCLE
AND MATCHING GIBSON LES PAUL GUITAR
The discovery of this great story has filled a gap in the history books and added a new, previously untold chapter to Triumph's own story. In celebration of this newly uncovered shared history between two iconic and enduring brands, Triumph and Elvis Presley Enterprises have commissioned a one-of-a-kind custom motorcycle to raise money for a very worthy cause.
This custom Bonneville, based on a brand-new T120 model, features a custom design scheme by award-winning custom artist J Daar and is inspired by the 1964 Memphis Mafia bikes and 1968 Stay Away Joe Desert Sled, as well as being influenced by Elvis' most iconic 1968 Comeback Special look. The design features gold block lettering, representing Elvis' name written in lights, as well as silhouettes on a red background, echoing the set design of his most famous '68 Comeback Special performance.
The bike was unveiled by Triumph USA Marketing Director, Adam VanderVeen, at the 2023 Barber Vintage Festival in Birmingham Alabama, where it was on display at the 'Isle of Triumph' alongside a host of historic Triumph motorcycles. These included an original 1964 Bonneville T120 in the same gold color scheme as several of the bikes purchased by Elvis, which was entered into the VAHNA Motorcycle Show by owner Laura Langham.
Speaking at the show, custom motorcycle artist J Daar said: "I was honored to pull the sheet off this amazing motorcycle. Tribute bikes are always special, but an homage to The King is one of the coolest projects I've worked on. This bike is something the new owner can be incredibly proud to have in their garage. Not only is it a unique design celebrating a great story, but it's also a great way to raise money for such a worthy cause."
Also on display at Barber Fest was a Les Paul guitar with a temporary custom wrap designed to complement the one-off Bonneville T120. The Les Paul, donated by Gibson, will also be painted by artist J Daar and is to be auctioned along with the motorcycle. The choice of guitar was inspired by another instance of Elvis' generosity; when rehearsing for the '68 Comeback Special, Elvis played a Les Paul, which he then gifted to his chef. The design adopts the same red, silver and gold scheme as the motorcycle, as well as the prominent Elvis graphic featured on the fuel tank and side panels, and incorporates silhouettes of The King around the body, inspired by his iconic ''68 Comeback Special' look.
Beth Heidt, Chief Marketing Officer for Gibson commented:  "We have had the honor of working in partnership with the Elvis team to celebrate his legacy over many years, so when we heard that our friends at Graceland and Triumph were working together on a custom motorcycle to raise awareness and funds for a good cause, we wanted to join in honoring Elvis' spirit of generosity – and similar to what we did with our '59 Legends Collection in support of The 2022 Distinguished Gentlemen's Ride, this customized Gibson Les Paul model pairs perfectly with the amazing design scheme of the bike."
"We are excited to be partnering with an iconic brand like Triumph to bring this one-of-a-kind custom Bonneville T120 to life while benefitting one of Elvis' favorite charities, Goodwill Homes Community Services in Memphis," says Dana Carpenter, Executive Vice President, Entertainment at Authentic Brands Group, owner of Elvis Presley Enterprises. "The added generosity of our friends at Gibson for contributing a matching custom Les Paul guitar, strengthens the legacy of generosity and community that Elvis Presley stood for."
This custom Bonneville T120 motorcycle and matching Gibson Les Paul guitar have been donated to the Elvis Presley Charitable Foundation to raise money for one of Elvis' favorite charities, Goodwill Homes, a Memphis facility that provides counselling and services for abused children and their families.
More details about the auction will be available soon at Graceland.com.
Source: Triumph Motorcycles