*This article was published in Vol. 51 No. 5 of Cycle Canada digital magazine.
In 2017 I rode from Toronto to Vancouver. The return trip home was across the northern U.S., 10,500 kilometres in total.
Over the years I have found riding solo to be different from riding with fellow motorcyclists. You go where you want and when you want. It gives you plenty of time to think. The result was witnessing beautiful vistas riding across the Canadian prairies, passing through glorious mountains in the Canadian Rockies, and heading back eastbound through the U.S. enjoying amazing roads and sights, in particular Montana and South Dakota. All of it beautiful beyond words.
I was riding my 2004 Gold Wing with nearly 300,000 kilometres on it. In Vancouver my throttle cable snapped. I called my shop in Ontario. They said there are two throttle cables. One cancels cruise, the other accelerates. They suggested getting it fixed. However, I could still cancel cruise by touching a brake or pulling in the clutch. So, as long as I can accelerate, why get it fixed? Made perfect sense to me. So I continued.
South Dakota is where this story takes me. Beautiful countryside, great roads, and it was a gorgeous day. The scenery was outstanding. I had encountered several bison, I'm riding a beautiful Gold Wing, and the traffic was light. What more could one ask for?
Perfect, eh? That's what I thought. Until SNAP – no more resistance in my throttle. The remaining throttle cable broke. Yes, the one my shop had suggested I replace back in Vancouver. The one that accelerates the bike.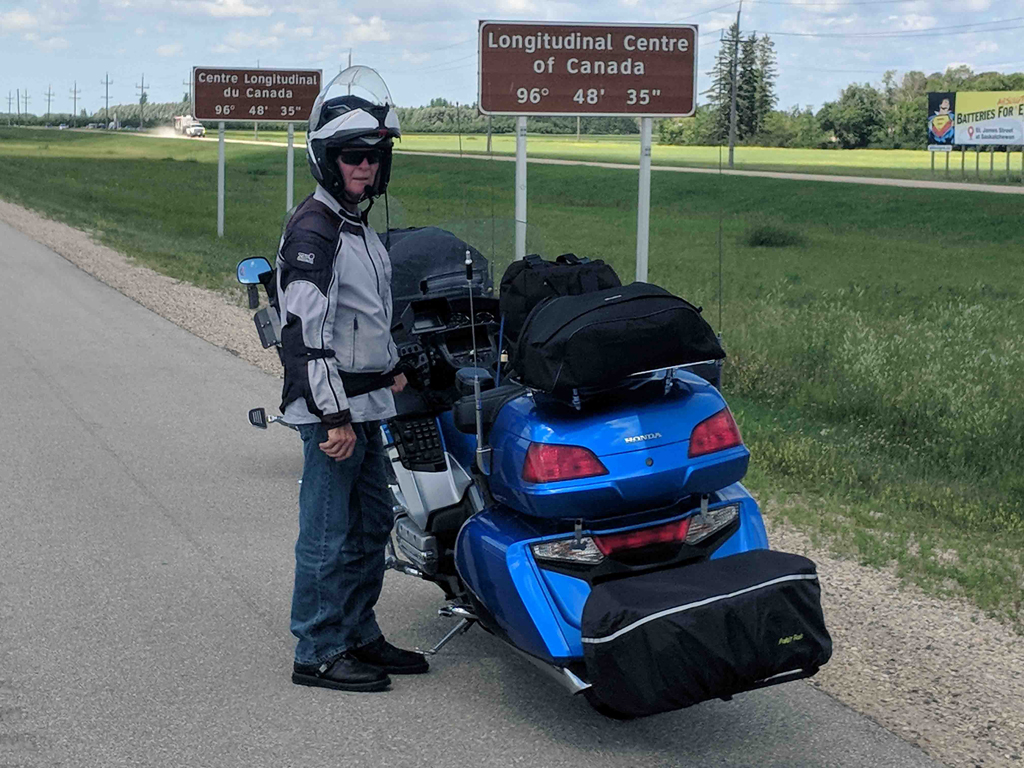 I was at the top of Needles Highway, and coasted to the side of the road. "What do I do?" went through my mind. I had towing coverage. But there was no cell service where I was. And frankly, I didn't even know where I was. "What do I do?" Now my luck began to change. As I looked around and tried to assess the situation, it seemed the road was just beginning to go downhill. I wondered how long it would go downhill. My back was against the wall, I had nothing to lose, and the traffic was light. So, while sitting on the 900+ pound bike, I pushed forward. And lo and behold, it started to move. And it began to pick up speed. Maybe just 10 or 20 km/h, but at least it was moving.
Not exactly sure of what to do next, I just coasted. After maybe 10 or 15 minutes, I came upon a campground. I coasted into their parking lot. The two ladies in the front office could not have been more helpful. Since I had no cell service, they insisted I use their phone. And they fed me all the coffee I could drink. I found Rice Honda in Rapid City, South Dakota and called them. They said bring the bike in. Using my towing package, I was able to get a tow truck to the campground within an hour.
We pulled into Rice Honda about 4:30. They have to order a throttle cable, and their order for parts for next day delivery went out hours ago. They said they would try to add it on, but their order had gone east, and everything was now closed there. So one of the Rice Honda employees drove me to a nearby hotel.
The next day there was no throttle cable on the parts shipment. Not to worry they said, it might come in the afternoon. My hotel checkout time was 11:00. I explained to the front desk what was going on, and they said no problem. I can have my room for as long as I need it. So I waited and ate and swam and drank, and ate some more and waited a lot more. Mid-afternoon Rice Honda called me to say the throttle cable had arrived. I thank the hotel front desk staff, and the same Rice guy that drove me to the hotel yesterday picks me up to take me back to Rice Honda. The mechanic doing the repairs had to stay late to finish the job, but finish the job is exactly what he did. And he asks me if I've ever had my engine lifted. Yes, years ago I said, Why do you ask? Well, some cables were incorrectly placed—but he fixed that too. He also changed the oil, oil filter and air filter. About 6:30, with plenty of daylight left, I resume my ride east.
Who to thank? It's a long list in just over 24 hours. The ladies at the campground. The tow truck driver. The Rice Honda driver. The hotel front desk staff. The parts guys at Rice Honda. The mechanic who worked overtime.
I ended up being very lucky. And having my faith in mankind renewed.
---
First Person is dedicated to readers of Cycle Canada. Tell us about a motorcycle trip, tale or experience that you won't soon forget.
Contributors will be granted a free 3-year subscription to the magazine. Send by email 500 words and a photograph.