*This article was published in Vol. 51 No. 5 of Cycle Canada digital magazine.
A SERIOUS CONTENDER
HARLEY'S ADV BIKE CUTS TRAIL
May 6, Tuesday morning, I arrive at the secret meeting place where I will be handed the much-awaited new Harley-Davidson Pan America 1250 Special. I consider myself very lucky to have the opportunity to be among the first to try that model after hearing so much about it. Indeed, this is quite a revolutionary machine for the great American manufacturer. With this dual-sport model, Harley-Davidson enters an all-new market segment where it will face the competition from established big players. Adventure touring motorcycles keep attracting more and more riders, so the Milwaukee firm gathered renowned specialists to create this machine. For this two-day review, I will be riding the Special, a model equipped with tons of options. Of course, I would have liked to ride it longer in order to analyze it inside out, but also to keep having fun.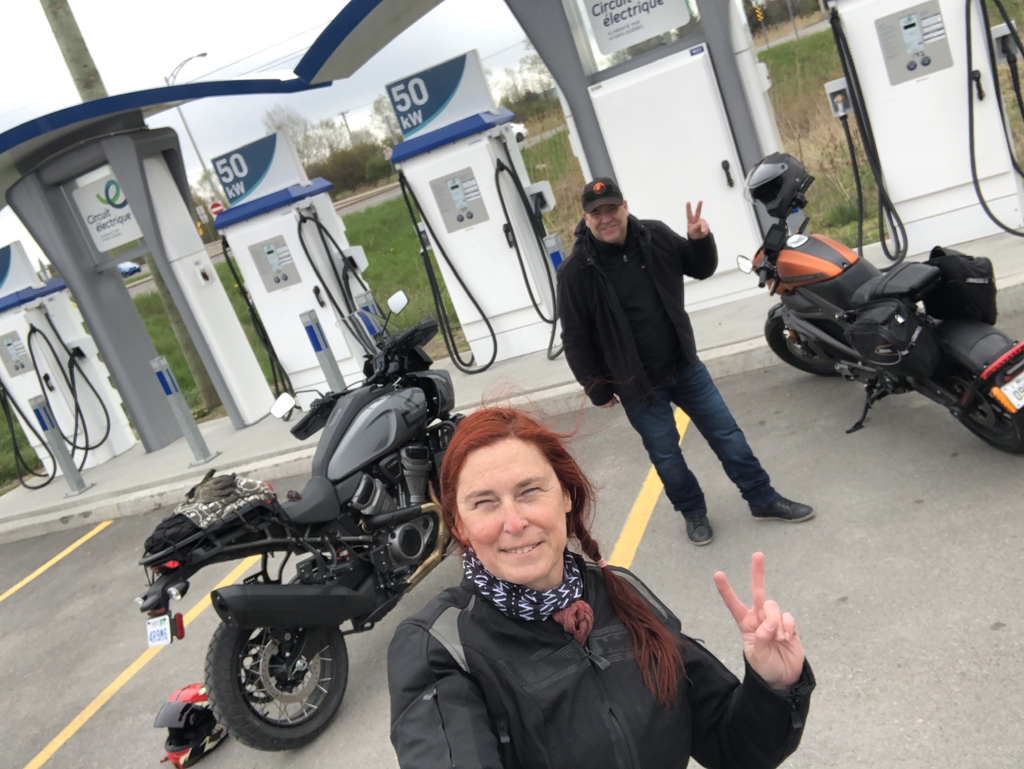 I have been riding Harleys for more than a decade, here and everywhere in North America. I also ride the Pan America's German cousin (the GS with similar displacement) when guiding groups of motorcyclists through France. So, riding the Pan America made me feel like having the best of both worlds, a single machine resulting from a perfect genetic crossing. At first sight, you see the main DNA features inherited from the traditional Harley-Davidson models: a V-2 engine, called Revolution Max 1250, acting as a stressed member of the chassis, a small fairing that recalls the Road Glide, and the HD logo on the gas tank. All the rest seems pretty different to me.
Before taking off, I set the seat in its lowest position (the Special allows you to select a seat height of 33.4 or 34.4 inches, with no tools). Quick and simple. For me – 5 ft 8 in – that seat height was fine. One slightly annoying detail: the sidestand seems to be too long; I had to lean the bike quite a bit to the right in order to lower it. With the Pan-American's high centre of gravity, you have to be careful not to drop it. Maybe there is an easy adjustment that could take care of this? I then install the French version on the touch screen and I set the time. With the free Harley-Davidson app, you can access more functions, such as GPS, through Bluetooth.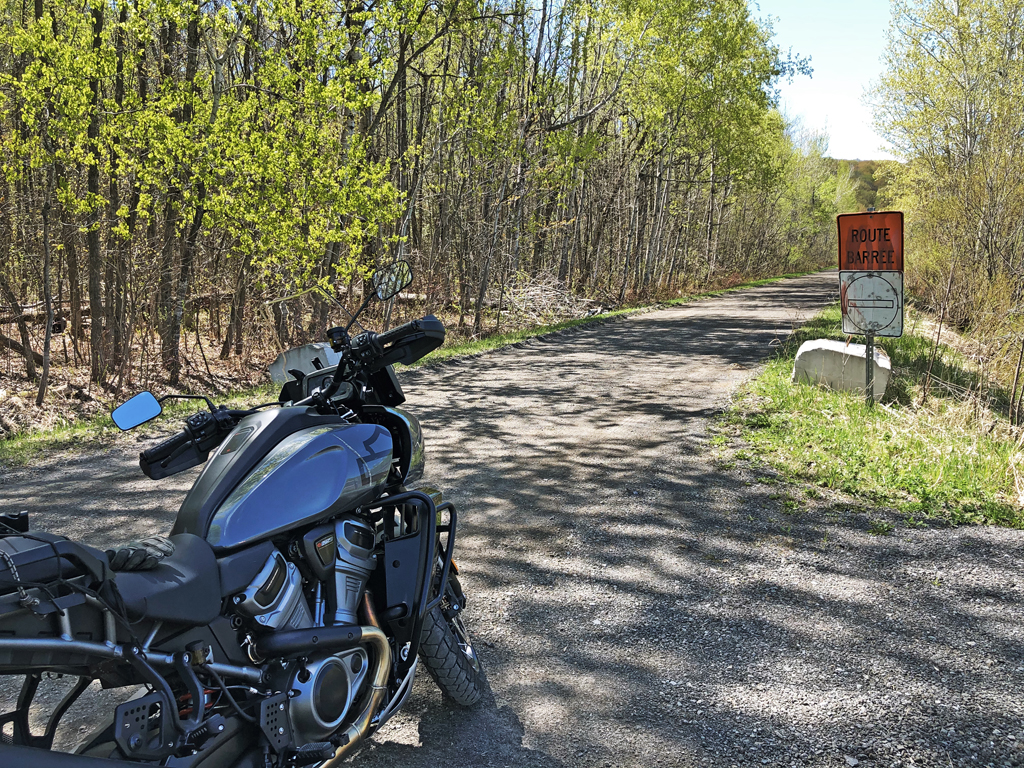 I decided to take the Pan America 1250 Special to the Outaouais region where I knew I could ride on both asphalt and dirt roads. I asked a friend to accompany me on his electric Harley-Davidson Livewire for a fine day of discovery and exploration. The sky is kind of dark, though, and I am a little worried that the dirt roads may become mud roads. I have little off-road experience and the smallest error could result in a fall.
My goal was to reach the Paugan dam, near the municipal township of Low. On a previous ride, I ended up there by chance and I was charmed. So I decided to go back and explore more of this region on a machine designed for that kind of environment.
So we take 148 West, a fine road by the Ottawa River. Now that Highway 50 is fully open, traffic is a lot lighter here, and that country road makes for a very nice ride. We then go through Buckingham heading to the 309. The architecture of this town (now integrated to the city of Gatineau) is absolutely charming: it's like going back in time, right into the 19th century.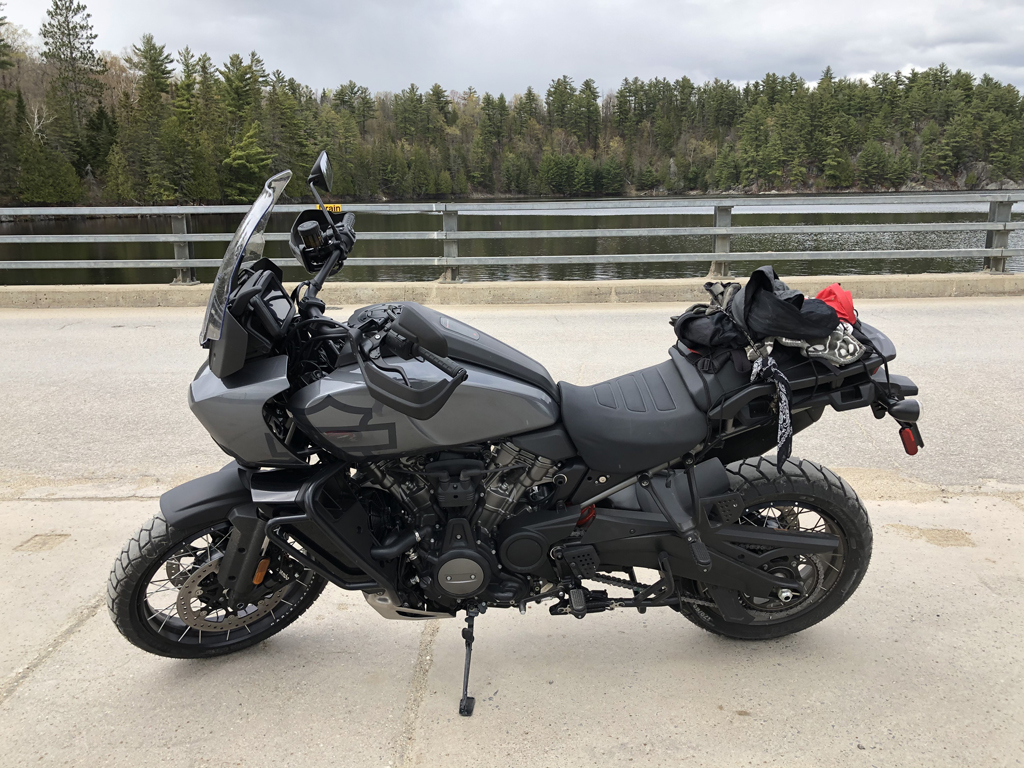 After a short break in L'Ange-Gardien to recharge the Livewire, we ride alongside the Lièvre River up to Notre-Dame-de-la-Salette. The landscape is different now, with great rolling hills. We then cross the river and take the Chemin du Pont. A herd of wild turkeys crosses the road right in front of us. There is plenty of wildlife around here. Last time, I saw six or seven deer, almost at that exact same spot.
The peaceful and bucolic landscape is a pure delight and the nice curves are an invitation to discover the handling of my machine. That's wonderful and great fun to be riding here. With only horses watching us along the road, we feel all alone in the world. In Poltimore, we turn right on Road 307 and then left on Chemin Paugan. After a while, we see a sign indicating that the asphalt road will turn into a dirt road. Good, I'll be able to use the Off-Road mode (there is also Road, Sport, Rain, Off-Road +, and two User modes). The road turns to dirt 5 or 6 km later. We stop for a break and take pictures.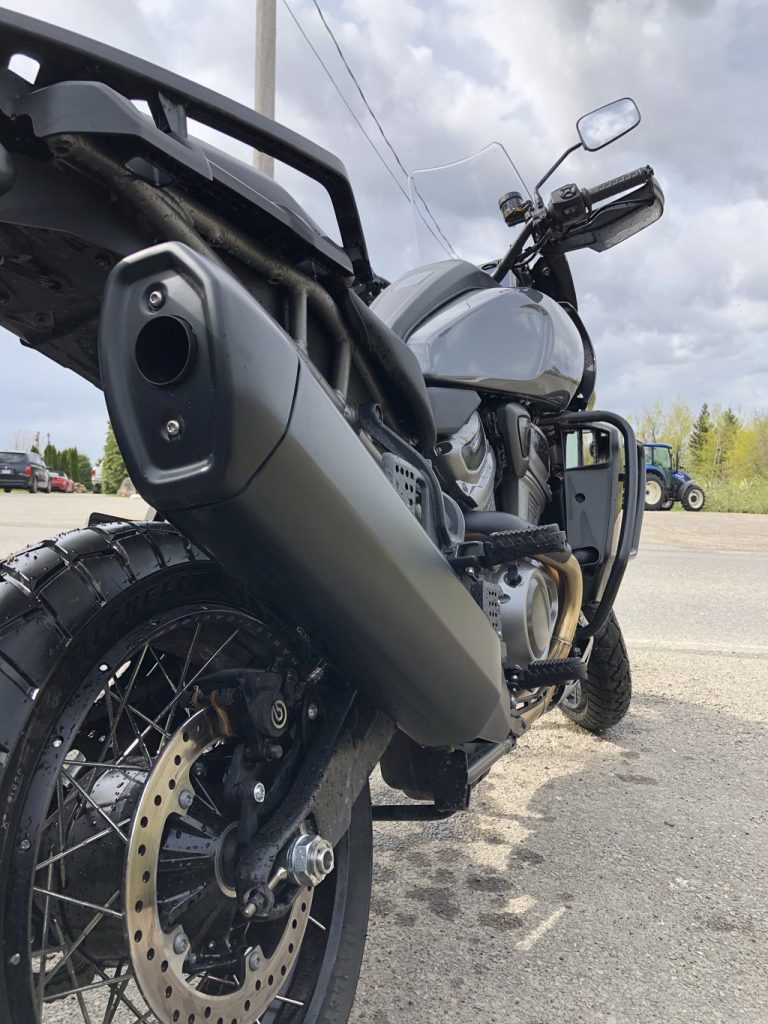 With the basic Off-Road mode (that can be further adjusted by experienced riders), the Pan America behaves admirably well on this loose surface. We see a few loud pimped-out cars that seem to use this road as a wild forest playground. We pass by the Denholm Falls Park and continue until we reach the Paugan dam. We stop to contemplate the rock face and appreciate a unique geological phenomenon where white marble and gneiss meet. Absolutely impressive and totally magnificent. We then ride on a one-way iron bridge that runs over the falls created by the dam. This section is as surprising as it is breathtaking. The 35-metre falls are pretty spectacular, too. On the central island, you can see the remains of an old wood slide. North of the dam, tugboats used to work on this section of the river. A little further, we stop at the Paugan power station (the most important electric production site in Outaouais) and once again, the scenery by the Gatineau River is gorgeous. Built in 1928, the power plant is an historical industrial building. We then take a narrow passageway once again, which makes the whole experience quite unique. We are now very close to the township of Low.
Back on pavement, it starts raining, which allows me to test the Rain mode. The weather is rather cool: 11 degrees. I turn the heated grips on (3 intensities available): what a welcome relief. In Wakefield, I take my friend Ghislain to the charming ZUPS take-out restaurant and we order a "Potato Stack" sandwich. Between two slices of potato, you can have duck confit or pulled pork with cheese curds, along with homemade coleslaw on the side and a special mayonnaise. We drop our banquet menu into the panniers and head to nearby Cantley for a picnic (while Ghislain will feed his Livewire with fresh electrons, a fine way to mix business with pleasure).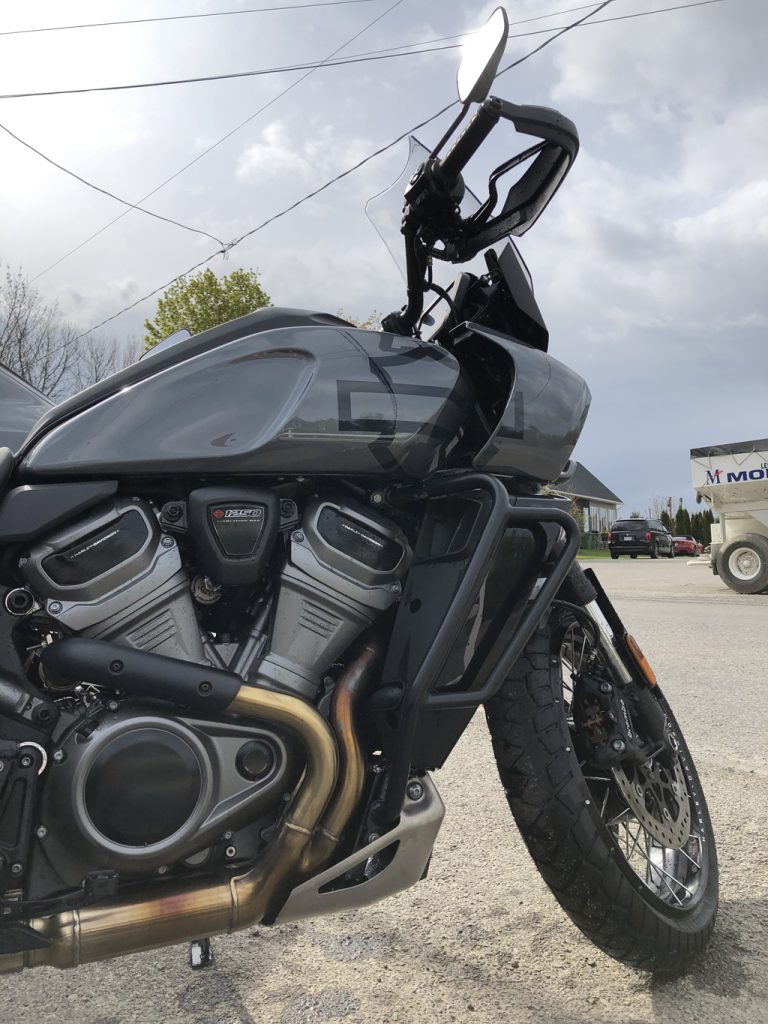 We then retrace our steps, and find ourselves once again along the Ottawa River. A fine 500 km ride that allowed me to try the Pan America 1250 Special on different roads and under different weather conditions.
The Pan America is a serious contender in the popular adventure touring segment, and with a claimed 152 hp on tap it sits right alongside the top guns of its class. At 526 lb, it's lighter than BMW's R 1250 GS (by around 25 lb). One thing I appreciated a lot is the electronic semi-active front and rear suspension. The machine is also equipped with a unique feature, called Adaptive Ride Height (ARH), which automatically lowers the bike at stops and lifts it back up when you take off. There are four levels of adjustment; for example, if you are tall enough not to need this, you can simply lock the system in the highest position.
In Road mode, the Pan America delivers a very pleasant ride. The Sport mode gives you more power, faster overtakings and a generally more dynamic riding experience. This motorcycle is very powerful and it calls for respect and a careful approach.
Compared to her German cousin, the Pan America has more bite and it produces a little more vibration when riding, which makes it distinctive. I do like its rudeness and slightly arrogant inclination.
Good to know:
With its 25 litre aluminum gas tank, the Pan America 1250 Special has a range of around 385 km.
The spokes are attached to the outside of the rims: so there is no inner tube and it's easier to replace a broken spoke.
The windshield is manually adjustable in four different positions.
The hill-start system keeps you from going backwards when you stop in the middle of a hill. It is activated automatically by firmly pressing and then releasing the brakes.
The colour touch screen shows the front and rear tire pressure in real time and alerts you if the pressure gets too low.
At night, an adaptative headlight turns toward the direction where you are headed.
Cruise control is standard.
The centre stand is standard, as well as the hand guards and crash bars; the rear brake lever is adjustable.
This motorcycle made me live a deeply symbiotic relation with nature and the road. It combines all the ingredients you need for a perfect and versatile experience. It is kind of big for intense off-road riding, but ideal if you want to travel both paved roads and less-travelled routes. It is perfect for the bad roads of Québec and ideal for long trips where you don't want to be limited to asphalt. The Pan America has transformed me (in very little time) into someone who now turns her head when she sees an inviting alternative dirt road.
With good saddlebags and a top case, I could ride around the world on this motorcycle.
To all naysayers, whether you are Harley die-hards or dual-sport riders used to other brands, I really invite you to try this machine. You'll be surprised. And you will be able to make up your own mind on its personality and exemplary driving qualities. Its manoeuvrability and power add a pure fun factor to the already joyful experience of riding a motorcycle.