Arriving at Honda Canada dealers next month, the all-new SCL500 has been making headlines around the world.
The SCL500 "scrambler" style motorcycle is a nod to Honda's rich history, dating back to the 1960s when the CL72 and CL77 were offered. Based on the Rebel 500 platform, the SCL500 combines modern ride quality and comfort with authentic retro styling and delivers the result at an attractive price.
Honda has a long history of getting smaller capacity bikes just right for riders everywhere, the new SCL500 is yet another example. The combination of easy usability, fun to ride, useful engine performance, affordability, and distinct individuality equal motorcycles that, over time, come to mean so much to their owners.
The CLs from the '60s and '70s were such bikes, proving that a lightweight bike with off-road dynamics was great fun around town. Latterly, the high-barred, high-piped style has become an iconic signature for many 21st century riders. Fast forward five decades and it's time for something new.
The SCL500 draws heavily on the formula of the original CLs. It's got the right look, the right engine, and the durability to go with the urban rough and tumble. As for customization, an owner's imagination is all that's required. With this bike there is no limit.
"The all-new SCL500 is one of the most anticipated bikes we've ever offered, the excitement it has generated around the world is also felt by Honda motorcycle enthusiasts from across Canada," says Ryan Kelly, Assistant Vice President of Powersports and Power Equipment, Honda Canada. "The 'scrambler' style is retro-cool, powerful yet fun, easy and nimble to ride while allowing riders to make it their own with unique characteristics and accessories that stand out in a crowd."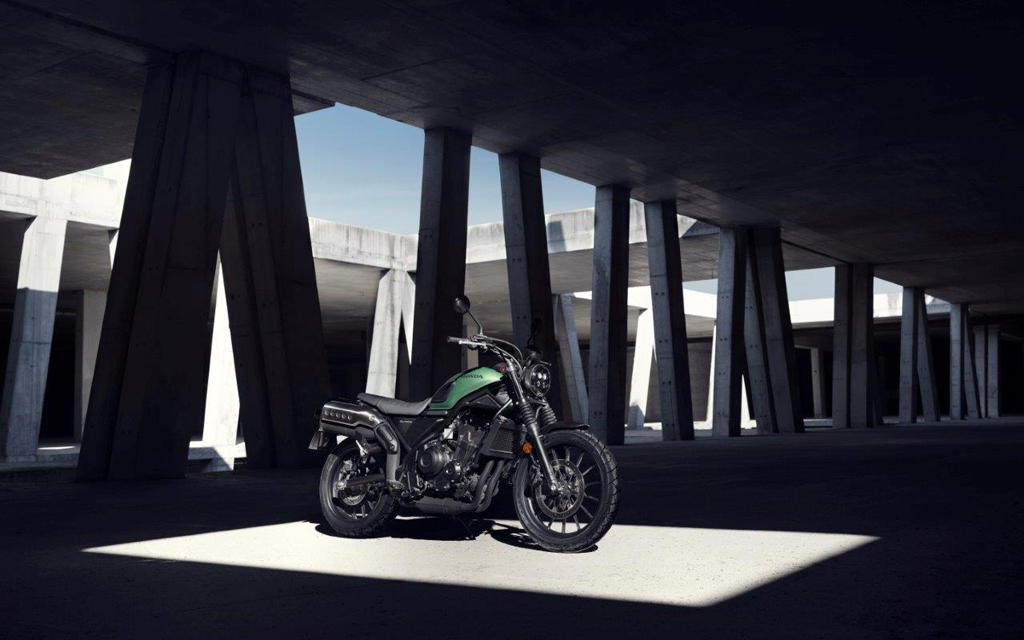 The development concept used from the start of the SCL500 project has been 'Express Yourself'. Deliberately targeting a young, style-conscious demographic, it's a bike designed to fit neatly into an owner's lifestyle with the ability to handle the daily commute, a long weekend ride, or even some light off-road – and to catch the eye while doing it. It's also eminently customizable and there are a range of genuine Honda accessories ready to go that elevate personality, practicality and style.
The 471cc parallel twin-cylinder engine is Honda's lively and popular powerplant that produces plenty of power and torque. The six-speed gearbox and short final drive gearing serves up smart around-town acceleration both from a standing start and through the gears.
'Simple, Raw and Tough' were the three words that set the tone and direction for the SCL500's styling team. The street 'scrambler' style looks right wherever it rolls with the added benefit of ergonomics that make for a bike that's very easy to ride in a variety of situations.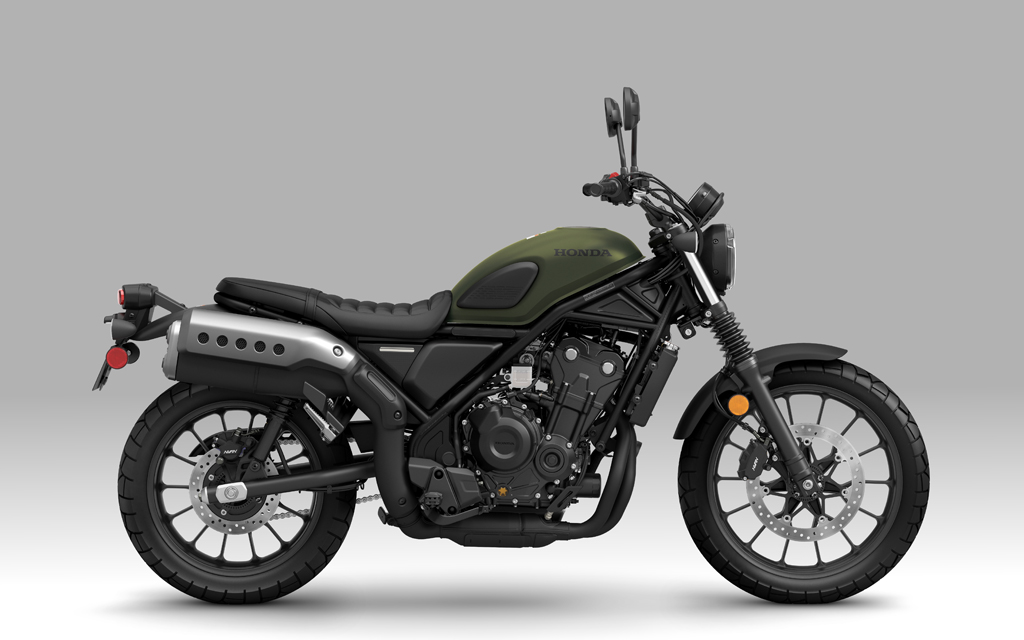 Other features and benefits:
Raw styling: The combination of the clean, round fuel tank shape and upswept muffler – with stainless steel heat shield – strike the nostalgia chords hard. And all the lovingly crafted details – the tank pads and rubber fork gaiters, the wadded, smooth outer seat skin with embossed Honda logo, high-level handlebars – combine to create a look that oozes charm.
Modern Engine: The SCL500's 471cc 8-valve, liquid-cooled parallel twin-cylinder engine is smooth, easy to use and thoroughly engaging. It features revised fuel injection mapping, and a new intake and exhaust setup that delivers the engaging torque.
790mm seat height: The bike offers easy ground reach and ample legroom. It's also designed with sides that cover the frame rails for standing up and low rear section for easy access.
High air intake and upswept exhaust: In iconic CL style, the exhaust twin-pipe muffler is upswept and fed by 2-1 downpipes. The note is tuned for heavier low-frequency sound compared to the Rebel, with a similar pulsing feel.
LCD dash
The 2023 Honda SCL500 will be available for sale at Canadian dealerships in June.
Selling Price – $9,109
Includes MSRP ($8,201), Freight & PDI ($908)
Colour – Mat Laurel Green Metallic
For more information and to stay up to date with all Honda product releases, please subscribe for updates at www.hondanews.ca.
Source: Honda Canada