Bridgestone Canadian Superbike stars Ben Young and Elliot Vieira continued their strong start to the Daytona 200 on Thursday, completing competitive Q1 sessions for the Bridgestone BPM Yamaha team at Daytona International Speedway.
The Q1 session offers the first chance at determining grid position for Saturday's race but not the final opportunity, as the times will be combined with those from Q2 on Friday morning and then adjusted for the final top-12 "Time Attack" shootout.
Young previously managed to go 19th fastest out of 52 entries in the morning practice while Vieira placed himself 30th overall, a respectable start compared to their more experienced American counterparts at Daytona. Vieira and Group B went out first in those sessions with Young and Group A afterwards, but they traded places in qualifying with Young out first.
ICYMI: Full FP1 recap for Young, Vieira at Daytona
https://www.csbk.ca/index.php/news/news/3668-young-vieira-find-strong-pace-to-begin-daytona-200-weekend
The reigning Bridgestone CSBK champion continued his familiar pace in 18th for most of the session, but managed to put in a late charge at the perfect time as he jumped to 16th just moments prior to a red-flag stoppage with a time of 1:51.346 – less than two seconds off two-time defending Daytona winner Brandon Paasch and only a hair behind top MotoAmerica Superbike star Cameron Petersen.
It was ultimately Josh Herrin who blitzed the group with a time of 1:49.043 to place himself on provisional pole, with Young only 2.3 seconds behind. Crucially, the late heroics also placed Young just 0.7 seconds off Max Angles in 12th, with the top-12 from the first two qualifying sessions advancing to the "Time Attack" superpole shootout.
"The pace is good. Honestly, we probably could have been top-five if this was last year," Young said from the BPM Yamaha garage. "At one point I was running with Danny Eslick who's won this thing four times, so I don't think we're far off where we really want to be. We still have a few problems to sort out on the bike, but we're mostly happy."
For reference, Young's time would have placed him sixth through Thursday a year ago, and just 0.033 seconds off eventual winner Paasch in fifth.
As for Vieira, the former Guyanese champion found himself near the front of Group B for majority of his session, despite battling through serious brake issues. He managed to find a near full-second improvement in the end with a new best lap of 1:57.190, good for fourth in the session and 29th overall out of 52 riders, but is confident his pace could be much faster if the team can resolve the braking problems in Q2 on Friday.
"The front brakes are just giving us a lot of trouble. It got worse in qualifying, so we need to eliminate variables," Vieira said. "Fixing this – we could be talking seconds. The pace is there."
Running well inside the 110% cut-off from Herrin at the front, Vieira will aim to get the bike closer to full strength on Friday before the 57-lap final on Saturday afternoon.
Behind the provisional target in Herrin, it was Hayden Gillim who went second-fastest through the Q1 sessions and 0.409 seconds off the time to beat, with Richie Escalante completing the top-three from day one at Daytona ahead of Paasch, Josh Hayes, and PJ Jacobsen. Group B was topped by Alex Arango, who slots in 22nd overall.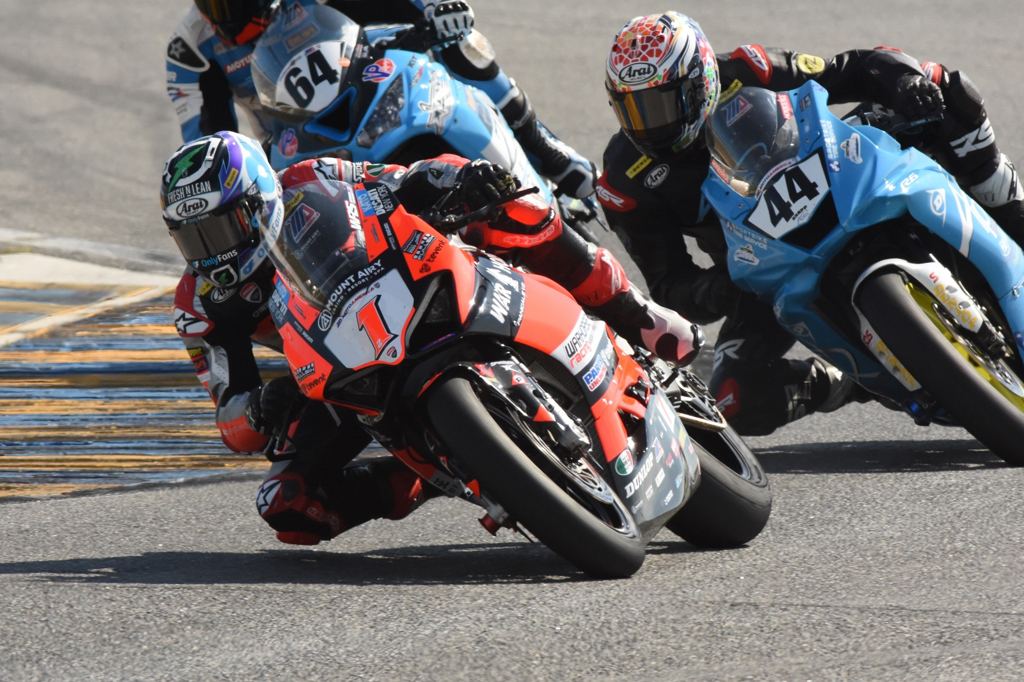 The other former CSBK competitors in action at Daytona included Darren James in 27th, Vincent Levillain in 30th, and Alex Coelho in 32nd as all three appear set to make the 110% mark for Saturday's race.
The Bridgestone BPM Yamaha team will now await a hectic Friday morning, as Young returns to the track for Q2 at 10:10 am ET with Vieira immediately after at 10:50 am ET.
Full coverage of the Bridgestone CSBK duo's efforts will continue on the official CSBK website, while live video can be found on the MotoAmerica website with Live+.
For more information on the Bridgestone Canadian Superbike Championship, visit www.csbk.ca.
Main picture: Bridgestone BPM Yamaha rider Ben Young continued to climb the leaderboard in Daytona 200 Supersport qualifying action on Thursday. Photo credit: Colin Fraser.
Source: CSBK