Jordan Szoke's long-awaited return to the Bridgestone Canadian Superbike Championship was almost perfect on Tuesday, topping day one of the Bridgestone Winter Test at JenningsGP in north Florida.
Szoke didn't need long to shake off the rust despite a year away from racing (and lingering effects from his serious motocross injury last off season), sitting third-fastest in the morning and fifth overall by mid-afternoon aboard his LDS Consultants Kawasaki.
Facing perhaps more obstacles than anybody given his hiatus, new machine, and abrupt adjustment to the new spec Bridgestone tires, it seemed like top-five pace would be a great accomplishment in his 2023 debut – but the 14-time champion had one more trick left up his sleeve.
In the final session of the day, Szoke crushed the previous benchmark with a time of 1:17.732 to go fastest overall in the combined times ahead of Ben Young. The reigning champion would put in a late flyer of his own to cut the deficit to just 0.077 seconds, but it wasn't enough to oust his former rival from the top spot.
With most of the grid adapting to the new Bridgestone BATTLAX slick tires for the first time, the reception was almost entirely positive despite worse track conditions than previous tests at Jennings, something Szoke knows better than anyone.
"Any of the issues I think can be blamed on the track right now more than anything," Szoke said to his crew on pit lane, as well as Bridgestone staff who were on-hand from around the world. "It's going to take some getting used to, but the grip feels really good so far."
Despite Szoke's sensational lap, it was Young who paced majority of the day, rebounding quickly from a frustrating Daytona 200 weekend as he debuted the #1 plate aboard his Van Dolder's Home Team BMW.
Sitting less than a tenth of a second out of first, Young represented a very tight group at the front on Tuesday, with the top nine riders separated by less than a second prior to the final session. Even with the late blitz from Szoke and Young, just 1.7 seconds will cover the entire top-ten going into Wednesday.
Completing the widely-expected trio of frontrunners was 2021 champion Alex Dumas, who struggled through a number of issues on day one but still managed to put in a strong lap of 1:18.128 – just 0.396 seconds away from making his Purple Skull/Liqui Moly Suzuki the top target.
The big surprise of the day was rookie Pierre Simard in fourth, who stole the show to begin the Bridgestone era aboard his D1C Suzuki effort. After an injury limited his "true rookie" season to just one round, Simard returned to the CSBK grid just 0.023 seconds off Dumas in third.
Rounding out the top-five was fellow LDS Consultants Kawasaki debutant Trevor Dion, who gradually made progress throughout the day aboard his new ZX-10R Ninja alongside teammate Szoke, with Sam Guerin placing his EFC Group BMW sixth and only a second off the top of the timesheets.
The combined top-ten of day one is below: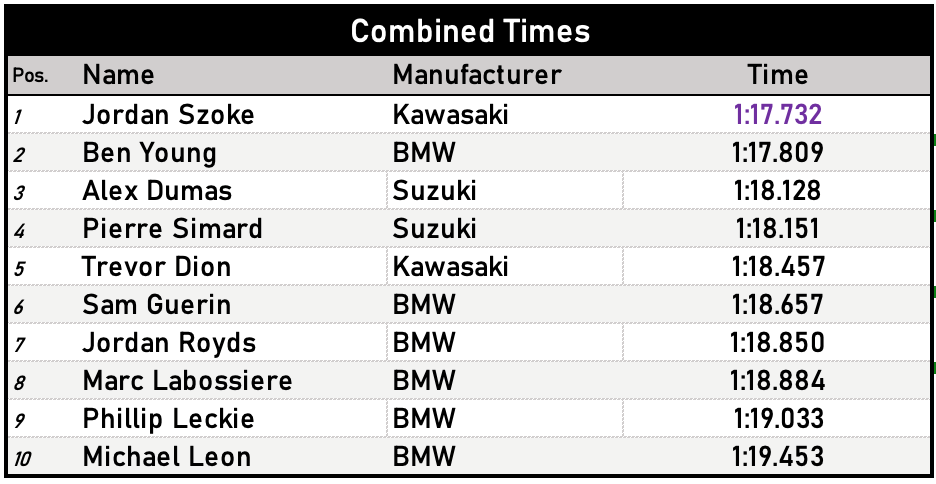 Cooney the top Amateur, Lalande stars in Lightweight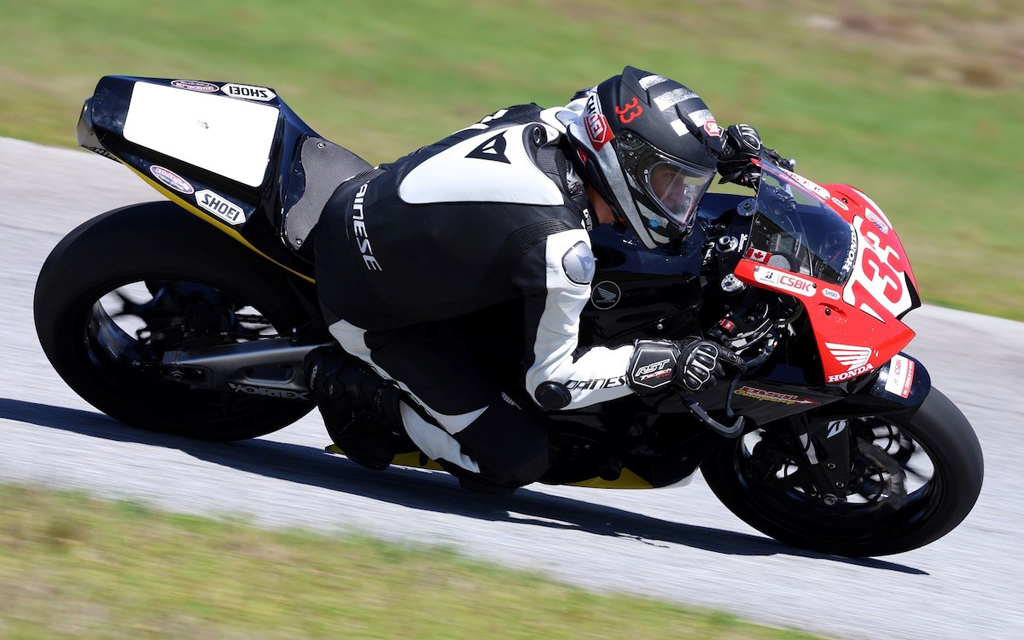 The first day of testing also saw a number of Amateurs take to the JenningsGP track, with first-year Scorpion Amateur Sport Bike rider Andrew Cooney setting the bar early on for Honda.
A four-time race winner in the Lightweight division last year, Cooney quickly got up to speed on his bigger 600cc machine, pacing the field with a blistering time of 1:20.625 – only 1.172 seconds off the Pro top-ten.
Trailing Cooney through the first half of testing is fellow youngster Mackenzie Weil, who went second-fastest aboard his MotorcycleCourse Yamaha with a time of 1:21.930. The lead trio was rounded off by Stephen Moxey, roughly two seconds off the pace.
As for the third and final group, it was 14-year-old Vincent Lalande who lived up to all the hype in his first taste of national action, leading the way in the combined Lightweight category.
The inaugural Canadian Mini Superbike Ohvale Cup champion is considered one of the series' biggest talents in recent memory, and proved it on Tuesday by leading his group aboard a SpeedFactory67 Kawasaki with a time of 1:27.436.
Second to Lalande through day one was Justin Marshall, trailing the teenager by 1.110 seconds. Third in the group was veteran returnee Jeff Williams, who is making his own comeback after a scary Pro Superbike crash in 2020. The Yamaha rider managed an excellent 1:28.911 in his first official action in over two years.
Full results by session can be found on the series' official website, while action will continue on Wednesday at JenningsGP.
For more information on the Bridgestone Canadian Superbike Championship, visit www.csbk.ca.
Main picture : Jordan Szoke was fastest after the first day of Bridgestone CSBK testing at Jennings GP. Testing continues on Wednesday at the Florida circuit. Photo credit: Rob O'Brien / CSBK.
Source : CSBK