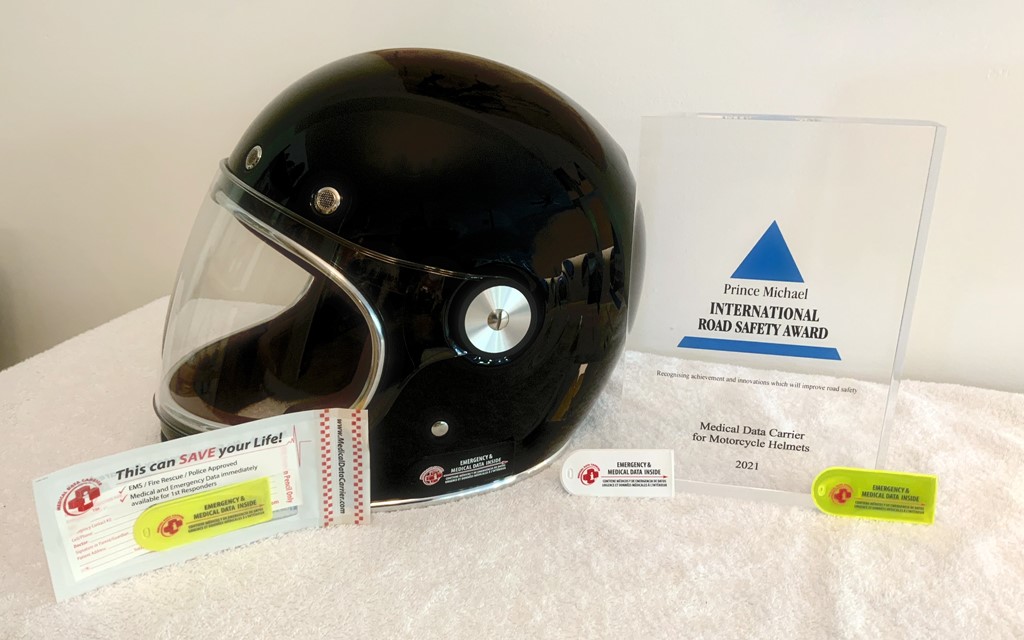 A small but renowned Canadian company snapped up the prestigious Prince Michael of Kent International Road Safety Award for its Medical Data Carrier safety product that is helping to save motorcyclist's lives around the world.
Medical Data Carrier (MDC) is a no tech, no fail way for an individual (or parent) to provide crucial, medical and emergency contact information to a first responder at an accident scene. Often times, especially at a motorcycle, workplace or cycling accident that first responder is a fellow rider or a work colleague. MDC makes the 911 emergency call full of vital information to relay to inbound EMS.
"I am most impressed to have learned about the success of the Medical Data Carrier programme. The idea is truly innovative and the success it has achieved with such a high uptake across the motorcycle community is remarkable. It therefore gives me great pleasure to recognize it with my International Road Safety Award", stated His Royal Highness- Prince Michael of Kent. " I wish you continued success with your efforts to improve motorcycle safety", he concluded.
The MDC is comprised of a special vinyl sleeve that is affixed to a helmet using a certified safe adhesive. Inside the sleeve is a two sided medical data form that captures everything and more that the first responder, EMS and potentially the receiving hospital need to help perform their triage, treatment and administration. The form is made of a special synthetic paper that is waterproof and tear-proof.
"Providing an efficient, effective and affordable emergency preparedness solution for everyone is our primary goal," stated Steve Reed, President of Medical Data Carrier. "As a motorcycle rider I am particularly concerned about how MDC bridges a very real gap with post crash response strategies. Anything that can be done to aid and assist emergency services during the Golden Hour of treatment can save lives. With so many new and returning motorcyclists on the roads during the pandemic, combined with a backlog of valuable rider training, in 2022 we may see our largest increase of motorcycle accidents here in Canada and around the world."
Medical Data Carrier has become embedded into many national, state and international motorcycle safety programs and is utilized by motorcycle clubs, racing series' and individual motorcyclists as well as other powersport users like snowmobilers.
For more information visit https://medicaldatacarrier.com/testimonials/.
Source: Medical Data Carrier (MDC)