IT'S ALL-YOU-CAN-RIDE DAY AT KTM
Throttle-twisting KTM's demo fleet near Ontario's Forks of the Credit Provincial Park for a day sounds like fun, right?
Today is a spin-off from the consumer rider demo days where a good portion of the model lineup is sent to dealers across most of Canada for all to enjoy. That plan was kiboshed by COVID-19, and a fortunate few are invited for a one-day day media ride instead. I truly hope you get out for a good ride now and then too—it goes a long way to increasing levels of happiness for those of us who enjoy it.
This is a welcome and somewhat uncorked break after being in lockdown—an opportunity to enjoy roads less travelled. And the current longing to ride in remote Canadian landscapes without fear of getting pulled over means the most appealing for me right now is the Adventure category. With six models in KTM's 390, 790 and 1290 family to choose from, the 1290 Super Adventure R calls the loudest.
It is a hot summer day that starts at Peak Powersports in Oakville, which recently became a KTM dealer, and like many others seems to be enjoying a surprise industry- wide sales boom. How a global recession can simultaneously experience a flourishing consumer spending spree is a story for another day. This one is going to be more about sharing some impressions of the model range.
The agenda calls for five hours to ride about 10 street bikes, and includes a social- distancing lunch mid-way. While neither of the 690 or RC 125 models are available, it initially feels a lot like what I remember of being a teenager getting ready for a date, except this is a wild dream of having several all in one day. So additional effort is put into selecting gear to match the large variety of touring, naked, dual sport, and enduro street-bikes available while remaining well-protected, dry and sufficiently ventilated. A fortunate few call this work.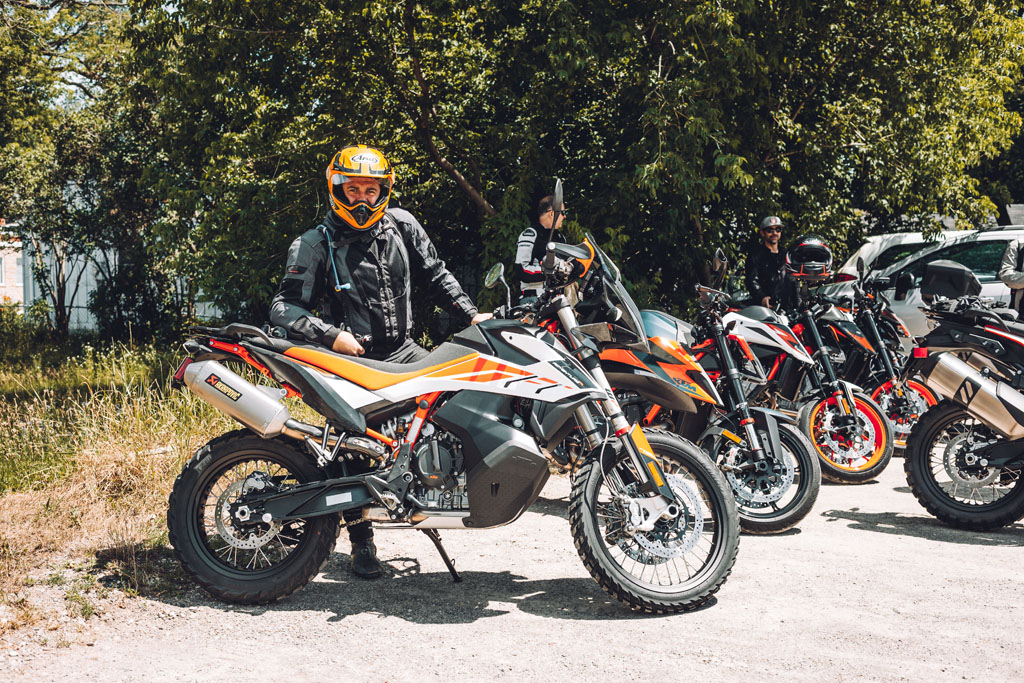 STREET BIKE MODEL SIMILARITIES
Looking at them all side-by-each, chassis similarities include a tubular steel trellis frame, aluminum cast swingarm, WP suspension, upright handlebar on all but one, and fairly comfortable seating positions. Electronics include multifunctional TFT dashboards, LED lights, plus Bosch for ABS, ride-by-wire fuel injection and ride modes when available and enabled. They are all four-stroke, liquid-cooled engines, with very cool PASC slipper clutches.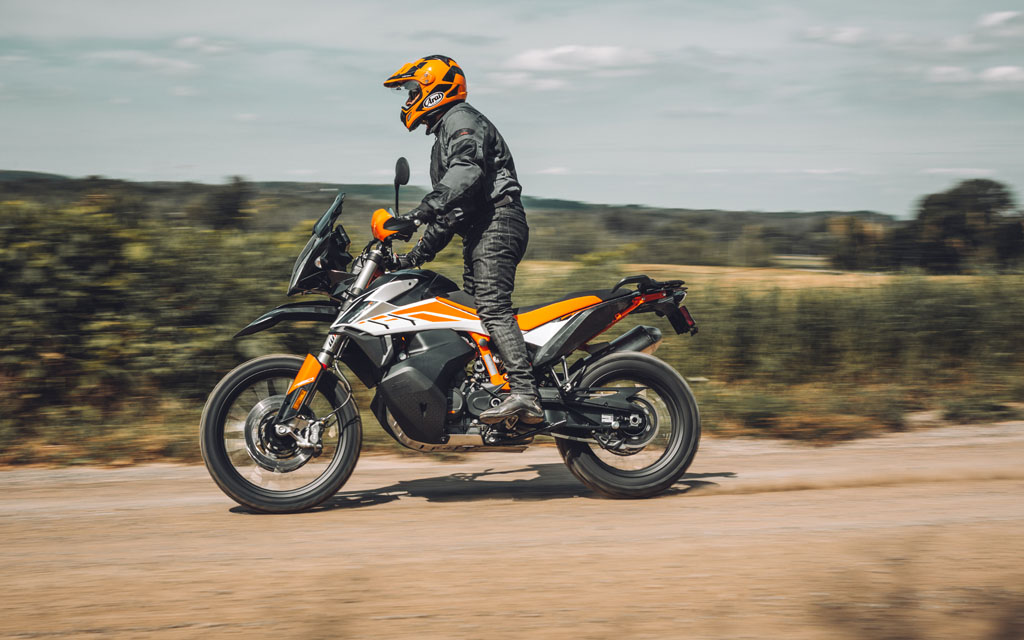 While it seems the hardware comes installed for all possible turnkey upgrades, models have anywhere between one and seven electronics packages to choose from. While riding mode names and options vary, the left-handlebar controls and corresponding graphical user interface is consistent between models, so once you learn one you effectively know them all. Your KTM dealer simply plugs your bike into its diagnostics, and enables whichever package is selected at an additional cost to cover the associated R&D efforts.
1290 MODELS (SUPER ADVENTURE R, SUPER ADVENTURE S, SUPER DUKE GT, AND SUPER DUKE R)
The latest generation LC8 1290 version of this engine was launched in the Super Duke R 2020 model which I wrote about in Cycle Canada & Moto Journal earlier this year. Now THAT was an impressive machine! So focus today is placed on riding other chassis configurations that retain the previous generation yet still impressive motor instead.
In a weird form of bike lust, I walk up to the 1290 Super Adventure R first and try starting it. But the key is nowhere to be found and a brief feeling of inadequacy is consciously kicked to the curb. It turns out to have a keyless ignition, and the fob is in a storage compartment that only the organizers know about—just press the button, they say. Then swing a leg over its high seat, and settle in comfortably with a clear view of its humongous TFT 6.5 inch display.
Adjust power delivery mode between Off-Road, Rain, Street, and Sport while it warms up, and select Sport for the street ride. A little birdie promptly tells me once out-of-town that turning off traction control makes it easier to do monster wheelies. But while the seating position is comfortable, engine heat is bothersome at low city speeds not likely experienced while riding in remote areas and logging roads, or at 80+ km/h anywhere else.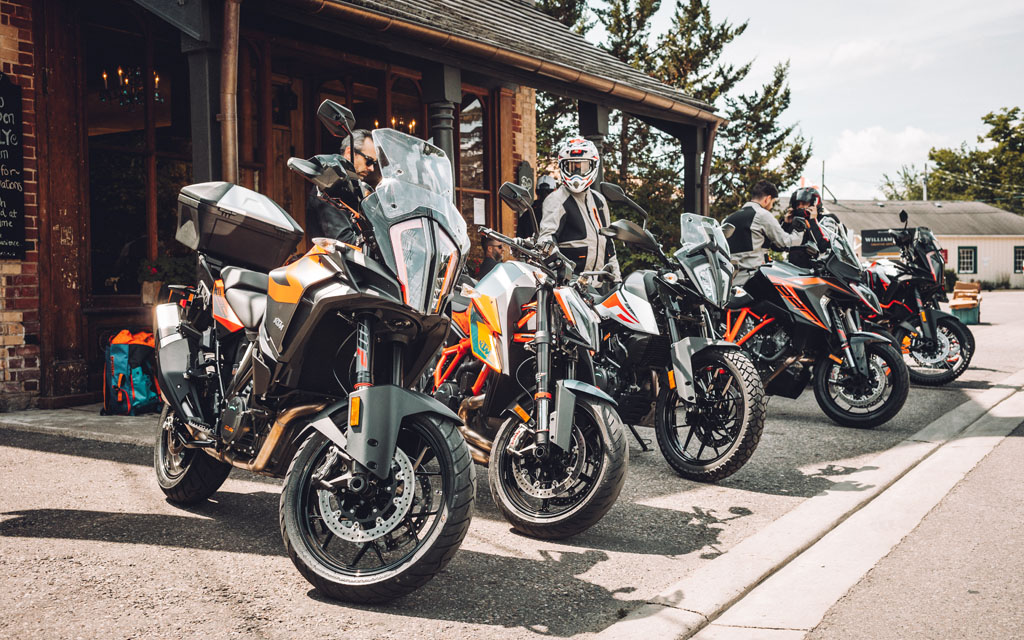 Handlebar controls are easy to use, and the graphical user interface is phenomenal. Except the power shifter feature hasn't been enabled and I get perturbed. Whatever the sticker price, plan to add one of KTM's electronics packages, and ideally the most expensive one. There is in my opinion no point in having features built in and not available to play with while riding. Package pricing was not provided, but is available through dealers.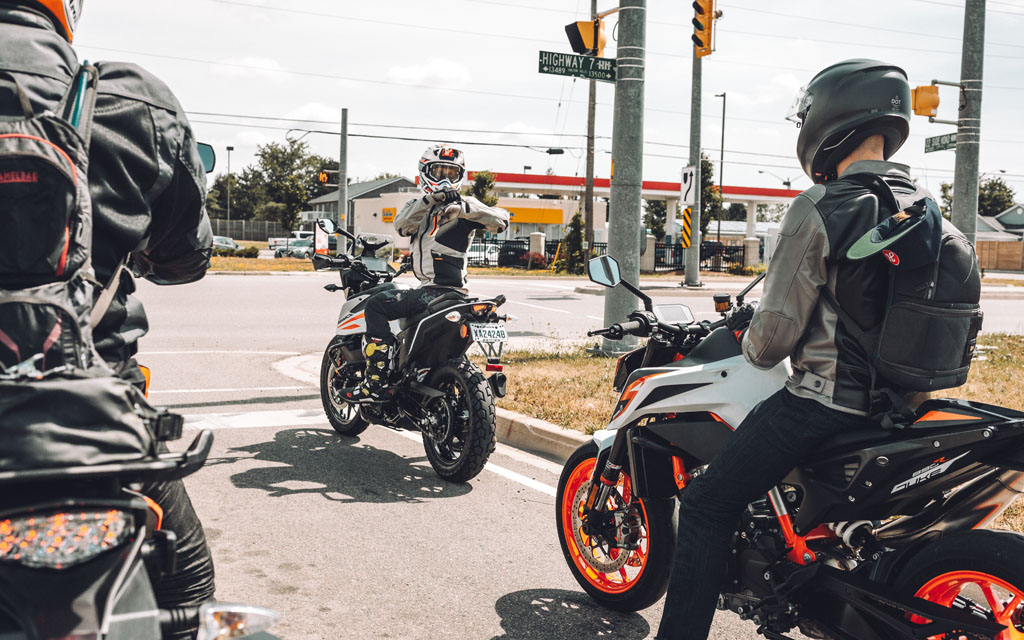 I also rode the Super Duke GT ("Grand Touring") which another journalist there labelled as the best bike he had ever ridden. While likely not politically correct to share, giving it gas over small railway tracks caused a rather large volume of sparks on landing, and I'm not sure it left me with the same impression.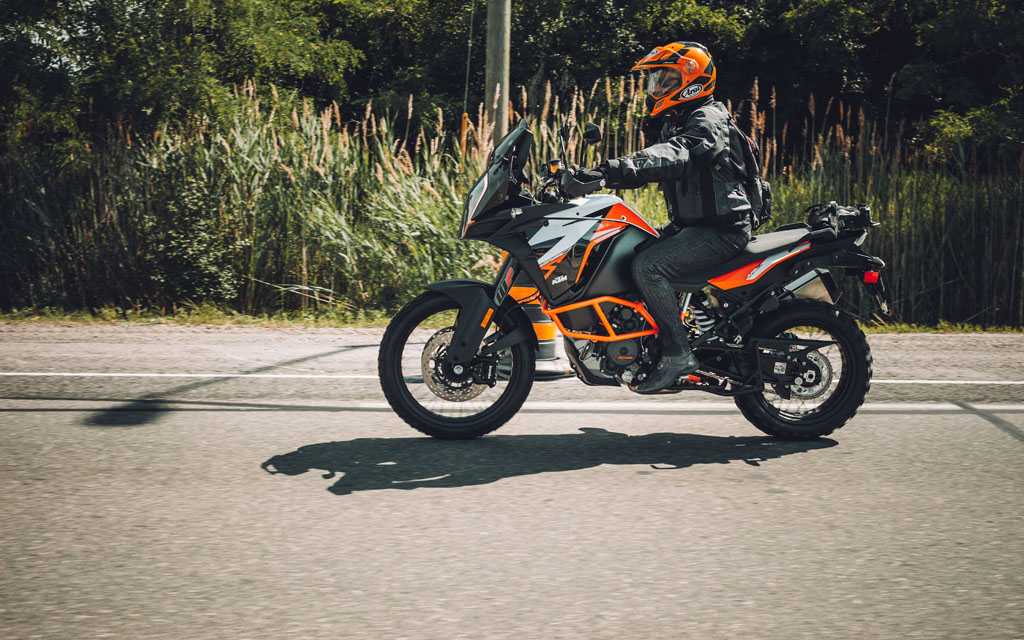 These are all 1,301 cc displacement 75-degree V-twin engines, with each cylinder head configured with two differently sized spark plugs, two cams, and four titanium valves to help smoothy deliver arm-wrenching horsepower and torque. The only differences between Super Duke GT and Super Adventure models are cams and flywheel. Overall, I find it to be an impressive engine that makes bikes it powers enjoyable to ride, in the right environment. And the stock electronics either appeal to a larger demographic or encourage an upsell.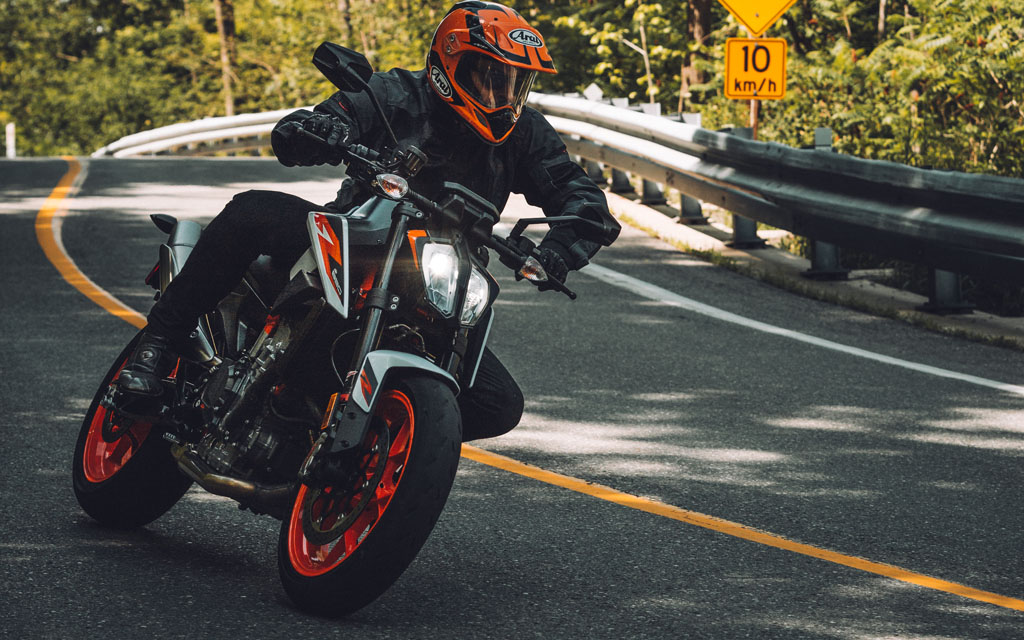 890 (DUKE R MODEL ONLY)
Now for an MSRP of $12,599 prior to electronics upgrades, this naked bike makes sense to me. Not so fast as to be unusable on the street, and not so slow as to be boring. Fully decked with Brembo brakes, this is an eye-catching city slicker with short touring and track day or twisty road excursion prowess. The 890 engine is effectively the 790 twin- cylinder engine with revised cylinder head, larger valves, and increased bore and stroke, plus higher compression and redline with lighter pistons.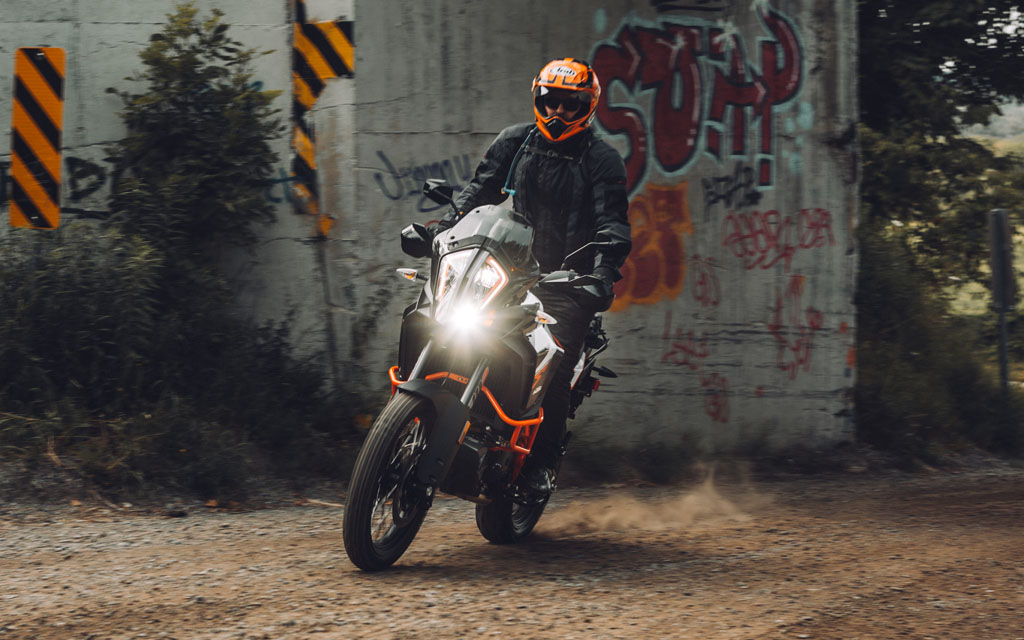 All electronics packages are enabled on this test unit, and it most definitely makes my list of an interesting bike to ride for a longer while and tell you about once I'm more familiar with it. Extensive adjustment capability and big grins are available, that I can say without question.
790 MODELS (DUKE, ADVENTURE, ADVENTURE R, AND ADVENTURE R RALLY)
Any idea why KTM refers to many of its engines as an LC8? The acronym stands for Liquid- Cooled 8-valve.
I picked the Adventure R to ride because I had my eye on the 890 rather than 790 Duke, and the Rally model was not available. There will be a chance for me to ride a tricked-out model more extensively during the Rock Hound Rally later in the summer, so stay tuned for a thorough review later in the year. This ride was short and almost exclusively on the street, so not much to share yet.
What I can say is that all 790s are an LC8 twin-cylinder 799 cc DOHC engine. Assembled rather than cast camshafts reduce reciprocating mass, and two strategically located balancer shafts help reduce vibration. Peak torque is delivered at 8,000 rpm, and service intervals of 15,000 km are recommended. The Duke has the shortest wheelbase at 1,475 mm, with the Adventure R Rally model being the longest at an additional 65 mm in length.
390 MODELS (ADVENTURE, DUKE, AND RC)
A brief ride on the 390 Adventure, and I can see it as a great entry-level option with limited off-road capability; it's comfortable and happy breaking the rear wheel loose on dirt roads once electronics are properly set. The 390 models share a single-cylinder 373 cc engine design with DOHC, slipper clutch, a compression ratio of 12.6:1 , and a ride-by-wire 46 mm throttle body BOSCH fuel injection system. All engine part numbers are the same between models, and wheelbases are within 90 mm of each other.
THE END—UNTIL NEXT TIME
With just eight-and-a-half motorcycles in my family stable, the one most often played with over the past seven years is a KTM 350 EXC-F. It has had all the goodies installed to make it a competent single-track bike where I use it most, and has retained its original somehow street legal status. Today was a great opportunity to also get acquainted with much of KTM's more focussed street bike line-up, and it was great. Short and sweet, a true blast.