A FEW MODS MAKE A BETTER V-STROM
Unlike a lot of other motojournalists whose practices don't always match what they preach, I actually heed my own advice. To wit, I bought Cycle Canada's long-term tester, Suzuki's 2018 V-Strom 1000 XT, mainly because, as my column this issue preaches, it was the simplest big-bore adventure bike I could find.
Oh, I tried all manner of alternatives — already owning a 2002 DL, I was a little concerned about becoming a serial Strommer — but in the end chose to re-up precisely because, again as my column proclaims, it had less of the stuff that we're all being told is absolutely necessary on a modern motorcycle. I bought it because the lack of electronic suspension means less complication, because the lack of power-operated windshield meant less weight (especially up high) and because I really don't want — or need — a multi-configuration dashboard/tablet distracting me from the job of piloting a high-speed two-wheeler. Again referencing this issue's column, I bought the seemly bare-boned Suzuki not despite its lack of gee-whiz gizmos, but precisely because it didn't have said gizmos.
Triumph's incredibly comfortable Tiger 1200 almost tempted me, but my Lord, its centre of gravity is in the clouds. BMW's Boxer GS was indeed a technological marvel, but it weighs more than many a sports tourer. And yes, Ducati's Multistrada handles a treat, but jack up the XT's rear preload and the big Strom steers just as well.
But, it's not perfect. Far from it, in fact. So, starting from its simple, lightweight base, I massaged some of its hard parts, all with the goal of rendering the cheap and cheerful Suzuki the equal — actually, better — of its megabuck competition.
One of the casualties of Suzuki's continuing obsession with a low MSRP is the DL's suspension. The front fork, for instance, appears to be a sophisticated affair, what with compression and rebound damping as well as preload adjustments. But, as detailed in this month's product test, it's a budget unit, which means that, although the 2018 DL1000 XT boasts compression damping adjusters at the bottom of both legs of the KYB inverted fork, twiddling their adjustment screws barely affected the fork's performance. We tested the stanchions with springs removed to isolate the damping and there was so little change, we thought the adjusters were broken. Nope, just useless. A replacement K-Tech valve restored the adjustability that should have been there in the first place.
Ditto for the fork cartridge. Although the stock fork is well set up — decent spring rate and low-speed compression damping — for an 80 kilogram rider, it's actually a very basic unit, barely more modern than a damping rod arrangement. That means, if you're a heavier rider, travel two-up often or ride on particularly bumpy roads, a simple revalve/spring change to improve performance isn't possible. The only solution is either a complete Race Tech rebuild or, as I did, replacing the entire cartridge with a Traxxion Dynamics AK-20.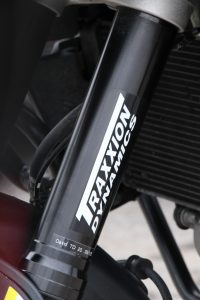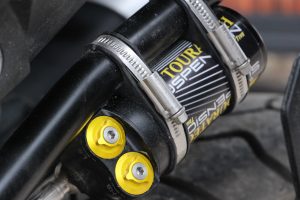 The same is true of the shock. Oh, you can get the stock one beefed up — it truly needs a stiffer spring and a revalve if you often ride two-up — but augmenting its unsophisticated internals requires the work of a specialist. You'll probably be better off — and not that much more out of pocket — with a quality replacement like the Touratech I opted for. Besides, just because someone values simplicity doesn't mean they aren't willing to pay for quality.
Another misplaced cost-cutting is the luggage Suzuki offers for the 2014 to 2018 V-Strom. Essentially the same tiny saddlebags Yamaha Canada offers for its Tracer GT, they are small, finicky and not very sturdy. At, $1,397.18, they also cost a small fortune. For not much more, you can get Shad's SH35 saddlebags, SH59X litre topcase and all their attendant "3P" mounting hardware. And the Shad SH35/SH59X combination is the best luggage system I have ever tested. The rear topcase is adjustable from a sleek 46 litres to a twin full-face helmet swallowing 59 litres and, fitting in with that "simpler is better" motif I've been espousing, you don't have to lock them to remove the key, the number one ask from saddlebags shoppers these days.
I've also added Givi's latest Airflow windshield and if there's ever been a testament to the elegance of simplicity, it is the combination of improved screen and Suzuki's rudimentary — that should be read manual — height adjuster. The Givi is not only the best aftermarket windshield to be had, but its pairing with the XT's manual adjustment provides the most aerodynamic and buffeting-free protection I have tested on any motorcycle. Even in its lowest position — the screen tilted all the way back and the adjustable second screen completely lowered — there's precious little helmet rattle all the way up to 150 kilometres an hour. Tilt the screen up and extend the Airflow's second shield and there's almost as much rain protection as on a Gold Wing. Again, proving that simplicity really is the ultimate sophistication, the Suzuki's mechanical adjustment, combined with the Airflow, is superior to any electronically-adjustable windshield I've tested.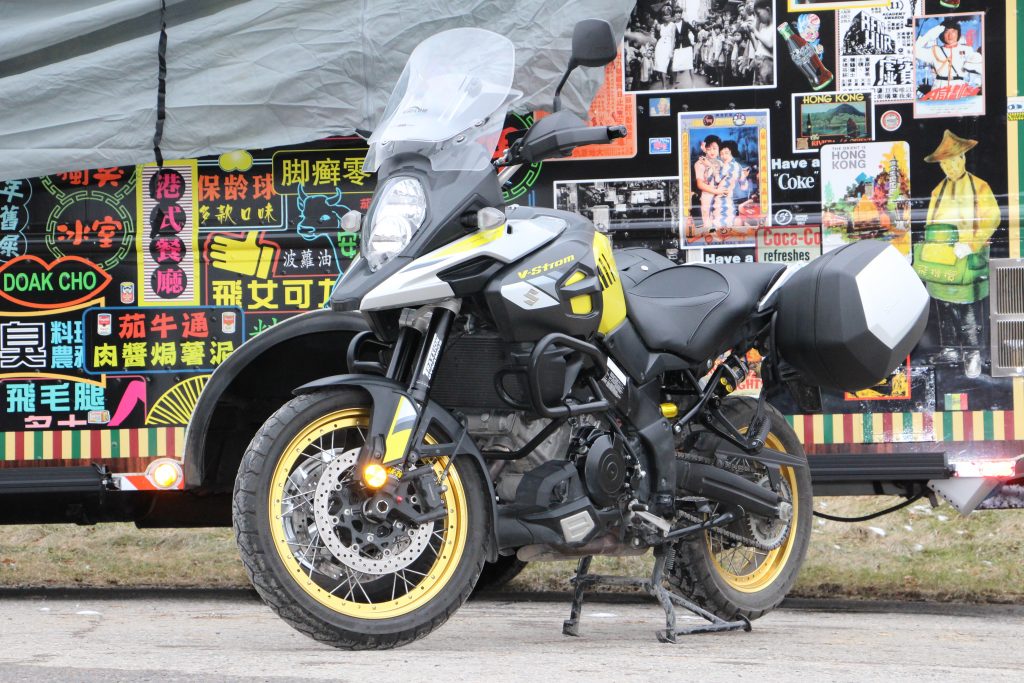 I've also been playing around with a number of seats. The stock 2018 isn't quite as comfortable (for me, at least) as the first generation's Barcalounger; the foam quite a bit firmer and the rider's perch sloping a little too much to the front for my tackle. I haven't had very much time to test my Shad and Sargent replacements, but at first blush, the former seems like a slightly more comfortable take on the stock format — it's approximately the same width and height — while Sargent is a wider and more comfortable but taller alternative. My initial recommendation would be that the Shad might be better for those of shorter stature who err on the sporting side of hanging off their seat while the Sargent was lauded by a taller V-Stommer who values nothing more than Iron Butt–distance comfort. The Sargent is also incredibly well built with a flashlight and a license pouch built into its custom base. Stay tuned for a more comprehensive test of both as well as a customized stock seat.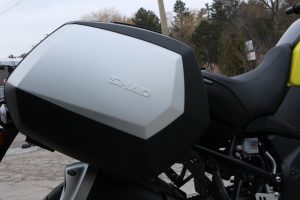 That's a pretty hefty upgrade list for a bike sold as a bargain-basement alternative. So, what's the tally for all this goodness?
Well, looking back through all my receipts, I'm looking at about $6,500 for all the accessories detailed above. Yes, that's a whopping amount to spend on what Suzuki targets as a cost-conscious alternative. On the other hand, the end result — all the accessories and the $14,099 Suzuki Canada wants for the 2019 DL1000 — is still significantly cheaper than an equivalent Triumph Tiger 1200 (with its accessory Givi hard bags) or any of Ducati's similarly-equipped big-bore Multistradas. Meanwhile, my upgraded V-Strom 1000 is every bit as comfortable as Triumph's ADV, but feels 50 kilograms lighter. It also handles every bit as well as any Duke but is way more comfortable. Better luggage too.
Indeed, I think Suzuki Canada is making a big mistake by religiously bean-counting the big DL. Maintaining the base model's cost advantage might be smart marketing, but the company is missing an opportunity with its supposedly upscale XT model. Judging by the number of Stromtroopers that futz with the same upgrades as I did, Suzuki could have seriously upgraded the XT even if it meant a larger price increase than the paltry $600 the XT commands over the base DL. Indeed, with economies of scale on its side, Suzuki could easily offer a comprehensively upgraded Strom for, say, a $1,500 price bump. And while, yes, that's expensive, it's still loads cheaper than owners paying full retail for aftermarket replacement suspension. Most importantly, it would also remain much less expensive than the competition.
There is some salvation on the horizon. For 2019, Suzuki will offer an "Adventure" version of its top-of-the-line XT which will include heated grips, an accessory engine guard and, most importantly, what looks to be some excellent SW-Motech side cases. That leaves only the suspension to be upgraded. Maybe next year?