I live by the adage that "there are old motorcyclists and there are bold motorcyclists, but there are no old, bold motorcyclists." Oh, I still play silly bugger and pretend to get my knee down, but only when, as I did in last issue's big tire test, there's the wide-open confines — i.e., none of those infernal car things about — of a racetrack. Wheelies are for dirt bikes, burnouts are restricted to the drag strip and double-jumping tabletops is something I watch on TV.
That's why, at 61 — I won't bother with the pretense that I am 61-years-young — I am no longer the two-wheel hooligan I once was. The spirit, as they say, is willing, but the bones are fragile.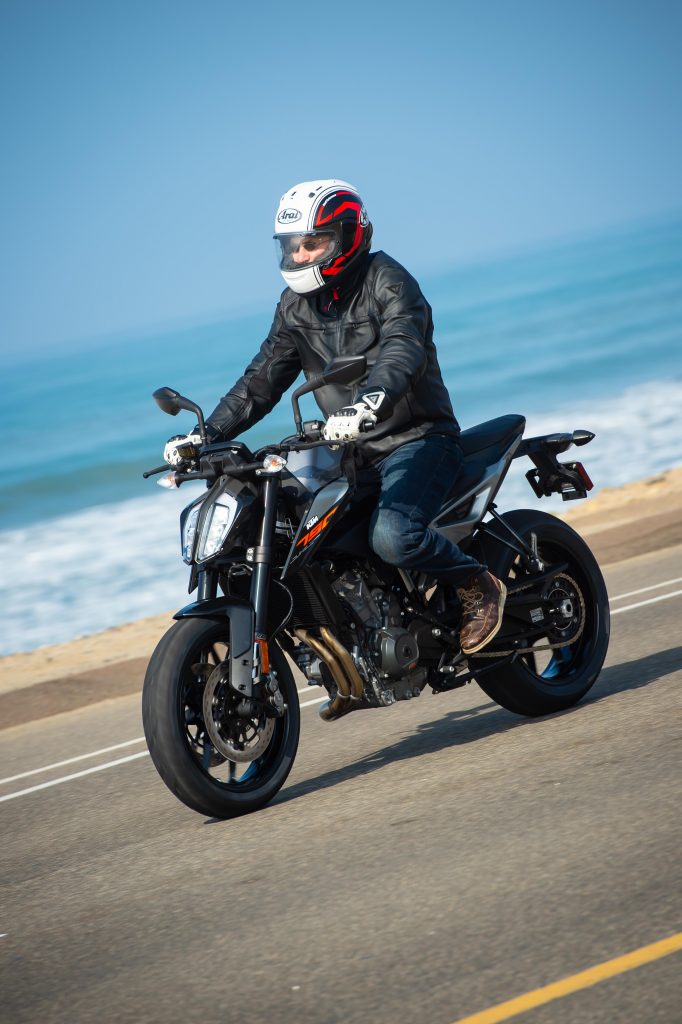 However, were I still beset by the hooligan spirit, I'd be all over KTM's new 790 Duke. And not just for the standard KTM fare of sprightly handling and light weight. I could wax lyrical about its razor sharp handling or the stylish cut of its jib. But, really, that's not what this new Duke is all about. No, the new mid-sized 790 is, like all KTMs, about the motor.
Nothing unusual about that, you say? Well, what is different, is that, unlike all the other premium street bikes KTM makes that are powered by charismatic V-twins, the 790 is powered by a parallel twin. In fact, it's a brand-new parallel twin.
Now, parallel twins are many things — compact, cheap to produce and, of course, they can trace their heritage back to some of motorcycling's most classic rides — but they are hardly charismatic, their "character," if you will, mundane compared with the V-twins, high-revving fours and phantasmagorical sixes that generate headlines these days. Parallel twins are for, well, budget bikes that punters purchase more for the low MSRP than any ability to excite.
Not in this new KTM. Gosh, what a glorious engine. For starters, 105 horsepower gushes from a mere 799 cubic centimetres, an excellent number no matter how many pistons you're boasting or how they are arranged. For another, despite the high-revving nature of wringing 105 ponies from a mid-displacement twin — the horsepower peak occurs at 9,400 rpm — the 790 is impressively grunty. Rolling on the throttle as low as three grand elicits a satisfying push ahead. Do the same at five grand and the mid-sized Duke fairly rushes forward. This is one fast bike, folks, and the sportiest of parallel twins I have sampled. Aiding and abetting in all this potential is the fact that the Duke, a full-fledged member of KTM's stripped-to-the-bone "naked" lineup, weighs but 169 kilograms.
Perhaps even more impressive, though, is the engine's character. Though its two pistons slide up and down bores right beside each other, the thing feels much more like a V-twin. Exactly what type of a vee may be open to debate, but there's certainly a bit of the offset crankpin to the 790.
Of course, that's because the pistons are actually offset and, more specifically, offset in a way completely unique for a parallel twin. Classic twins orient their pistons at 180 degrees — that means one piston is at the top of its cylinder while the other is at the bottom — or 360 (both pistons at the top or bottom simultaneously). A few more recent examples, in a quest to sound — and feel — like a proper V-twin, switch things up by laying the pistons out in a 270/90 degree format.
KTM's 799-cc twin is even more peculiar, its two pistons a seemingly out-of-kilter 285 and 75 degrees oriented. In other words, when one piston is at the top of its bore, the other is kinda, sorta down somewhat. Ignore all the jargon about degrees and pistons if you will; just know the KTM twin is completely unique. The marketing mavens from KTM's California headquarters couldn't detail the exact effect of that seemingly picayune difference nor could they posit a reason for it other than rendering the exhaust note less phlegmatic. But, like I said, this engine has oodles of character, thrumming under load at low speeds just like a Ducati Monster before screaming to redline like, well, a KTM V-twin, so they must have done something right.
Despite the odd firing order, the 799 cc twin is deliciously smooth. Not one, but two counter-balancers quell any vibes the unusual crankshaft design might create. Again, nothing unusual, right? What's different, however, about the KTM arrangement is that one counter-balancer is located forward of the crankshaft, as is common in most parallel twins, but the other is built into the cylinder head — driven off the exhaust camshaft, in fact — designed to quell resonance that would occur as the pistons change direction at their odd intervals. Top it off with liberal use of slippery, but expensive diamond-like carbon coating on the cam followers and piston pins, a power-assisted slipper clutch and a forged crankshaft that is a work of art and you have a parallel twin above the normal bargain basement design.
As for the rest of the lightweight Duke, it's pretty darned impressive as well. Braking power is incredible: four-piston, radially mounted calipers combining with a radial master cylinder and twin, 300 mm front discs for incredible stopping power. Full-sized 120/70R17 and 180/55R17 Maxxis Supermaxx STs add to the sensation with truly sporting levels of traction.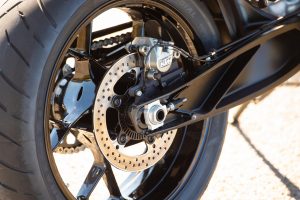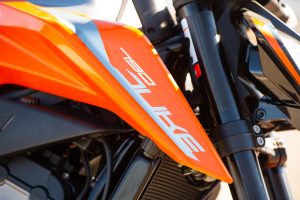 The new Duke also turns right sharpish — cue more mention of its light 169-kilo dry weight again, 24 degrees of rake and a short 98 mm of trail — steering linearly and attacking corners as if bred specifically for that purpose. Which, in fact, we did, hooning about the mountains east of San Diego as if the California Highway Patrol had not a single helicopter in its arsenal. Even the suspension was well calibrated, even though it is pretty basic. Preload is adjustable at the rear and, well, that's about it. That said, KTM owns WP suspension so, yes, the engineers spent a little more time calibrating spring rates and compression valving. It's definitely on the firm side of squishy, but it suits the KTM's intended purpose — lots of sprinting, not so much long-distance marathons — quite well. Besides, there are fully adjustable fork cartridges and a piggyback reservoir rear shock available through KTM Powerparts.
More important, I suspect, is the extensive array — for a low-cost middleweight, at least — of electronic aids with which the 790 is blessed. Not only are there multiple riding modes — I stuck Street 'cause Sport was just a little too twitchy for a non-hooligan — there's also a multi-mode traction control system guided by a five-axis inertial measurement unit so that the rear Maxxis isn't overwhelmed. There's also a Cornering ABS system that prevents wheel lockup when braking while heeled over and KTM even throws in something the company calls Supermoto ABS, which allows you to lock the rear wheel — presumably while Marc Marquez-ing into corners — while maintaining anti-lock at the front. Of course, this would appear to be nothing more than the "off-road" ABS that adventure bikes have been offering for quite some time, but we won't burst KTM's marketing bubble. One last bit of electronic gadgetry worth mentioning is the Motor Slip Regulation system, which, using many of the same sensors to determine when you're calling for too much engine braking automatically feeds a little torque to keep things under control. It works in conjunction with the slipper clutch and, try as I might — e.g., banging down inappropriate downshifts at precisely the wrong time — I was unable to generate any rear wheel chatter/hop. It's a comprehensive package befitting the 790's sporting sensibilities.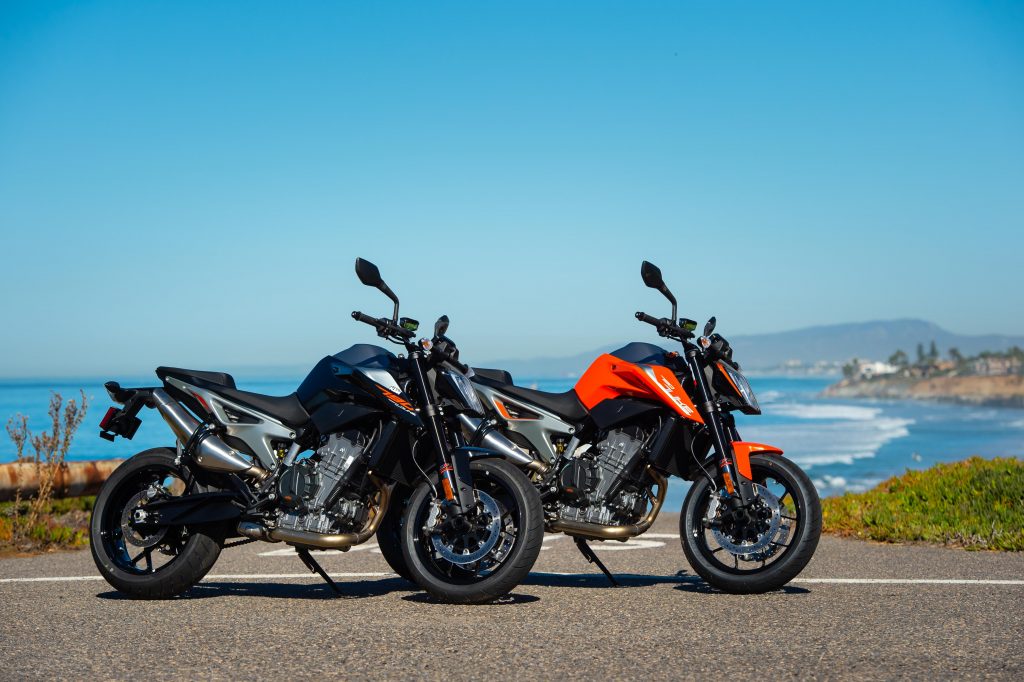 As for more pedestrian considerations, the Duke's riding position is surprisingly comfortable, the footpegs set back just far enough and the reach to the superbike-style handlebar a comfortable sporty crouch. The Duke's seat, on the other hand, was a source of some controversy. Some — like Yours Truly — found it impossibly hard while others (more generous in their personal cushioning?) found it all-day comfortable. The one thing certain is that it is well shaped, broad and flat, if only about half an inch thick.
There's also a little more high-tech available. Optional on the 790 is KTM's My Ride, which pairs your smartphone with the Duke's TFT display and let's you control music and incoming calls — yes, there appear to be bikers who want to be as distracted on their bikes as they are in their cars — via the handlebar's menu switch.
KTM is also offering a big bank of accessories for the new 790. If the stocker's 825 mm seat height is too much for your short inseams, there's a 20 mm shorter version available. Adjustable footpegs are available as are two iterations of Akropovič exhausts, a more butch set of triple clamps and some bar-end mirrors for those feeling the '60s café racer spirit.
Finally, as much as I've lauded the Duke 790 with fairly effusive compliments regarding handling, power and equipment, I've saved the best for last. All this fun and sheer competence is yours for just $11,499, which, by any standard — compared with other KTMs; compared with other naked bikes, yadda yadda — is a screaming deal.
Like I said, were there any hooligan left in me, I'd be all over the 790 Duke.