BMW's latest R nineT is as plain as a pair of Levi's. And how we love our jeans
Let's hope there's a place in motorcycling's ever increasing complication for a bike like BMW's R nineT Pure. Devoid of virtually all "flash" — it's hard to imagine a more "basic" bike — the R nineT is an honest motorcycle for an honest days ride. An everyman's motorcycle, if you will.
The lowest spec R nineT in the five-model "heritage" lineup, the Pure makes do with basic right-side-up fork, a flat plank for a seat and plain old mag wheels (the upscale version of the roadster gets trendy spoked wheels). It is as ordinary as BMW motorcycles get.
It may be better for it. For one thing, it retails for just $13,000, an absolute steal in a lineup that can touch 30 grand without too much effort. Included in that price, from a technical point of view, are stout, ABS-equipped disc brakes, decent handling, a modicum of style and comfort and, of course, that Boxer engine.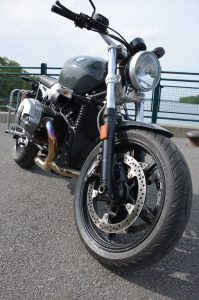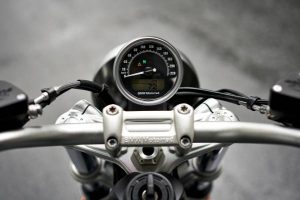 It's a thing of marvel is BMW's Boxer. Essentially unchanged in concept since 1923,the R nineT's version is the least advanced of the current breed. (It's the last of the air-cooled twins and the new water-cooled version is already getting an update, the now R1250 of the GS expected to receive a variable valve timing update by the end of the year).
And yet, one never lacks for power. Maybe BMW's 110 horses are stallions instead of nags. Perhaps, I am responding to the impressive 86 pounds-feet of torque and mistaking its twist for horsepower. Whatever the case, the R nineT is not wanting. There's plenty of grunt down below and, despite pistons that are large enough for an automotive V8, it's fairly eager to rev.
Civility is not an issue either. There used to be a time when riding a Boxer twin for the first time took some, let's call it acclimatization. Indeed, BMW was probably best served by not having test rides of its old bikes, so plainly quirky were the old airheads thanks to their low-speed throbbing vibration and clunky gearshifts. BMW twins were an acquired taste, growing on you like fine wine (said the protagonists) or a bad rash (the naysayers).
No longer. Oh, there's still a torque twist every time you blip the throttle in neutral, but there's precious little vibration — even in this older generation 1170 cc version — and fuel injection has cured all the little burps, farts and hiccups that used to be Bing carburetors.
One of the things that comes from being a basic motorcycle — i.e., the lack of electronic gizmos, multiple muffler exhaust systems and admittedly attractive circa '70s "bullet" café racer fairings — is light weight. At 219 kilograms fully-fueled, the Pure is something of a featherweight. Factor in the low 805 mm (again, flat as a plank) seat and you've got a large displacement roadster that's easier to throw around than many middleweights. Add a rational (though tilting towards sporty) riding position and you've got an ideal "move up" bike for those looking to graduate to a real motorcycle with some pedigree.
Indeed, I suspect that will be the attraction of this BMW (we'll find out more as our long-term test continues). For young hipsters moving up to their first real bike, its a relatively inexpensive — again, for a BMW — entry into the big leagues. Its bare-bones styling is also — bless their souls for thinking that individuality is a characteristic only appreciable to the eyes — the perfect blank canvas for those looking to build their "own" motorcycle. Yes, the similarly-styled $16,950 R nineT has spoked wheels, a nifty exhaust system and an aluminum gas tank, but that's BMW's take on what a custom roadster should look like. With its stripped-to-the-bone visuals, the Pure is an ideal starting point for those looking to carve their mark in motorcycling.
For older bikers perhaps getting back into the sport, the Pure is a return to familiar territory. That same dearth of modernity means they will be familiar with all the controls and the light weight means they won't be burdened by the weight of the ever expanding motorcycle — that new 1250, supposedly off-road version of the GS I mentioned is going to weigh at least 50 kilos more. There's little to adjust — rear spring preload and rebound damping, both manually — maintenance is relatively easy and it's easily accessorized for a variety of different uses.
Like I said, an honest motorcycle for an honest day's ride.