TRACER SPORT-UTE NOT TOO BIG, NOT TOO SMALL
When is an adventure bike not an adventure bike?
I realize that that would seem like a bunch of tautological nonsense, but bear with me for just a sec, OK?
Please.
Adventure bikes are the SUVs of motorcycling, right? The do-anything, go-anywhere utilitarians of the two-wheeled set, able to conquer all terrains and circumstances? Are we all agreed on that?
If so, then, like SUVs — whose shapes, sizes and intents now stretch from the little-more-than-a-station-wagon Audi Allroad to a down- and-dirty Jeep Wrangler — the attributes that make a touring motorcycle adventuresome are vaguely specified. What exactly defines adventure touring?
It certainly isn't off-road worthiness; BMW's S1000XR and pre-Enduro Ducati Multistradas put paid to that fiction. It can't be their dirt-bike light weight; BMW's R1200 GS — chiming in at a hefty 244 kilograms and reputed to be gaining five more soon thanks to an upgrade to variable valve timing — make mockery of the concept of adventure tourers weighing less than their sporting counterparts (the RS version of the R1200 actually weighs eight kilos less than the GS). Ditto for embracing a motocrosser-like simplicity. Have you ridden a Triumph Explorer 1200 lately?
A more compelling argument might be made that they're styled like dirt bikes, most of the ever-expanding legion of adventurers at least remaining somewhat faithful to their off-road DNA. But still there are outliers. Again, BMW's S1000XR doesn't look even remotely dirt bike-ish and until you slap knobbies onto the Duke, I defy you to find any semblance to a CRF Honda or even one of Ducati's own famed 450 RTs in the Multistrada's visage.
I finally thought I had cemented my definition of this, the fastest growing segment in motorcycling, when I decided that an adventure touring motorcycle was defined, not by its dirt-bike styling, but by its dirt-bike riding position. Even the aforementioned XR passes the sit-up-and-beg riding position definition with a wide, motocross-style handlebar and neutral footpeg location. Indeed, thought I, the best way to define an adventure bike was to stand up while riding one; if it felt like you were on an (overweight) dirt bike, but it had hard saddlebags and a tall windscreen, then you were on an adventure tourer.
Unfortunately for what I thought was epistemological brilliance, Yamaha's new Tracer GT fits that same definition perfectly. Sit on said GT and it feels, except for the slightly uncomfortable sloping seat, just like my aging V-Strom. Stand up and it feels so comfortable that were it not for its 227-kilogram wet weight and the fact that it wears a sport-bike-sized 120/70ZR17 front tire, you'd swear you could go Sahara-ing on it.
But, as you can plainly see, it fails virtually all the other criteria. Its styling isn't even remotely dirt bike-ish, the tires, even covered in Stick 'em, couldn't find purchase on wet grass and, besides, there's barely 137 millmetres of fork travel. And yet, like the plethora of "sport cutes" flooding the auto market whose actual off-road DNA is virtually nonexistent, the Tracer's attraction is the same all-round versatility that makes adventure bikes so popular.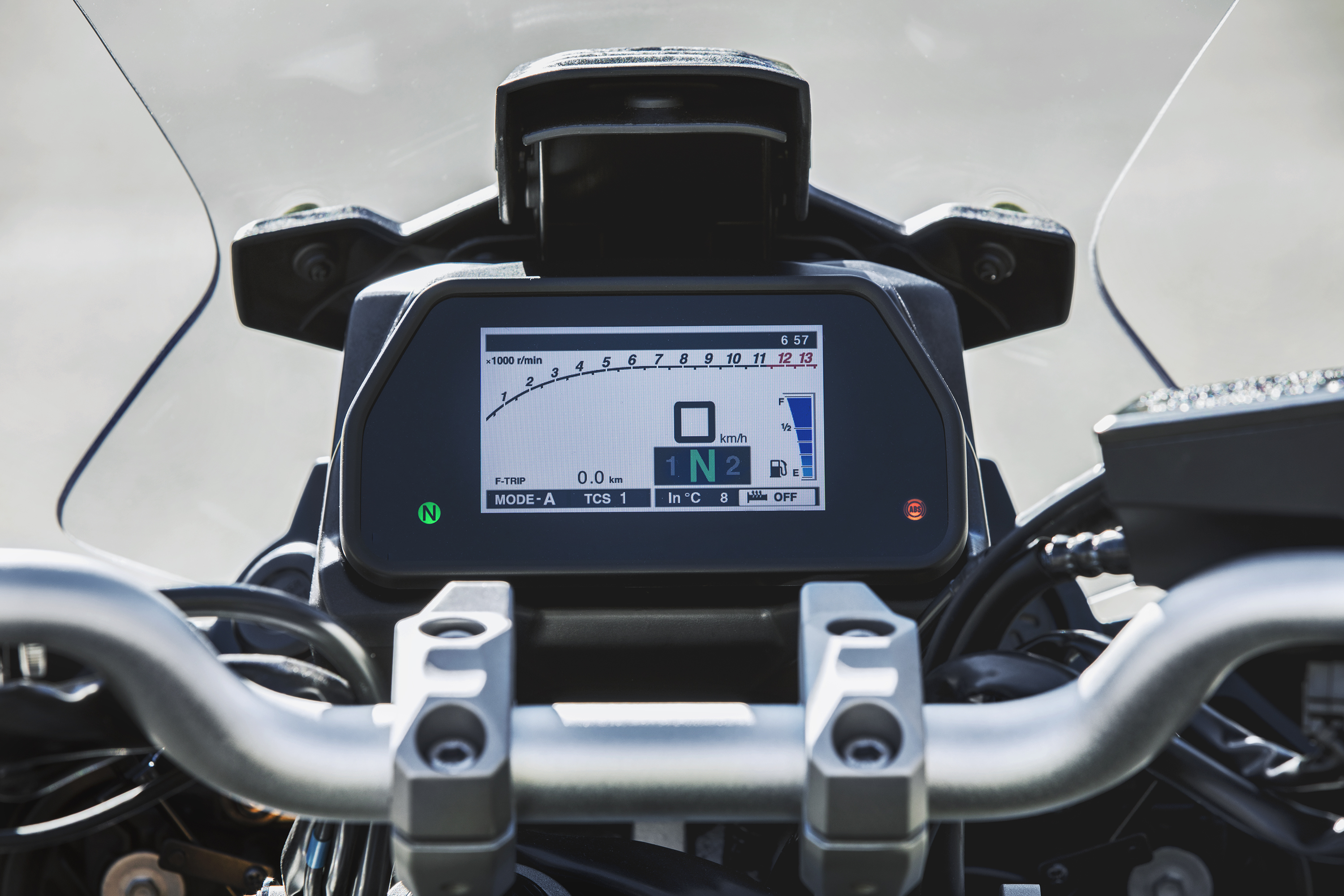 The riding position, as I mentioned, is pure V-Strom or Africa Twin, albeit with a little narrower handlebar. That means that it is far more comfortable than any of the chiropractor-friendly racks — stand up and take a bow, BMW's R1200 RS — that call themselves sport-tourers these days. Slap a Sargent seat on the Tracer — like I said, the stock item slopes too radically forward, bunching your, uhm, precious parts against the tank — and you'd probably be happy cranking out 500 klick days aboard the Yamaha. Said seat is also adjustable between 850 and 865 millimetres. In its highest position my 5-foot-11 frame has no trouble putting boot to ground.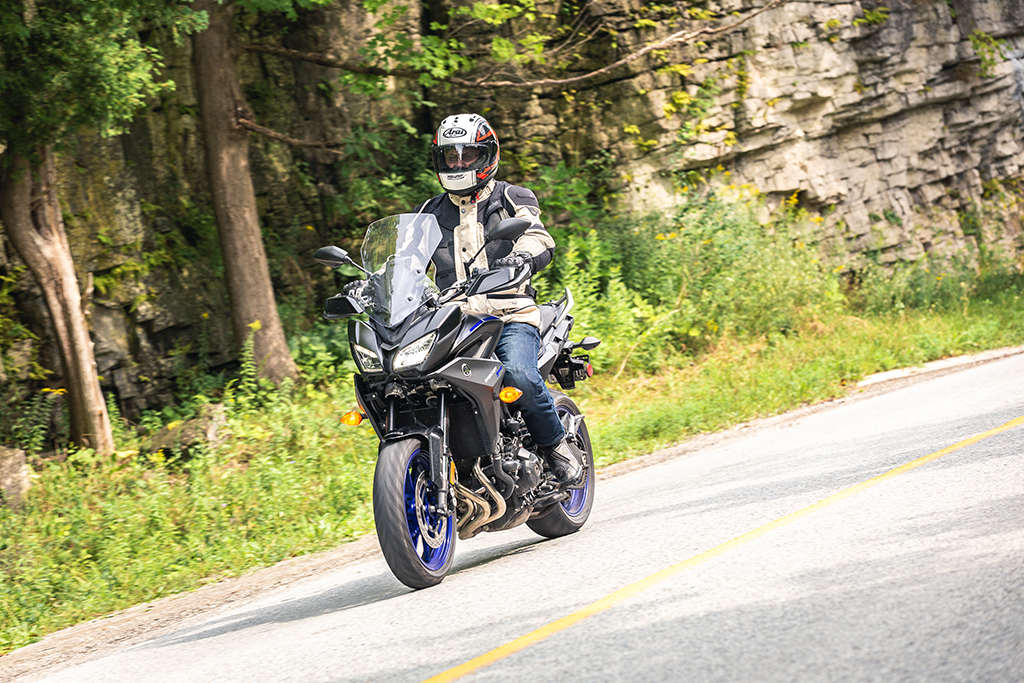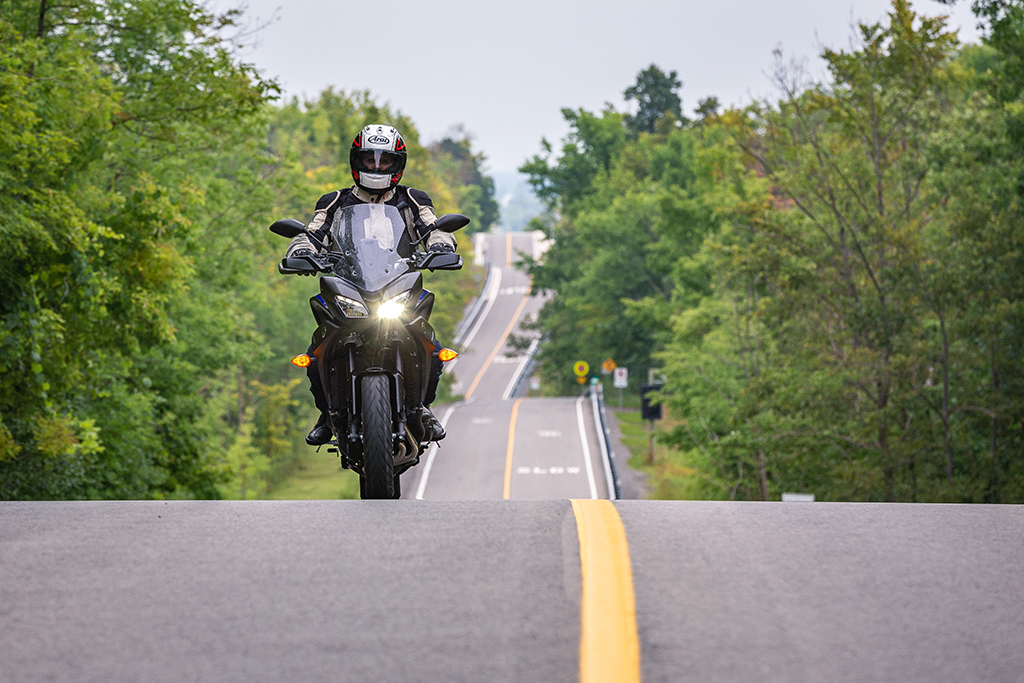 The one exception to that blissful comfort might be wind protection. The GT's standard windscreen is pretty small. It does have a height adjustment, but that just creates more turbulence and precious little increased protection. If you're good with Honda VFR levels of aerodynamic coverage, then it's all fine and dandy, but if you want the kind of wind protection that the adventure-style seating position would seem to promise, it is a little lacking. And yes, Yamaha does offer a taller touring shield, but the Tracer's new sportier styling would probably make that look ungainly; think R1 with a Rifle fairing here. Nonetheless, for one of its intended purposes — short-haul touring — the GT is pretty darned comfy.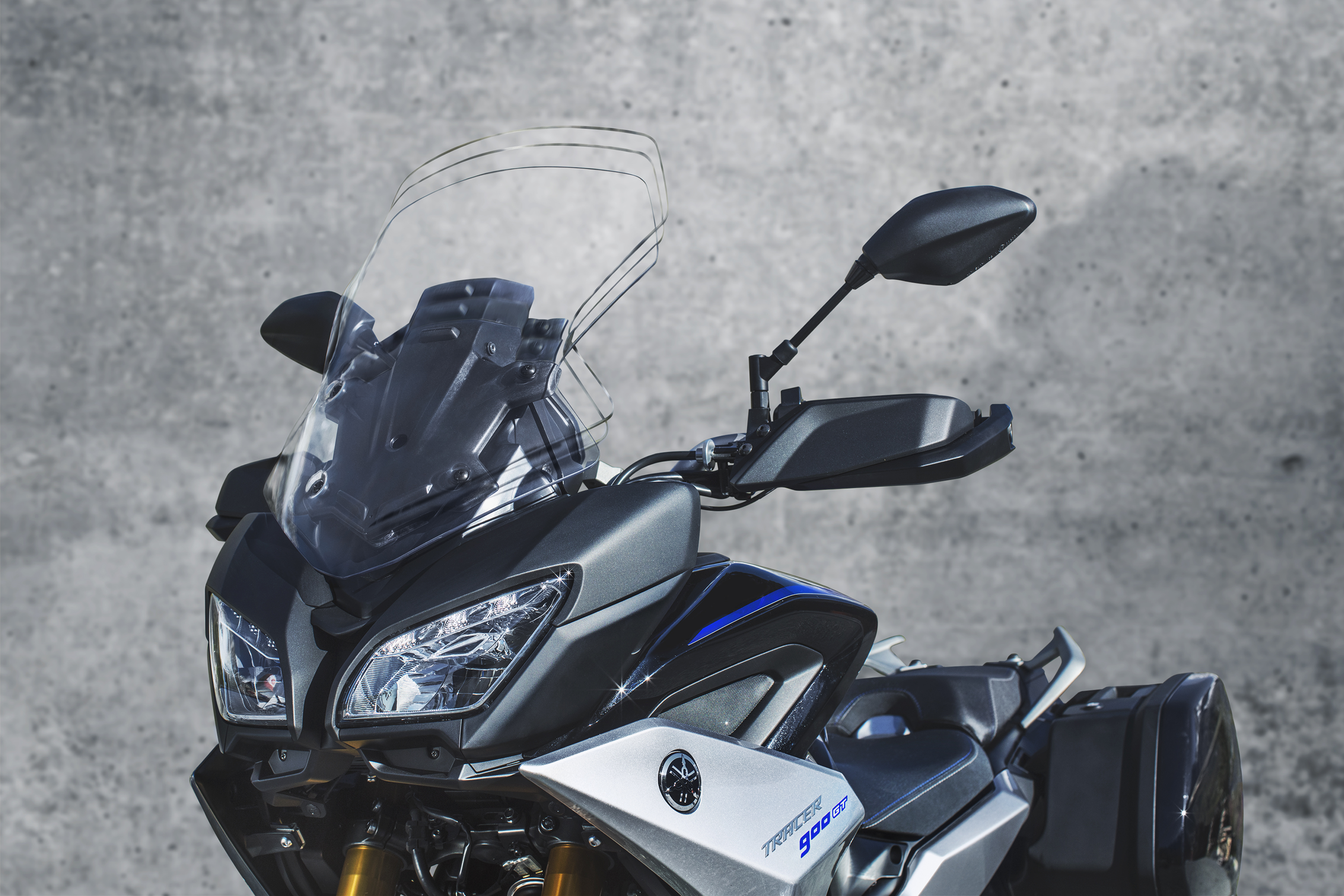 Ditto for its motivation. Yamaha's mid-displacement triple has already been well lauded. Let me just add to that. Smooth at all the right times, a little thrashy when it needs to be, the 847 cc inline three even sounds a little like my old Laverda. OK, the crossplane crankshaft triple is not nearly as savage or intoxicating as a fully-Jota'ed RGS, but there's just the right amount of low-level coarseness to remind you that this is not just another ubiquitous Japanese four.
There's also more than a modicum of power. Oh, it doesn't have the low-end grunt of my old RGS — especially since I had punched it out to 1,116 cc — but the oversquare triple pulls nicely from 4,000 rpm and has enough mid-range to spin at a soothing 5,000 rpm or so at a buck-twenty. Ring it out and there's 115 horsepower at the crank — it feels like about a hundred or so at the rear wheel — which is, again, for its intended purpose more than swell enough. Throw in a slick-shifting trannie, blessed with quickshifter — one of the upgrades from base Tracer to full-fledged GT — and, again, we're talking perfectly satisfying.
Speaking of upgrades, the GT gets slightly — but well — revised suspension compared with the base Tracer. The 41 mm KYB inverted front fork gets compression damping adjustment and is better for it. More importantly — considering that another of the upgrades is a set of hard saddlebags — the rear shock gets a remote hydraulic preload adjuster (the standard item requires manual wrenching). It's a worthwhile addition, allowing quick revision of the rear spring when you add cargo or even a passenger.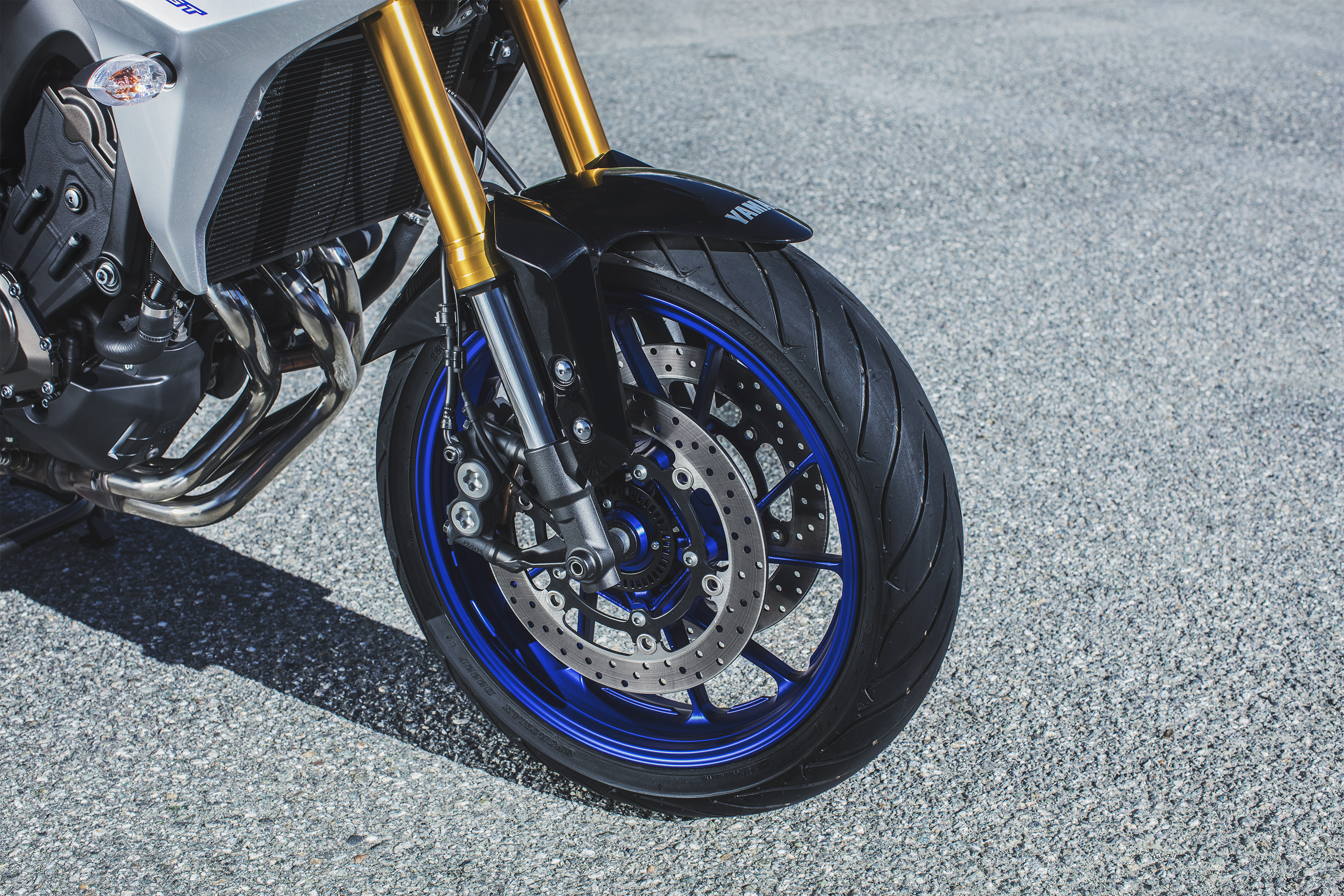 Said suspenders are also well calibrated, the spring rates fitting nicely in that space that, again adventure tourers, occupy. Indeed, I checked and the GT's front spring rate almost exactly mirrors that of a 2018 V-Strom 1000. If anything the rear shock is even better, damped well enough to carry passengers yet compliant enough to be comfortable over the motocross tracks, er, Muskoka side roads, that we used for testing. Indeed, the GT is one of the few (semi) budget bikes that wouldn't appear to need an immediate suspension upgrade if you're going to carry luggage or a passenger.
The sport-touring triple also gained 60 mils in wheelbase in transforming from FJ-09 to Tracer, the distance between wheel centres a lengthy 1,500 millimetres. Despite being fairly long — those 1,500 mils work out to 59.1 inches just in case you're an old fogey who hasn't yet fully morphed to metric — the GT is surprisingly agile in the twisties. No R6 to be sure, but you'll not be rejecting a Tracer's advantages because it can't carve a corner. Thank its relatively-light-for-a-bike-with-saddlebags 227 kilo wet weight and a steepish 24-degree rake.
I am a little less taken with a couple of the GT's other upgrades. First and foremost is the TFT screen/information system that Yamaha sees as a bump up from the Tracer's dash. Admittedly, there's a plethora of extra information available on the GT's dash and the screen is bright enough to be read even during the sunniest of heat waves. But the darn thing is so small and so tightly packed with data that the lettering is too small to be legible by anyone with less than perfect vision. Think of all the information that one could ever possibly want about a motorcycle and then imagine it all packed into a screen that is almost exactly the size of an iPhone 5. Frankly, the admittedly less informative display on the base Tracer ends up being more useful.
On a more mixed note are the GT's standard side cases. Slim and attractive, the colour-coded bags blend in perfectly with the Tracer's styling. Perhaps more importantly, at least for the Millennial portion of the 30 to 55 age group Yamaha hopes to attract with the Tracer, is that the rear of the GT looks completely uncluttered when the bags are removed, there being, quite literally, no unsightly rack left behind.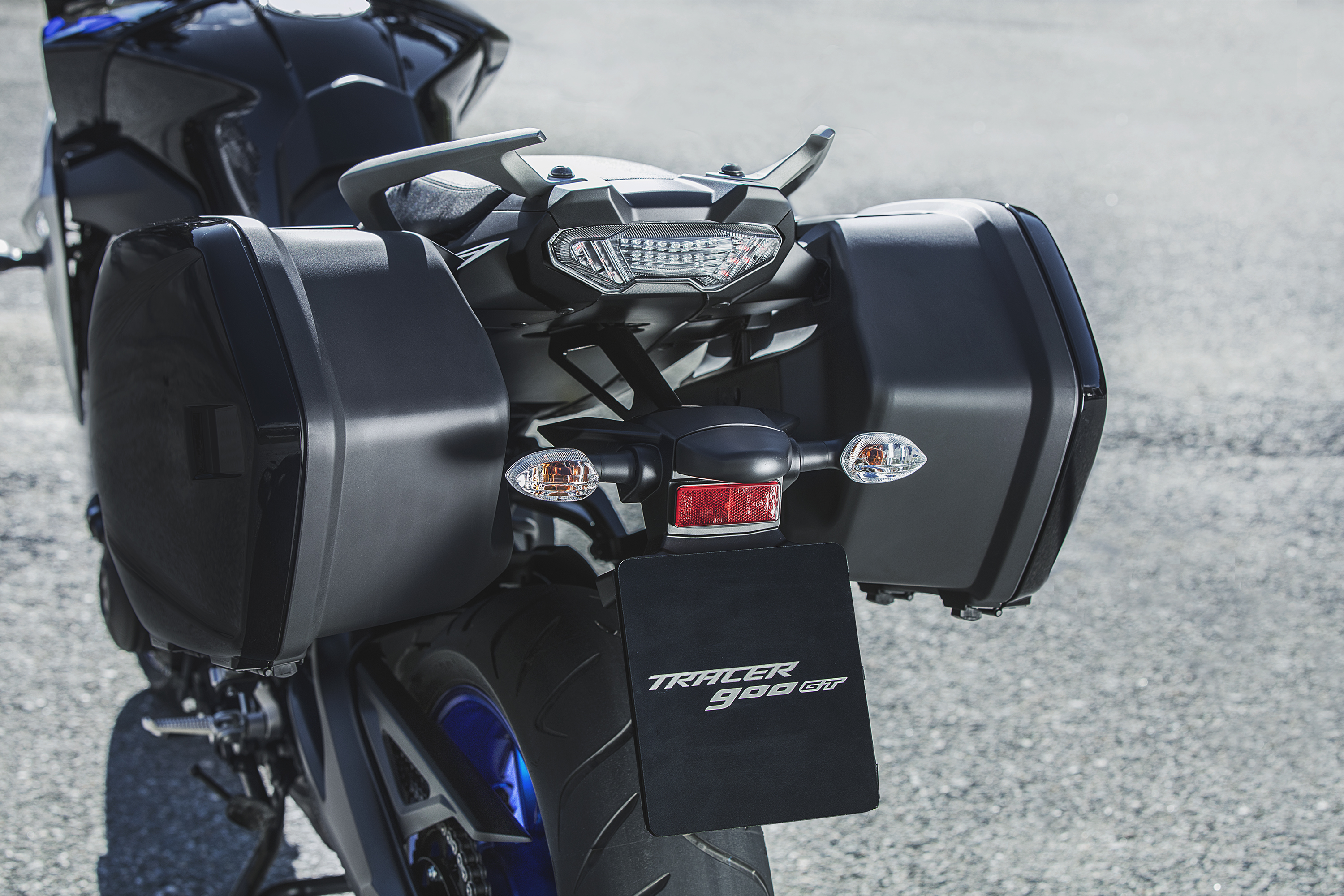 The problem is that, in making the rear of the Tracer so thin-waisted, the bags are on the smallish side for touring, carrying but 22 litres each. We're talking a MacBook Pro and an extra pair of socks in one and your Nikes/gym gear in the other. Milady is definitely not bringing a spare set of Manolo Blahnicks along for the ride. The lids, like the Suzuki bags that are all but the GT's duplicate, can also be a little fiddly to close.
What makes these peccadillos harder to take is the value Yamaha Canada places on these bags. Look the through the base Tracer's available accessories and you'll see these GT's cases retailing for a whopping $1,670 as on option on the base Tracer. Peruse the same accessory catalogue a little further, however, and you'll find Shad's latest SH36 bags — larger, more robust and with a neat little load floor so the contents don't fall out when you open the lids — retail for $716.95. Indeed, right from Yamaha Canada, you can get two SH36 bags and their mounting hardware plus Shad's most excellent SH58X expandable topcase — and its mounting hardware! — for just bout the same price as just the two bags that are standard on the GT. By way of comparison, the GT's total carrying capacity is 44 litres; a regular Tracer with the full Shad treatment would be able to haul a kitchen-sink-swallowing 130 L.
So, while I can heartily recommend the Tracer for those looking for a middleweight touring mount, I am far less secure in recommending which specific model should be on your shopping list. If, on the one hand, you're looking for a turnkey light tourer with excellent handling, some high-tech features and a set of attractive, if slim, hard cases, then by all means shop the $14,559 GT.
On the other hand, if you're a more practical sort — my dear old mom liked to preach providence, so you know which side of this argument I'm probably going to fall on — that $2,600 increase from base Tracer to GT would allow you to buy the larger Shad cases as well as their mounts and have more than enough money to buy a top quality aftermarket shock. Indeed, if you shopped prudently — yet another admonishment from mater — you could probably add in the aforementioned Shad topcase or a set of heated handgrips and still have a few pennies left over. All that you would be missing from the GT would the quickshifter (dubiously useful), the TFT display (a downgrade as far as I am concerned) and cruise control (the one thing I would miss, truth be told).
So, yes, by all means buy a new Yamaha Tracer. I'll leave it to you, however, if you'd be better served with the more expensive fully-loaded model or building your own budget sport tourer a la carte.