Harley shows its stuff on Greek roads
In the wake of its rejuvenation process, Harley-Davidson introduces the all-new FXDR 114, a 10th model based on the new Softail platform. When Harley presented this platform earlier this year, they also announced that they would be adding 100 new models between 2018 and 2027. Well, it looks as if the Milwaukee firm is set to keep its promise . . . !
One thing is for sure, Harley is not going to stay still through this period of intense changes in our industry. And with all these new models coming out, no one will say they are not trying! Harley knows its customer base is getting older: the average buyer is 53.4 years old. To attract a younger crowd, they have to come out with models adapted to the new generations, and that even includes electric motorcycles. In fact, Harley-Davidson will probably be the first major manufacturer to offer electric bikes, and that should happen as soon as 2020, and maybe even 2019. Until recently, I would have never guessed Harley could move to electric engines . . . that's quite an evolutionary process.
So it is in this context of renewal that Harley invited us to the press launch of the FXDR 114 in Greece. I must say that I was puzzled by this new model in Harley's catalogue. A sporty and aggressive custom — a power cruiser in other words — with a $26,499 price tag? Ouch! Who's the target buyer? And the V-Rod has just been discontinued. I was soon to find out some answers.
Beautiful Greece
To make sure we could try out the new FXDR 114 in a fine environment, Harley picked Thessalonica, in the northern part of Greece, as our base point. The weather is great and the scenery is magnificent. Should be a great launch! As soon as we check into the hotel, I see the FXDR 114 in the hall. It certainly looks way better in person than on paper. Too bad I have to wait until tomorrow to ride it!
Visually, the FXDR 114 could be described as an evolution of the Breakout with a Fat Bob look and a few styling cues borrowed from the V-Rod. A mix that makes for a surprisingly good result. Add to this an LED vertical headlamp, a new imposing air filter, new exhaust system, aluminum swingarm, redesigned gas tank, and a huge 240 mm rear tire, and you end up with a really great-looking bike!
The next morning, the sun is shining again in Thessalonica. After the usual recommendations, our small group of Canadian journalists is ready to go. As soon as I twist the throttle, the rear tire starts spinning and the bike is dancing in the streets. We had been told: the roads are slippery and bumpy around here. The fun was just beginning!
It took no time to see that the Milwaukee Eight 114 does deliver great sensations. This big air- and oil-cooled 1868 cc V-twin accelerates forcefully. With 160 Nm of torque delivered to the rear wheel, you better hold on to the grips when you twist that throttle. The maximum claimed power is not particularly impressive — 91 hp — but there is a lot of fun to be had with the impressive low-end torque. If the FXDR 114 had been equipped with traction control, it would have been working overtime throughout the day! Our tires were spinning pretty much each time we took off on a green light, and also oftentimes when exiting the mountain road curves with a little too much enthusiasm. But things were always easily kept under control. On the open road, the wide tire (240 mm), the long wheelbase and the 34-degree rake contribute to the stability of the machine.
The new hefty swing arm on the FXDR 114 is made of aluminum, instead of steel as on most other Harleys. While not revolutionary, this change reflects a will to save weight and improve handling at the same time. The FXDR 114 features many components made of composite materials.
To make sure this machine would be able to deliver sporty performances in the twisties, Harley engineers worked hard to raise the ground clearance and improve lean angles. With more than 32 degrees available, the FXDR 114 can be tilted in curves more than other Harleys. Eventually, the footpegs will touch the ground, but not that easily.
The people at Harley-Davidson must have been pretty confident in the sporting abilities of their new bike because they took us for a ride in really winding mountain roads. In fact, that is the kind of course manufacturers usually choose for lighter and sportier middleweight bikes. So, even with its reduced weight, the FXDR 114 was indeed a little on the heavy side for these roads. And in really tight turns, the wide tire slows things down and requires a little extra effort on the bars.
But otherwise, the big Harley behaved very well in these conditions. It just flowed smoothly and easily from one curve to another. This was a very interesting and very nice sensation coming from a Harley-Davidson. The brakes are good and the Michelin Scorcher tires offer a nice grip. So all and all, a very responsive machine.
The Greek roads
For the first time, I felt at home even though I was in Greece in the context of an exotic press launch. Why? Because some roads were as bad and bumpy as they are in Québec! The good side of this is that I had a chance to really evaluate the suspension. The manufacturers usually organize their press launches on silky smooth roads, so the people at Harley really made a bold move: not only twisties, but also bumps and potholes!
With the suspension adjusted on a firm setting, the FXDR 114 behaved nicely on straight sections with good pavement. But on these bumpy roads, things got tougher on my lower back. So I stopped and turned the manual knob in order to soften the suspension and make the ride smoother. But that did not change the fact that the driving position on this bike is not ideal for bad roads and long rides. The hands and feet rest far ahead of the torso and you end up in a C position that's not too ergonomic or comfortable. It must also be noted that the FXDR 114 is not for shorter persons: you'll have a hard time reaching the controls and on longer rides you will get tired of driving with your arms and legs fully stretched. Even for someone six feet tall like me, the comfort is not ideal on a full day's ride, especially for the lower back and legs.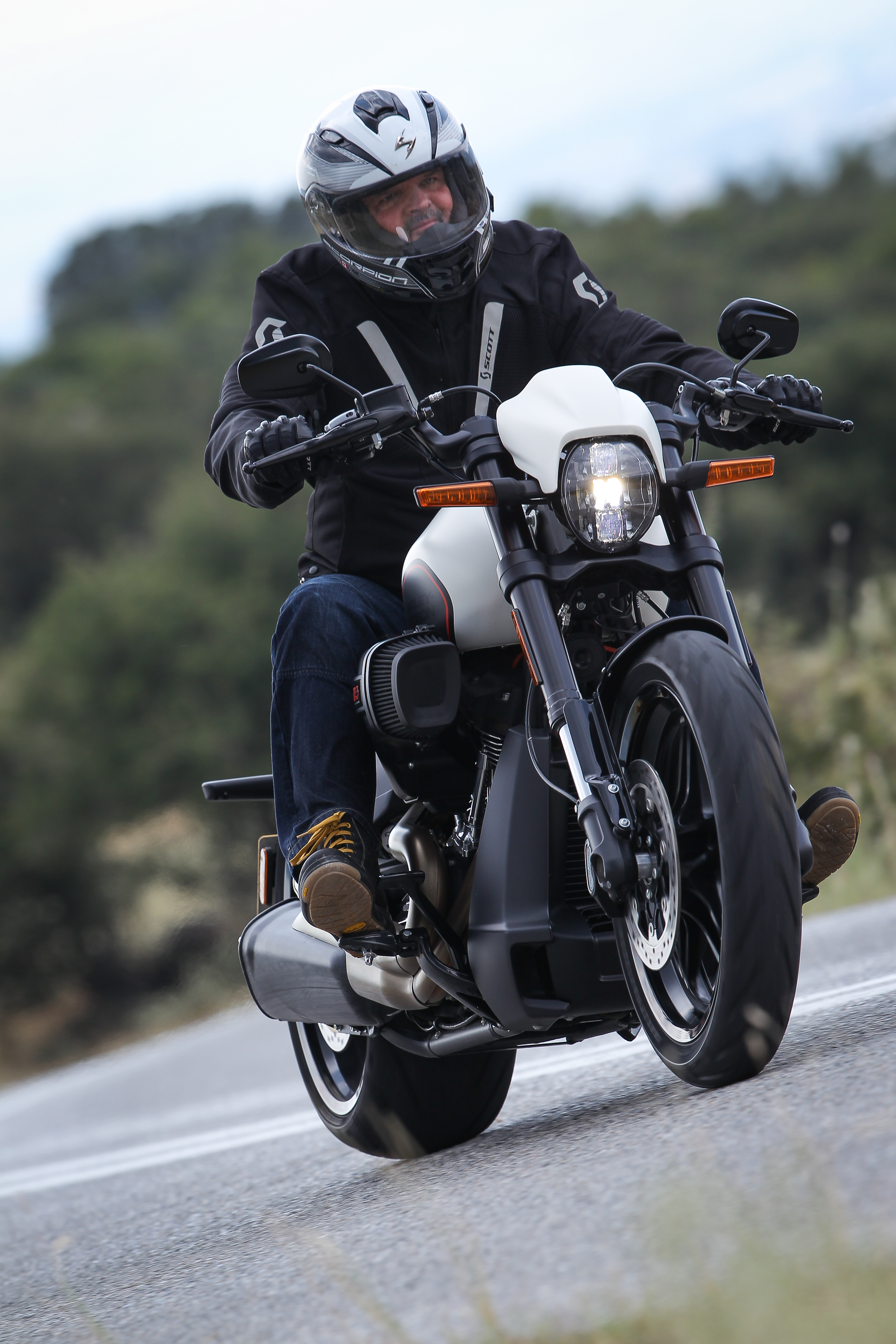 Here comes the rain!
Everything was great, the sun was shining, the driving was fun, the food was great, the photo sessions were quick and efficient. But then came black clouds, thunder and lightning. And a few minutes later, rain. Crazy, torrential rain! We are on a mountain road with no rain gear, about one hour away from our hotel. So we keep going but water accumulates quickly on these slippery Greek roads. The sections that go down to the villages are particularly bumpy which makes them even more slippery and tricky.
The good thing about this heavy rainfall is that I can certify that the ABS brakes on this bike work real fine! The same goes for the tires; even the fat rear rubber, surprisingly. I can also confirm that the new air filter and new air intake work fine in torrential rain. The bike was unaffected by all that bad weather. Test passed!
A little later, we stopped in hopes of getting some sort of protection but the water kept pouring on us. So we got back on the bikes in search of the next village. When we reached the next crossing, surprise! No roads to be seen: only water! The guide had us make a single file and we went through this newly made lake with water up to the footpegs. Quite an adventure! Eventually we made it safe and sound to the hotel, but soaked to the skin.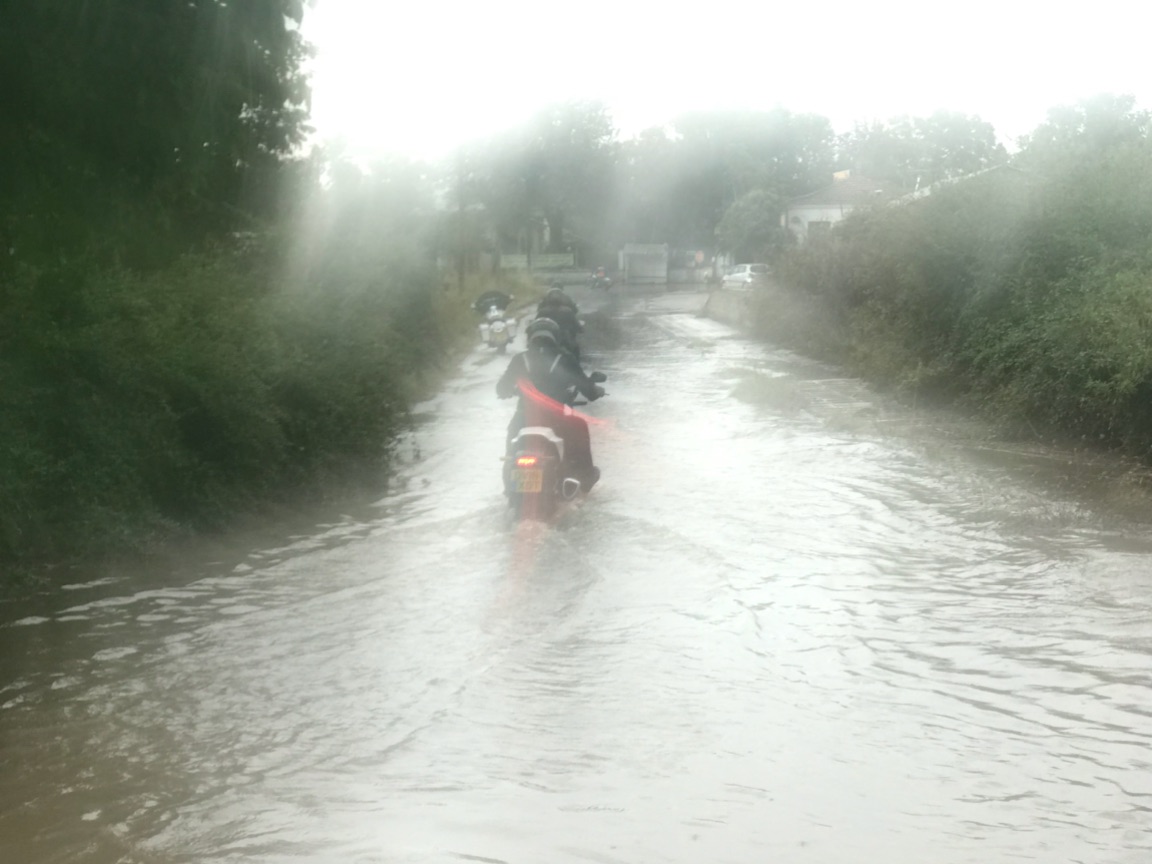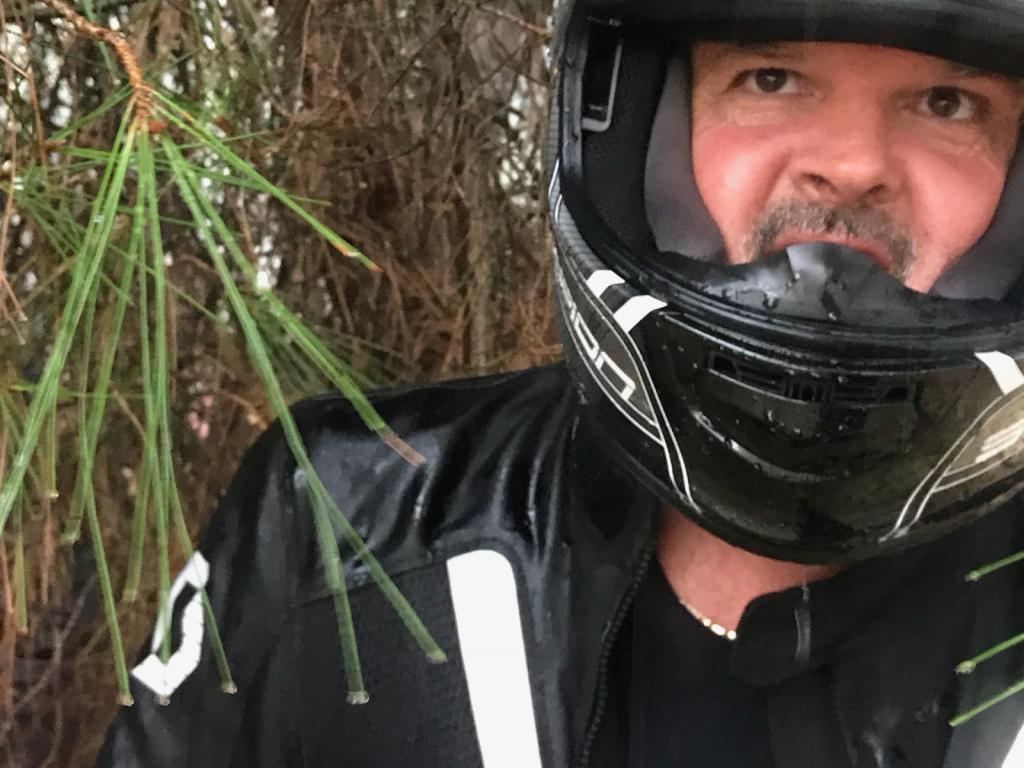 Conclusion
With its solid power and sporty character, the FXDR 114 delivers strong driving sensations. It is also able to adapt fairly easily to day-to-day normal driving conditions. This is a motorcycle with a lot of style and great looks, a nice blend of modern technology, trends and power. The FXDR 114 is a good indication of where Harley-Davidson is headed for the years ahead. This is a bike that stirs up passion and sensations. A great toy for grown-ups who can afford it.
---
SPECIFICATIONS
Manufacturer: Harley-Davidson
Model: FXDR 114
Price: $26,499
Warranty: 2 years/unlimited km
Engine: 45-degree V-twin, air- and oil-cooled
Displacement: 1,868 cm3
Horsepower: 91 hp at 4,500 rpm
Torque: 160 Nm at 3,500 rpm
Transmission: 6-speed, belt final drive
Wet weight: 289 kg
Fuel capacity: 16.7 L
Front brake: 2 discs, 4-piston calipers, ABS
Rear brake: 1 disc, 2-piston caliper, ABS
Front tire: 120/70-19
Rear tire: 240/40-18