Small improvements add up on revised Ducati
Soon after its 2014 debut, the Ducati Scrambler became a worldwide success. Some 55,000 of them have been sold so far, which is quite impressive. The Scrambler concept is a crowd-pleaser! Other manufacturers have also presented scrambler-styled models that turned out to be fairly successful. For 2019, Ducati introduces an upgraded Scrambler Icon 800. Still marketed as a Land of Joy machine, will the new Scrambler make us even more joyful? We'll find out in Italy.
Subtle changes
Ducati has known for a long time that you do not change a winning formula. But you can improve it. The firm readily admits that in order not to destabilize its existing customer base, they worked mostly on looks, technical improvements and driving experience for this update. So for 2019 the Scrambler gets a lot of small upgrades while retaining the same concept and global look. Visually, it sports a redesigned silencer, new aluminum gas tank side panels, more black engine parts and a new LED headlamp.
This headlamp is inspired by the 1970s dirt track machines with its distinctive black cross that recalls the black tape used to prevent the lens from flying away in case of a crash. Yes, Ducati pushes the vintage concept that far! But this new headlamp is not only a matter of esthetics: its light emitting diodes are part of a Daytime Running Light system (DRL) that improves visibility in daytime and lighting at nighttime. We could not verify this last aspect because we rode the Icon only in daylight. The turn signals also use LED and are self-canceling.
On the technological side, the Scrambler is now equipped with Bluetooth and the Ducati Multimedia System. You can connect your smartphone and listen to the music. The USB port was there in the first generation and it still is, of course. One more important improvement: the Bosch Cornering ABS that allows you to remain stable even if you have to brake in the middle of a curve. It will make you feel like you're are a better rider. No talk of traction control on the Scramblers for now.
For Ducati, the Scramblers are not only a line of models, they are a brand by themselves. The Italian manufacturer has created a comprehensive Land of Joy universe around the brand that combines lifestyle, music, movies, photography and arts in general. In Bologna, there are shops and even two Scrambler Food Factory restaurants. We tested one on the first evening and we had a fine dinner. And the wall to wall Ducati Scrambler décor is really great!
On the road!
We had the chance to ride the Scrambler Icon on the roads of magnificent Tuscany. With its low seat height, upright seating position, and wide handlebar with easy-to-reach controls, this is a bike you get accustomed to in no time. The air-cooled 803 cc L-twin is good for 73 hp, which is amply enough for this kind of machine, especially with its 67 Nm of torque delivered at 5750 rpm. This is the good old engine that was powering the now discontinued Monster 796; thanks to different improvements, it's now getting a second life into the Scrambler.
As soon as you press the starter button, you hear the great traditional Ducati music. And you're entering the Land of Joy . . . ! After a few metres, you're already feeling in control of this disarmingly easy-to-adapt-to machine. The Ducati people took us to a superb gravel and sand dirt road so that we could start the day discovering the off-road capabilities of the Icon. This is indeed a very manoeuvrable and well balanced bike. The revised suspension makes for a comfortable ride and the tires deliver good stability. The rear end was reacting in a very composed manner, which surprised me even more considering that there is no traction control. Personally I think the Icon would be better off with TC, especially on paved roads, but it was fun to spin the rear tire in the dirt!
On the road, I was also pleasantly surprised. I thought I would find this light bike too small and underpowered. I was wrong: this motorcycle delivers unquestionable driving pleasure! In fact, riding the great Tuscany roads was pure joy. The balance between power, light weight and steering response allows you to just flow from one curve to another without ever worrying about handling issues. This bike really sticks to the road and it accepts inputs and direction changes readily. What's more, with Bosch's great Cornering ABS, you can brake and not worry if you entered a curve a little too fast. The tires are great off-road, but they also deliver a very good grip on the road. You can drive the Icon in a very sporty manner, and even have the footpegs touch the tarmac. As for the engine, it runs fairy smoothly and I always felt I had enough power.
Ducati aimed right
Honestly, I didn't expect much from the Scrambler Icon before arriving in Italy. But after just a few minutes on board, I realized how much fun this motorcycle was to ride, and why it was so popular. Even if it may seem small and less powerful than bigger bikes on paper, I never felt short of space or horsepower on the road. I am six feet tall and 190 lbs and I was perfectly at ease riding it: good driving position, new much more comfortable seat, markedly improved rear suspension, fine handling on-road and off-road, good brakes and adequate power for this kind of machine. In its quest for creating a simple and accessible motorcycle, Ducati aimed right: the Scrambler Icon has got what it takes to attract new motorcyclists and those who want to move up from a smaller machine. Moreover, with all the Scrambler culture it created around these models, Ducati is also offering a way of life, passion, music, fun, sunset on the beach and everything else you can think of in the Land of Joy. For a day trip, to go to work downtown, to escape in the countryside or to join friends for a ride, the Ducati Scrambler Icon seems like the motorcycle of choice. Plus, it is offered at a very reasonable price . . . for a Ducati, and the accessories catalog is filled with interesting goodies.
If you are looking for great fun and simple things, maybe you should have a look at the Ducati Scrambler Icon!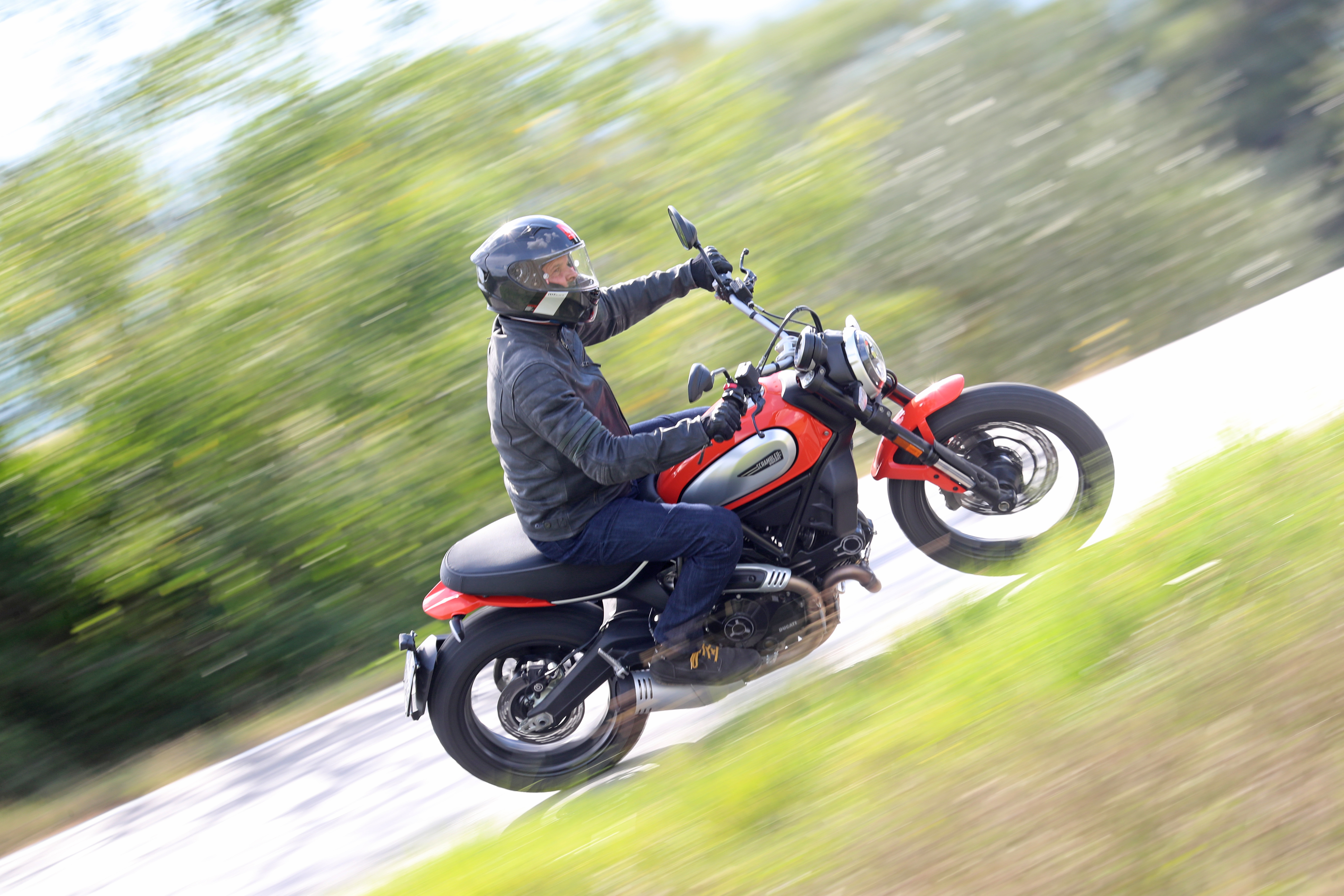 Helmet: MT KRE Carbone, $399.99, distributed by Importations Thibault
Jacket: Scott VTG, leather, $509.99, distributed by Importations Thibault
Glove: Scott Assault II, $62.99, distributed by Importations Thibault
Pants: Dainese Todi Slim Jeans, $209.95
Boots: black Falco, $289.99, distributed by Kimpex
________________________________
Specifications
Engine: L-twin, 4-stroke, desmodromic valve actuation, air-cooled
Displacement: 803 cc
Horsepower: 73 hp at 8,250 rpm
Torque: 67 Nm at 5,750 rpm
Transmission : 6-speed, chain final drive
Chassis : tubular trellis
Fuel capacity: 13.5 L
Seat height: 798 mm
Length: 2,100 mm
Dry weight: 173 kg
Front brake: 330 mm disc, radially mounted 4-piston caliper, ABS
Rear brake: 245 mm disc, single-piston floating caliper, ABS
Front suspension: Kayaba inverted fork, 41 mm
Rear suspension: monoshock
Front tire: 110/80 R18
Rear tire: 150/55 R17
Colors: yellow or orange (Atomic Tangerine)
Price: $10,795 yellow; $10,895 orange